Overview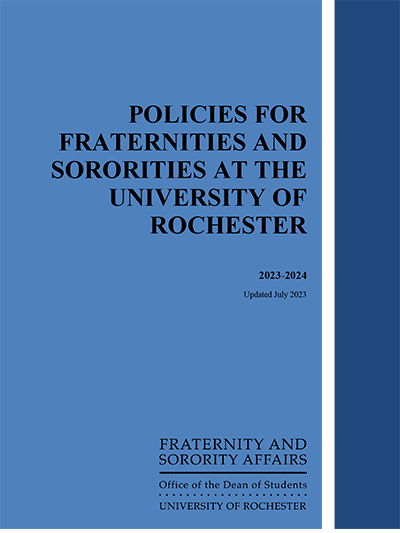 The Fraternity and Sorority Policy (PDF) includes all of the following policies specific to fraternities and sororities:
Fraternity and Sorority Governance Model
Indemnification of Alumni Advisors
Eligibility to Join
Expectations for Excellence
Continuing Recognition
Conduct Expectations
Chapter Conduct Release Policy
Expansion and New Organizations
University Gift Accounts
Fraternity Occupancy Policy (Fraternity Quad)
Insurance Requirement
Academic Release Policy
Fraternity and Sorority Assessment Fees
Fraternity Meal Plans
House Fraternity Lounge Furniture Policy
Special Presentation/New Member Reveal
Leadership Appeal Process and Conditions
Right Sizing Occupancy Policy
The policies do not replace or supersede other policies for students and organizations at the University of Rochester. Fraternities and sororities and their members are still subject to the University values and other policies relevant to student organizations. In the event that the policies for an international and national organization or council differ from University of Rochester policy, the University policy will hold primacy.