Student Spotlight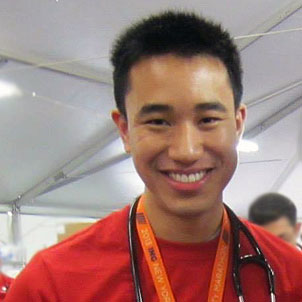 Stephen Supoyo '11, Molecular Biology, History Minor
Stephen is a second year medical student at the Icahn School of Medicine at Mount Sinai in New York City. As an undergraduate, he conducted independent research in the Biology Department and spent a summer at a molecular cardiology lab at Mount Sinai. As a first generation college student himself, he also volunteered as a tutor and mentor for other first generation high school students in the U of R Upward Bound program. He took advantage of many UR programs, including a semester abroad in South Africa, completing an honors senior thesis and a Take Five Scholarly Year studying American health policy, global health, and health systems, during which he also completed a health policy externship with the URMC Center for Community Health.
After graduation, Stephen joined Americorps and served a year at a non-profit agency in Philadelphia working to improve the health of refugees and immigrants. He coordinated medical care for newly arrived immigrants by scheduling and escorting patients to appointments, managing continued care, and helping them navigate the health system. The following year, he served a second term in Americorps, this time as a patient advocate for a program providing healthcare to the homeless in shelters in New York City.
At Mount Sinai, Stephen is involved with the student-run free clinic and is a co-leader for the medical student Doctors for America initiative to increase access to care and awareness of the Affordable Care Act in East Harlem. He continues to mentor college bound high school students through Sinai's First Generation Scholars Program and is currently engaged in research looking at patient-based and physician-based reasons for disparities in the treatment of prostate cancer.