April 2015
Meliora! A Message from Our Chair
Dear Friends,
By now, you have likely heard the spectacular news that the University has surpassed The Meliora Challenge's initial
$1.2 billion goal, more than a year ahead of schedule. The George Eastman Circle membership's role in this feat is nothing short of remarkable.
Across the University and Medical Center, your collective generosity—of more than $65 million—continues to leave an indelible mark on the University. Our support serves as the lifeblood for many areas of academia, research, and health care. We have accomplished a great deal, and as we celebrate this landmark achievement, we need to remember there is still much left to accomplish.
In 1926, George Eastman imparted the following wisdom to his Eastman Kodak colleagues: "The world is moving, and a company that contents itself with present accomplishments soon falls behind." Although it is not in our nature to rest on our laurels, we should draw inspiration from the words of our namesake.
The University's aspirations to go to the next level have made our continued support more important than ever. Reaching higher requires that we build upon what we have already established. To have a greater impact on the University, to ensure we make a sustainable difference, we need to remain dedicated to providing unrestricted support.
Our legacy at the University is being engraved by our dedication to its success.
Meliora!

Nathan Moser '75
Life Trustee
National Chair, George Eastman Circle
Making a Sustainable Impact
All of our George Eastman Circle members have wonderful stories to share. We are pleased to feature this story from a member who supports the Hajim School of Engineering & Applied Sciences, and is a parent of a student at the Hajim School.
As an undergraduate majoring in geomechanics, Carol Duquette '85, '03S (MBA), P'18 was impressed with the strong science and engineering programs at the University of Rochester, and the opportunities she had available. Her appreciation for the University deepened as several of her nieces and nephews followed her and earned their own Rochester degrees before launching successful careers; today, her son, Sidney, is a freshman at the University, majoring in biomedical engineering.
"When I look at the whole package, from academics to the infrastructure and opportunities available at the UofR, there is an incredible support system in place and the opportunities are amazing," said Carol. "The University focuses on giving students a broad education and critical thinking skills that they can apply in any situation to be successful."
After graduating, Carol worked as an engineer and consultant for the City of Rochester, a land development consulting firm, and architectural firms before joining Wegmans Food Markets, Inc. in 1996, where she is now vice president of design services and maintenance. She and her teams keep the award-winning, regional supermarket chain on the forefront of sustainability in its industry.
Carol earned an MBA at Simon School while at Wegmans, and says it has been instrumental in helping her manage a significant capital budget and critical business aspects of her job. "The executive MBA at Simon is an awesome program. Professors Cliff Smith, Jerry Warner, Avi Seidmann, and Ron Goettler were phenomenal⎯their courses made the biggest difference in my life."
Building on her lifelong passion for sustainability and reducing energy consumption, Carol is now working with the Hajim School to offer internship opportunities to students, some of whom go on to work at Wegmans after graduation. "I took part in a wonderful internship while at Rochester, working at the Department of Conservation to research contamination of salt beds. Some of the mapping I did is still used by the DEC today. Having that real-world experience is invaluable and I'm happy to bring it full-circle by offering similar opportunities to today's students."
"There is no question that both of my educational experiences—at the Hajim School and at Simon—have made me more prepared and more deeply and broadly educated than my peers," said Carol. "Supporting the Hajim School through the George Eastman Circle underwrites and sustains all the experiences and opportunities that are such an invaluable part of a Rochester education."
Honor Roll Online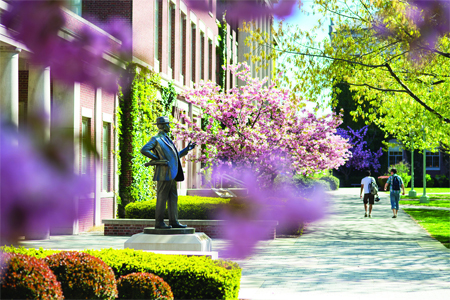 In the past, we have mailed George Eastman Circle members a printed honor roll to recognize their generous commitments. After listening to and reading your feedback—and as part of a more global effort to reduce our carbon footprint and expenses—we are now publishing the George Eastman Circle Honor Roll exclusively online.
To see the newest version of the Honor Roll, which is located on the George Eastman Circle website, you will need to use the following special, member-only password (case sensitive): m3mber
New Traditions for Giving and Gratitude
Since its founding in 1850, the University has continued to grow thanks to gifts of all kinds from alumni, parents, faculty, staff, and friends.
On April 21, the University will honor and galvanize that dedicated, collective support with its inaugural Day of Giving. For 24 hours, members of the University community will join together in the spirit of Meliora by making gifts of any amount, for any purpose, across the University and Medical Center.
George Eastman Circle members are encouraged to make a gift, pay or renew their pledges, or show support by simply posting on Facebook, Twitter, or Instagram using #URMakingADifference
At the same time, the University will celebrate the power of philanthropy by debuting another new tradition: Thank a Giver (TAG) Day.
TAG Day will be an annual event where select parts of the University will be physically tagged to note (buildings, classrooms, benches, etc.) that their presence was made possible by donor support. The act of tagging these objects and spaces highlights the broad impact of philanthropy at the University and provides students with the opportunity to share their appreciation.
Questions? Email DayofGiving@rochester.edu.
Your Philanthropy at Work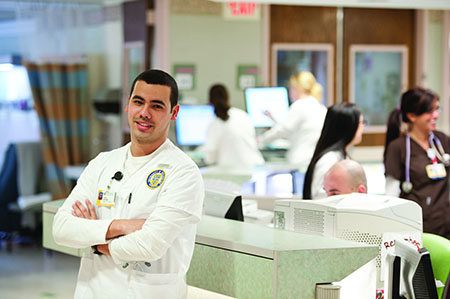 George Eastman Circle members have pledged more than $65 million in annual funds since the program's inception in 2007. Students, faculty and staff, and patients feel the impact of these gifts every day. Below are some of the areas where your support has helped enable significant advancements and achievements. Click the links to learn more about your philanthropy "at work."
Campaign-funded scholarship assistance continues to attract top students from across the country and around the world, who are graduating with a debt load that is lower than the national average.
Since the George Eastman Circle's inception, engineering students' study abroad participation has experienced a four-fold increase, and the recently established Institute for Data Science is already positioned to be a world leader in the collection, curation, and analysis of big data.
Your support funded the purchase of materials for Rare Books and Special Collections and provided several students with library-related employment opportunities.
A New Era for Children's Health Care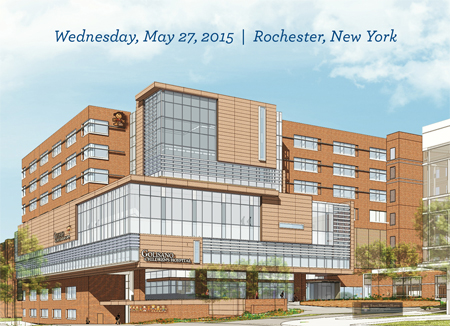 Later this spring, the University will celebrate the dawn of a new era for children's health care in the Finger Lakes region. A dedication and ribbon-cutting ceremony for the new Golisano Children's Hospital will be held on May 27; its doors will officially open to the public on July 7.
With eight floors and approximately 245,000 square feet of space, the new facility is a model of care that is dedicated to children and their families. Features of the new building include a greatly expanded Neonatal Intensive Care Unit, private rooms, and a light-filled, two-story playdeck.
The ceremony will also honor the many dedicated members of the University community who have helped make this building a reality. Following the lead of the hospital's namesake B. Thomas Golisano, generous donors have been critical to creating the best possible environment for healing.
You can still join the effort to complete the University's largest capital project in history. There are still many spaces available for naming and other ways you can support the new Golisano Children's Hospital.
University News
As George Eastman Circle members, your commitment to philanthropy makes you leaders within the University community. Your annual support provides critical funds that enable world-class research and health care and create countless academic opportunities, which advance our mission toLearn, Discover, Heal, Create—and make the world ever better.
Below are members who have made significant Campaign gifts in addition to their membership commitments or have exemplified Meliora in the areas of academia, health care, and/or research.
Charter Members Robert B. Goergen '60 and Pamela Goergen made an $11 million commitment to the Institute for Data Science that not only gave tremendous support to the centerpiece of Rochester's five-year strategic plan, but also pushed The Meliora Challenge beyond its $1.2 billion initial goal. In recognition of the Goergens' generosity, the Institute will be named the Goergen Institute for Data Science. You can read the official press releases for more information on theGoergens' gift and the Campaign milestone.
With a $3 million commitment, Rochester natives and Charter Members Robin P'11, P'16 and Timothy Wentworth P'11, P'16 established the Robin and Tim Wentworth Directorship of the Institute for Data Science. Henry Kautz, the current director of the Institute and computer science professor in the Hajim School, was formally installed as the inaugural Wentworth Director of the Institute for Data Science on March 12. You can read more about the Wentworths and their gift in the official press release and Kautz's installation in the March issue of Fast Forward.
Bioethics is the study of issues—usually controversial—that emerge from advances in biology and medicine. To support the study and practice of bioethics in health care and research at the University, Charter Member Paul M. Schyve '66, '70M (MD), '74M (Res) has made a $5 million commitment that will be used to establish the Paul M. Schyve, M.D. Center for Bioethics. You can read more about Paul and his gift in the official press release.
Member Ruth A. Lawrence '49M (MD), '58M (Res) has led a distinguished career as a pediatrician, clinical toxicologist, and neonatologist. In addition to helping pioneer neonatology as a specialty, she is an international authority on breastfeeding and a poison control expert. On March 5, her excellence as a researcher, educator, mentor, and clinician was formally recognized during a ceremony installing her as the inaugural Northumberland Trust Professor in Pediatrics. You can read more about Lawrence and the installation in the March issue of Fast Forward.
Upcoming Events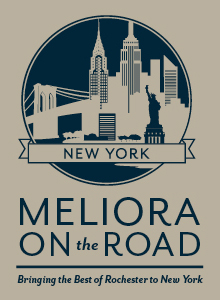 Through a dedication to philanthropy, the George Eastman Circle helps to shape the future of the University and touch lives around the world. Your five-year commitments provide critical budget-relieving annual funds to specific schools and units of the University and its Medical Center and, ultimately, strengthen the University's ability to make a profound impact on society.
One of the ways we're able to thank you is to extend invitations to various regional gatherings, dinners, and University programs. Please save the dates for:
Meliora on the Road:Bringing the Best of Rochester to New York
April 18, 2015
Join us for a day of ideas, conversation, and connections, highlighted by faculty and student speakers from across the University. Meliora on the Road will also include a luncheon featuring remarks from President Joel Seligman and a keynote address from Steven Chu '70, '98 (HNR), former secretary of energy in the Obama administration and co-winner of the 1997 Nobel Prize for Physics.
Noon to 5 p.m.—luncheon and keynote address
5:30 p.m. to 7:30 p.m.—special George Eastman Circle reception with Steven Chu
The Westin New York Grand Central
New York, NY
More information is available on the Meliora on the Road webpage
Golisano Children's Hospital Dedication
May 27, 2015
4 p.m.
150 Crittenden Boulevard
Rochester, NY
48th Annual Garden Party
June 9, 2015
5:30 p.m.—Welcome and remarks from President Joel Seligman
6:15 p.m.—Cocktail reception and tours of the exhibit, The Human Touch: Selections from the RBC Wealth Management Art Collection
Memorial Art Gallery
Rochester, NY
Rochester at Tanglewood
August 22, 2015
A beloved Tanglewood tradition continues with John Williams' Film Night. Mr. Williams and the Boston Pops will be joined by guest conductor David Newman for what has become one of the signature events of the Tanglewood season. Prior to the concert, enjoy dinner on the beautiful grounds of Tanglewood with President Joel Seligman and Jamal Rossi, the Joan and Martin Messinger Dean of the Eastman School of Music.
6:30 p.m.—Dinner
8:30 p.m.—Concert
Tanglewood
297 West Street
Lenox, Mass.
Tickets for the dinner and concert are $90 per person.
Dinner only tickets can be purchased for $35 per person.
Register online.
For more information, please contact the Office of Donor Relations at 800-281-2055.