October 2020
Meliora! A Message from our Chair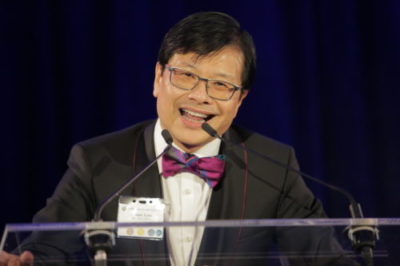 Right now is a time for us to come together as one University and make a difference in the world. Members of the George Eastman Circle stand at the forefront of this movement, and I am inviting you today to join me and the entire University community in an effort to make life better.
Our one-year campaign, Together for Rochester, is about helping our students and graduates find internships and jobs. It's about promoting equity and access. And it's about communicating how important our network of alumni, volunteers, and friends is to our future. This year, we hope to raise $100M to fund scholarships, research, faculty projects, and other critical initiatives.
We are incredibly grateful for the members of the George Eastman Circle and for all the difference you make for the University of Rochester.
Together, we are making an extraordinary impact.
Meliora,


Evans Lam '83, '84S (MBA)
Member, Board of Trustees
National Chair, George Eastman Circle
Together for Rochester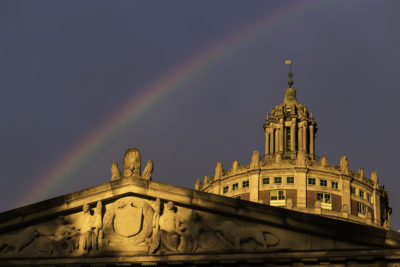 Together for Rochester is a one-year campaign to make life better for the University of Rochester community and for the world right now.
In today's economic climate, Together for Rochester will provide critical support for our mission of teaching, research, and patient care. By offering more financial aid and merit awards, we make a Rochester education more affordable for students and families. By supporting research, we improve our understanding of society's most complex problems—from COVID-19 to the global water crisis, the economy, and more. By promoting equity and access, we will establish a more diverse student body.
During this campaign, members are encouraged to learn more about creating a George Eastman Circle Scholarship. Your annual membership investment will help provide financial support for a student at your preferred school of choice. George Eastman Circle leadership has set a goal of 100 Circle Scholarships awarded.
You can learn more about the many different ways to be a part of this effort at rochester.edu/together.
Meliora Month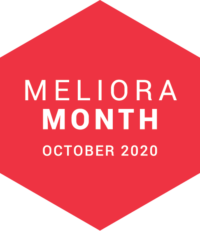 The true spirit of Meliora brings us together, regardless of where we are. This year, even without the traditional Meliora Weekend, you can still participate in a wide range of intellectual and engaging University of Rochester programs. Meliora Month 2020 is live and online throughout October.
Watch a recording of President Manglesdorf's State of the University Address. View events presented by our Women's Network, including a panel discussion by University leaders. Join your classmates for a virtual reunion 5K. View one of our stellar Experience Rochester programs. Reminisce with classmates, and much more.
George Eastman Circle Member Spotlight: Frank Bruckner
Frank Bruckner, a member of the George Eastman Circle Rochester Leadership Council and a 2015 graduate of Simon Business School, is giving back to the University of Rochester through both his membership and by helping current Rochester students find jobs in today's tough market. Here, he reflects on his time at Simon and the benefits of hiring Rochester students.
Q: Why did you decide to join the George Eastman Circle?
A: I joined the George Eastman Circle in 2015 while I was still in the MS in Finance program, because I wanted to give back to the community that gave me so much. I was fortunate enough to receive a scholarship that paid most of my tuition and then to receive a great job offer, so I wanted to contribute to future students so they could have the same opportunities.
Q: What do you find to be most rewarding about your George Eastman Circle membership?
A: I have thoroughly enjoyed participating in the Leadership Council over the past three years. Seeing the impact of our fundraising efforts through the student showcases, cutting-edge innovation, and amazing student artists and musicians has been very fulfilling. Seeing Renee Fleming perform for the George Eastman Circle membership and meeting Joy Abbott and Steven Chu were also great highlights.
Q: Can you tell us about your start-up company?
A: Meltek Inc. is a pre-seed clean technology startup based at NextCorps in Rochester. We are building a software platform that will enable more homeowners to participate in the renewable energy revolution by facilitating sharing of solar panels and battery storage with neighbors. Our AI-based algorithms will minimize energy costs while drastically improving resiliency in areas prone to outages, due to wildfires, hurricanes, or underdeveloped grids (internationally).
Q: Can you tell us how many UR students are involved with Meltek Inc.?
A: We have two current students who are in the Masters for Electrical and Computer Engineering program, one in the Bachelors for Electrical and Computer Engineering program, and three 2nd Year MBA candidates, in addition to myself. We also have two professors from Simon on our Board of Advisors. We were very lucky that we were able to hire several UR students with academic backgrounds almost perfectly aligned with what we are putting together.
Q: What made you want to reach out to UR students regarding jobs?
A: After graduating from the MS in Finance program in 2015, I helped several UR students get hired at my previous firm by working with the Benet Center at Simon and the Greene Center. I have been consistently happy with the help we received, as well as the students we hired. In addition, having graduated from both the MS in Finance program and the MBA program, I know Simon has a rigorous admissions process and intensive, high-quality curriculums.
Q: What did you take with you from your time at Simon that you use in your professional career?
A: I have been able to immediately apply a lot of what I learned in the Simon MBA program to building Meltek. For example, in Dr. Kessler's New Venture Development class we learned how to build companies. We have used case discussions from Dr. Brickley's Competitive Strategy class to build our Go-to-Market strategy. And Dr. Rantakari's Managerial Economics class and Dr. Brecko's Marketing Management class have influenced our Marketing Strategy and how we think about pricing.
If you are interested in partnering with us to recruit Rochester graduates, offer internships, full-time jobs, post-graduate fellowships, and career-building volunteer activities, click here. 
Upcoming Virtual Events
Thursday, October 15: Hear from Economics Professor Lisa Kahn on what to expect from the US Labor Market in response to the Covid-19 Crisis.
Thursday, October 29: Discuss the state of American democracy in preparation for the 2020 election.

University Update from President Sarah Mangelsdorf
A special George Eastman Circle members-only event. Details are forthcoming.
Wednesday, November 18
5:30-6:30p.m.

Day of Gratitude
Join the University of Rochester as we seek to do more than just give thanks, but to live thanks, now, and all year long.
Thursday, November 19