September 2019
Inauguration Celebration at Meliora Weekend 2019 + Member Events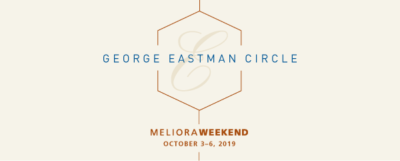 This October, join the entire University of Rochester community as we come together for a historic moment and an extraordinary celebration. Featuring the inauguration of the University's 11th president, Sarah C. Mangelsdorf, a performance by acclaimed musician and late-night bandleader Jon Batiste, a conversation with renowned author Ann Patchett, and stand-up comedy by Emmy-nominated comedian and actress and Saturday Night Live alumna Vanessa Bayer, this is one Meliora Weekend you won't want to miss.
An invitation to the Inauguration Celebration dinner reception on Friday, October 4 at the Rochester Riverside Convention Center, from 6:30 to 9:00 p.m.
A Meliora Weekend George Eastman Circle Luncheon on Saturday at noon in the Feldman Ballroom, located in Frederick Douglass Commons. This event is free and is open to members and their families.
Access to the Circle's Hospitality Suite on Saturday. The Suite will be located in Rush Rhees Library and will offer breakfast, light fare, and refreshments throughout the day. In addition, it will feature entertainment, student performances, and exclusive tours of campus.
An exclusive tour of the University of Rochester campus on Saturday at 2 p.m. The tour will start in Rush Rhees Library, in front of the Hospitality Suite, and will be led by Student Alumni Ambassadors.
If you have not already registered for Meliora Weekend and the celebration dinner reception, please visit this special website to reserve your tickets.
Please note that this special website was created especially for you and your guests to register. The link is not open to the general public.
Meliora! A Message from our Chair
Members of the George Eastman Circle stand at the forefront of a movement that helps provide an even greater service to the world, and play a critical role in ensuring the University of Rochester will have a reliable, steady stream of income for years to come.
We are incredibly grateful for the 1,013 members who have stepped forward to volunteer in additional roles for the University and its Medical Center.
Together, we are making extraordinary impact.


Evans Lam '83, '84S (MBA)
Member, Board of Trustees
National Chair, George Eastman Circle
Volunteer Spotlight: Amanjot Grewal '11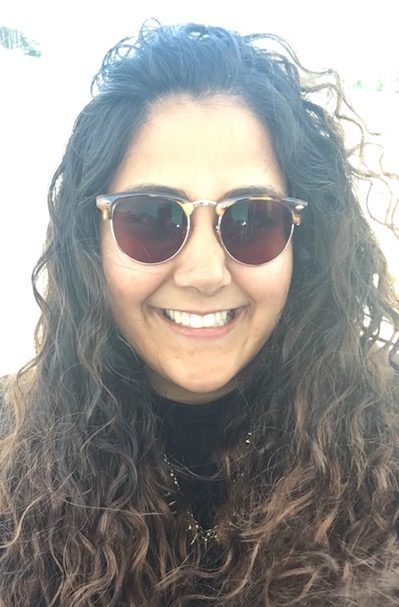 Amanjot Grewal, who received her Rochester degree in 2011, is an embryologist living in Washington, DC and currently serves on our George Eastman Circle Leadership Council there.
The University of Rochester was integral in helping me get to where I am today. From the time I began to search for colleges and schedule campus tours as a high school senior, the University's focus on student-driven research initiatives made it a top choice. I met with an alumni interviewer at a college coffee shop, and after listening to her describe her undergraduate experience I became even more enamored of the school that would become my (and my siblings') alma mater. Since the first day of orientation, I was presented with opportunities for growth and exploration at every turn.
I volunteer today as an alumni interviewer, because now more than ever students are presented with thousands of pieces of information about the colleges they might be interested in from the hundreds of websites that exist. As an interviewer, I find it meaningful when talking to students to let them know about the multitude of organizations I was part of at Rochester. It is so interesting how the smallest thing can resonate with someone, and it is always a great opportunity to advocate for the numerous advantages of a U of R education.
Volunteering led me to joining the George Eastman Circle because I was interested in being more involved in the University community and in helping support the causes that are important to me. As the oldest of several kids (all of whom so far are Yellowjackets), going to school with a competitive merit scholarship program was make or break. The Circle offers members the opportunity to fund scholarships for the next generation of scientists, teachers, and dreamers. Beyond scholarships, the Circle is involved with and intricately intertwined with so many of the University's pioneering initiatives – and I want nothing more than to continue the U of R's tradition of being a school where students, faculty, staff, alumni are always growing and exploring.
Your Philanthropy at Work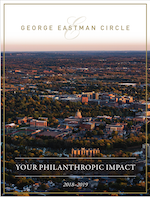 Every day of the year, George Eastman Circle members create a tremendous impact by supporting hundreds of funds across every corner of the University and its Medical Center. Click here to view our 2018-19 Philanthropic Impact report, and see firsthand the remarkable difference you make with your leadership.
Along with updates on what member gifts make possible, you will also find a special Volunteer Honor Roll, which highlights those who provided gifts of time, talent and treasure.
Show Us Your Town: Houston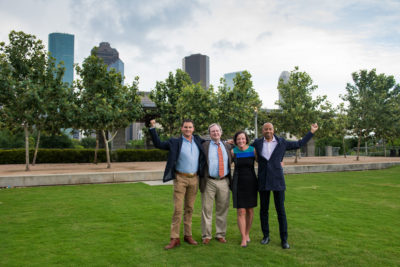 Our tour of Rochester's Regional Networks turns to Houston, home to nearly 1,200 alumni and 33 George Eastman Circle members—including J.J. Gonzalez '11, Barbara Burger '83, and Ebon Robinson '01S (MBA)—who know the East Texas city as welcoming, diverse, and infused with a "dream it, do it" mind-set. Go on a tour of Houston with them here.
Upcoming Events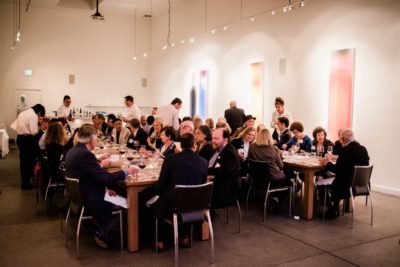 One of the ways we are able to thank you for your commitment to philanthropy at the University is to extend invitations to various regional gatherings, networking opportunities, dinners and programs. Below is a listing of special upcoming events you are invited to. For more information about these, and other, events please visit us at georgeeastmancircle.com
Meliora Weekend
October 3-6, 2019
George Eastman Circle Reception: Rochester, NY
September 18, 2019
George Eastman Circle Appreciation Dinner: Rochester, NY
November 12, 2019
Welcome Sarah C. Mangelsdorf, the University's 11th president, and join a conversation about the University's future at one of these upcoming national events near you:
10.23.19 | New York, NY
11.14.19 | Boston, MA
1.29.20 | Palm Beach, FL
1.30.20 | Naples, FL
2.6.20 | Houston, TX
2.7.20 | Chapel Hill, NC
3.13.20 | Washington, DC
3.29.20 | Los Angeles, CA
3.30.20 | San Diego, CA
4.23.20 | Chicago, IL
5.28.20 | Philadelphia, PA
6.18.20 | San Francisco, CA
For more details, and to register, visit this website.