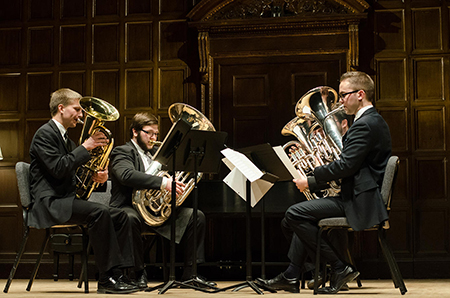 14 Dec

December 2015
Meliora! A Message from Our Chair
Dear Friends,
In Rochester Review's May-June issue, President Joel Seligman presented The Next Level, a white paper outlining four initiatives that will guide the University's growth through the remainder of the decade. Those initiatives are Data Science; Neuroscience and Neuromedicine; Humanities and the Performing Arts; and the Revitalization of the Rochester Community. Your annual support will be critical to the University's success in these areas.
Take, for example, the Revitalization of the Rochester Community, for which one of the core areas of focus is K–12 education. Including the Warner School of Education in your annual pledge helps support projects such as the East High School Partnership. In September, the Warner School's new leadership role at East High helped launch a new era for students and their families. If you want to see the true impact of the work being done by the Warner School, look at the smiles in this video: The First Day at the New East. As George Eastman Circle members, not only are your gifts—to schools and units across the University and its Medical Center—helping to create smiles, they are also helping to create stronger programs and facilities that equip Rochester to better serve the community and the world.
Thank you for your leadership and generosity. On behalf of the University of Rochester, I would like to wish you a wonderful holiday season. With more than 3,200 members worldwide, I would say we are ready to take the George Eastman Circle to "The Next Level."
Here's to an ever better 2016!
Meliora,

Nathan Moser '75
Life Trustee
National Chair, George Eastman Circle
Everything Ventured, Everything Gained
For many years, Arunas Chesonis '91S (MBA), '04 (HNR)has supported the University's budding entrepreneurs, and his creative mentorship has paid off for students, companies, and the wider community.
Chesonis' 30-plus years of experience in the technology realm include leadership in companies that range from telecommunications to energy to biotechnology, and in 2008, he was inducted into the Rochester Business Hall of Fame. Currently, Chesonis is CEO and chairman of the alternative energy company Sweetwater Energy and founding partner of the venture capital firm Cranberry Capital.
"The University lends itself to a more entrepreneurial environment," says Chesonis, a Charter Member of the George Eastman Circle and, since 2007, a member of the Board of Trustees. "It's large enough to offer significant support, but small enough where you get more personal connections with the faculty and people in the community."
He promotes entrepreneurship at the University in a variety of ways. In 2006, Chesonis and his wife, Pamela, established a scholarship fund for Simon full-time MBA students interested in entrepreneurship; he currently sits on the board of the student-run Simon School Venture Capital Fund; and he is a strong supporter of the University's tech transfer entity,URVentures.
Chesonis is particularly excited about URVentures, which not only finances University-based startups, it connects young entrepreneurs with prospective mentors—who in many cases turn out to be significant supporters.
In June, URVentures held its inaugural JazzTech Conference (so named since it coincided with the Greater Rochester International Jazz Festival). JazzTech featured six early-stage companies, offering them a venue to pitch their stories, plans and future prospects to potential investors. The event was such a success, Chesonis says, that he hopes to double its size in 2016.
"Through the George Eastman Circle, members can designate a gift to the Technology Development Fund to help these entrepreneurs get started, then alumni and other supporters get involved," he says. "If entrepreneurs can raise the money for their businesses here in Rochester, then Rochester is where they will locate their companies and create jobs. We want them to stay forever."
Chesonis channels further support to local entrepreneurs through High Tech Rochester, a University affiliate that serves as the umbrella organization for the Rochester Angel Network (RAN). RAN, which was founded in 2005 and now includes around 80 members, is offering free trial memberships to George Eastman Circle members. Through membership in the RAN, investors can directly support local companies, many of them spun out of the University of Rochester.
If you help alumni succeed, then they will give back, which helps even more people. It's a continuous cycle.
"Ultimately, successful entrepreneurs who have been supported by the University tend to give back to it," he says. "They realize how much the University helped them. If you help alumni succeed, then they will give back, which helps even more people. It's a continuous cycle."
To learn about the impact RAN makes, visit their website. Please connect with James Senall at james.senall@htr.org to receive materials about the trial membership for George Eastman Circle members.
Your Philanthropy at Work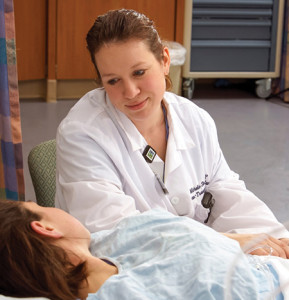 George Eastman Circle members have pledged more than $70 million in annual funds since the program's inception in 2007. Students, faculty and staff, and patients feel the impact of these gifts every day. Below are some of the areas where your support has helped enable significant advancements and achievements. Learn more about your philanthropy "at work" by following the links below.
Did you know that Highland was listed by U.S. News & World Report as one of the best hospitals in western New York for 2013–2014? Your support helps Highland fulfill its promise of excellence, which has been recognized regionally in six specialty areas: Ear, Nose, and Throat; Gastroenterology and GI Surgery; Geriatrics; Gynecology; Orthopaedics; and Pulmonology.
The School welcomed a record enrollment of more than 1,450 undergraduates. You helped with that. Your pledges provided additional financial aid that enabled more of the brightest engineering students to attend and continue to attend Hajim.
Horizons at Warner is a six-week summer enrichment program for K–8 Rochester City School District students, and this past summer it was at full capacity: 135 students. That's 135 children who have access to a blend of activities and field trips that build self-esteem, resourcefulness, and higher educational expectations and aspirations. You helped make it possible by designating some, or all, of your annual gift to the Warner School.
Getting Social

Are you part of our social circle?
The George Eastman Circle LinkedIn group provides an opportunity to network with members from around the world. You can stay up to date on the achievements of current members, and it is an excellent place for you to gain insight on interesting business topics and exchange ideas.
To join this exclusive, members-only group, you need to have a LinkedIn account. Once you have created an account, or if you already have one, visit the George Eastman Circle LinkedIn page, and click "Join" in the upper right hand corner of the screen.
Leading by Example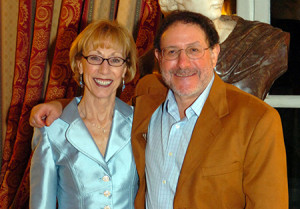 George Eastman Circle members provide critical funds that enable world-class research and health care, create countless academic opportunities, and cultivate the imagination.
The Charter Members featured below have made significant Campaign gifts in addition to their membership commitments or have exemplified Meliora in the areas of academia, health care, arts and culture, and/or research.
Entrepreneurship. Students and faculty members who seek to have their ideas turned into enterprises that create value have steadfast supporters in Mark Ain '67S (MBA) and his wife, Carolyn. The Ains most recent commitment gives multimillion dollar-support to entrepreneurship education at the University, bringing their collective philanthropy toward the University to $5 million. To honor their longtime leadership and generosity, they were made the namesakes of the Ain Center for Entrepreneurship.
You can read more about the Ains' latest commitment in the University news release.
Idea Exploration. Deciding to help create a River Campus Libraries space where students can explore and develop ideas that could potentially change the world was easy for Barbara Burger '83. Burger committed $1 million to the development of the iZone, a technology-filled space for students to collaborate with like-minded peers, present work, and meet with advisors (faculty members, librarians, local leaders, etc.). When construction is complete, it will be dedicated as the Barbara J. Burger iZone at the River Campus Libraries.
You can read more about Burger's gift and the iZone in the University news release.
Pediatric Allergy. A pediatric allergist at the Medical Center for more than 50 years, Eric M. Dreyfuss, M.D., established a new University professorship that honors the founders of his subspecialty in Rochester. Through the the Founders' Distinguished Professorship of Pediatric Allergy, Dreyfuss has helped ensure the region's children coping with food and environmental allergies, asthma, and other allergic conditions receive the best possible care. On September 30, he and his professorship's inaugural holder, Kirsi M. Järvinen-Seppo, M.D., Ph.D., were recognized by the University community at a formal installation ceremony.
You can read more about this professorship and Järvinen-Seppo in the November issue of Fast Forward.
Upcoming Events
Through a dedication to philanthropy, the George Eastman Circle helps to shape the future of the University and touches lives around the world. Your five-year commitments provide critical budget-relieving annual funds to specific schools and units of the University and its Medical Center and, ultimately, strengthen the University's ability to make a profound impact on society.
One of the ways we're able to thank you is to extend invitations to various regional gatherings, dinners, and University programs. For more information or to register for any of the following events, visit the Alumni Events page or contact the Office of Donor Relations at 800-281-2055.
New York City Holiday Party
December 8, 2015
JW Marriott Essex House New York
New York, N.Y.
President and CEO Joel Seligman will provide remarks and there will be an Eastman School of Music student performance.Register today.
An Evening with Wendell Castle
January 14, 2016
Museum of Arts and Design
New York, N.Y.
Welcome remarks from President and CEO Joel Seligman.Register today.
Meliora on the Road
March 12, 2016
Westin New York Grand Central
New York, N.Y.
Invitations will be sent in February 2016.