June 2016
Meliora Weekend 2016: Better Than Ever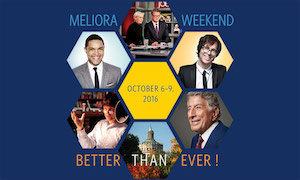 Why better than ever? Aside from the standard Rochester answer of "that's what we do," it's because we will also be celebrating the success of The Meliora Challenge, which will be concluding at the end of this month.
You have helped us raise more than $1.3 billion, and we want to thank you with a weekend you won't soon forget. But don't take our word for it. See some of the featured fun and guests that will accompany legendary singer Tony Bennett, October 6–9.
During the weekend, George Eastman Circle members and their guests will also be invited to these exclusive George Eastman Circle events:
Welcome Reception
Friday, October 7
4–6 p.m.
Stop for some light refreshments to kick off the weekend.
Breakfast
Saturday, October 8
9–10:30 a.m.
Precedes the keynote address.
Hospitality Suite
Saturday, October 8
11 a.m.–5 p.m.
Take a break, and enjoy some food, drink, and entertainment from student performers.
Registration and ticketing for Meliora Weekend opens in July. For more information and a full schedule of events, visit www.rochester.edu/melioraweekend, email alumni@rochester.edu, or call 877.MELIORA (877.635.4672).