September 2012
The George Eastman Circle Celebrates Meliora Weekend
Meliora Weekend is only two weeks away, and there is still time for George Eastman Circle members to register for this extraordinary weekend. The George Eastman Circle will host an exclusive evening with award-winning journalist Jim Lehrer, the executive editor and former news anchor for PBS NewsHour, on Friday October 12.
Lehrer was recently selected to moderate the first Obama-Romney presidential debate on October 3, 2012 in Denver, Colo. He will share his unique perspective on American politics and take questions from the audience at the Rochester Riverside Convention Center during the George Eastman Circle Event. Over the course of the past six presidential elections, Lehrer has served as a moderator for eleven of the nationally televised debates among the candidates. Due to an unexpected family commitment, Joe Scarborough is no longer able to participate in this event.
Tickets to the Jim Lehrer event are $35 per person. If you have questions, please contact the Office of Donor Relations at (585) 275-7393 or DonorRelations@rochester.edu.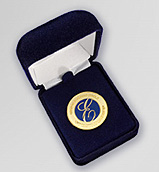 In addition to this exclusive opportunity, we would also like to encourage you to stop by the George Eastman Circle Hospitality Suitewhile you're on the River Campus, Saturday, October 13. Located in the Welles-Brown Room in Rush Rhees Library, this suite offers our members and their guests a place to relax and take some respite from the bustle of the day's events, in a family-friendly environment.
Visit between 9:00 a.m. and 7:30 p.m. to enjoy food and drink, entertainment from student musicians, and pick up the new George Eastman Circle pin, pictured above. In particular, don't miss performances by The YellowJackets at 3:00 p.m. and The Midnight Ramblers at 4:00 p.m.
To look at the entire Meliora Weekend schedule of events, clickhere.
Meliora! A Message from Our Chair
Dear Members,
I hope you had a wonderful summer. With its end comes the beginning of a new semester at the University. Within the incoming classes are extraordinarily talented students who have received scholarships that you have helped make possible.
On top of the natural energy this time of year creates, I'm proud to add that the George Eastman Circle's global membership has crossed the 2,300 member threshold—with more leaders joining us every day. Reaching this milestone would not have been possible without the leadership of our Charter Members, who have continued their commitment by renewing their support, as we enter our sixth year. Whether you signed up as a Charter Member at the launch of the George Eastman Circle or if you have joined us more recently, together, we all carry on the ideals of George Eastman—the University's greatest philanthropist—and make a distinct difference in many lives.
I'm also thrilled to share that in just two days, The Meliora Challenge is going to be launched in the greaterChicago/Midwest region. We have more than 40 George Eastman Circle members who live in the Chicago area and demonstrate their support of this Campaign with their presence at University events and their generosity. Next month, we'll be launching an additional regional campaign inBoston. These events are sure to both excite and inspire, asThe Meliora Challenge goes national.
As you know, all George Eastman Circle gifts support the University's Annual Fund, which raised a remarkable $12 million this past year. Your gifts ensure that current students will have the financial aid they need to graduate; enable us to recruit and retain the best faculty, clinicians, and researchers; provide for the most innovative coursework, life-saving care, and ground-breaking research; and give the University the tools to transform lives and make a profound impact on society.
Finally, this past August, the George Eastman Circle team circulated a membership survey to gain feedback that will help us expand our program's reach and impact. On behalf of the University, I would like to thank you for participating in this survey. As always your input is highly valued, and the information you have provided will be tremendously useful in our plans for the future.
Your participation in the George Eastman Circle is making a difference. On behalf of the University, thank you for all you do and for your ongoing support.
Meliora!

Nathan Moser '75
Life Trustee
National Chair, George Eastman Circle
Members Leading Regional Campaigns
In two days, the University of Rochester will launch a regional campaign in Chicago—the second in a series of regional events that are bringing The Meliora Challenge: The Campaign for the University of Rochester to its alumni, parents, and friends across the country.
At the forthcoming event, leading remarks will be made by Charter Members Trustee Hugo Sonnenschein '61, chair of the Chicago Regional Cabinet and co-chair of the regional campaign, Stephen Down '88, '95S (MBA), co-chair of the regional campaign, and Trustee Gail Lione '71, vice-chair of the Central U.S. Campaign effort. Guests will also have the opportunity to meet and hear from President Joel Seligmanand other University leadership, faculty, and students. Next month, on October 29, the University will celebrate the beginning of another regional campaign at the Museum of Fine Arts, Boston.
The Meliora Challenge's regional tour of the nation began on June 5, in San Francisco. More than 160 people attended a spectacular kickoff that became the largest University event ever held in the region. George Eastman Circle members' support and leadership were at the heart of this achievement and will continue to be essential to success in Chicago and all subsequent launches.
Whether it is listening to a fellow alumni speaker or a moving musical performance from Eastman students, these events provide an environment for guests to reconnect with the University, celebrate its progress, and find the inspiration to be a part of its future.
For those who haven't already registered for Chicago, you can do so here. Members interested in registering for Boston, please click here.
Member Profile:
Dr. Drew Mittelman 68, P06
All of our members have wonderful stories to share. We are pleased to feature one such story from a Charter Member who recently renewed and increased his George Eastman Circle membership to the next level.
When Drew Mittelman graduated from the University of Rochester in 1968 with a degree in English, he took with him lifelong friendships, a broad-based education, and acceptance into six prestigious dental schools.
Now a dentist and co-owner of Dedham Dental Associates near Boston, he has been an active alumnus for more than 35 years and recently became chair of the George Eastman Circle Boston Leadership Council and increased his commitment to the Fellow level. Drew has remained a passionate supporter of his alma mater, conducting alumni interviews with prospective students, representing the University at local college fairs, and regularly attending University events. He is planning to be at the October 29 launch of the Boston regional campaign, in support of The Meliora Challenge.
Drew's engagement with the University escalated when his daughter, Dana Mittelman '05, came to Rochester in 2001. Dana majored in American Sign Language and is now co-chair of the Young Alumni Council. While Dana was active in the University's drama department, Drew and his wife, Maureen Adduci P'05, visited campus several times a year to watch their daughter's performances.
One year after Dana graduated, the George Eastman Circle was established. Drew and Maureen decided that since the Member level was an affordable commitment, they would jump in. As a Charter Member, Drew thought this new giving society was a wonderful way to underscore his engagement with the University.
"I view the George Eastman Circle as a seminal change in the way the University engages people," he says. "By opening new avenues of communication, it's gotten alumni like me thinking about our time at the University, about what resonated most with us as students, and about how we can help future generations experience what we did."
Five years later, after witnessing the Circle's exponential growth and its impact at the University, the Mittelmans renewed their membership. For Drew, the overwhelming support that the George Eastman Circle received gave the group momentum and made him even more excited about supporting the areas he is most passionate about, including the Strategic Opportunities Fund, Rochester Annual Fund, Parents Fund, and Rochester Athletics.
"The George Eastman Circle is about building a network of support among people who want to help the University with its mission," says Drew. "I believe one day we will look back and ask, 'Why didn't we start the George Eastman Circle decades ago?'"
A Night at the Gallery: Framing Edo
Japanese artist Andō (Utagawa) Hiroshige was one of the last great artists of the ukiyo-e tradition. Using his distinctive visual technique, he created a series of more than 100 prints depicting mid-nineteenth-century Edo—now Tokyo—known asOne Hundred Famous Views of Edo (ca. 1856-1858). On September 20, members of the George Eastman Circle and the Memorial Art Gallery's Director's Circle, along with friends of the University of Rochester, attended a special viewing of a sample of these masterworks.
Drawing from the extensive collection of Arthur R. Miller '56, '08 (LLD), the Framing Edo exhibition showcased more than 30 extraordinary prints. The stunningly beautiful selections from Miller's collection provide representation of Hiroshige's style and his nostalgic response to Edo's rapid transformation after Japan opened its borders to the West during the mid-1800s.
Those in attendance heard remarks from President Joel Seligman and the Mary W. and Donald R. Clark Director of the Memorial Art Gallery Grant Holcomb, as well as commentary on the exhibit from the perspectives of both Miller and Co-Curators Nancy Norwood and University Professor David Pollock. After hearing from all speakers, guests enjoyed a reception with cocktails and hors d'oeuvres.
For those who were unable to attend the event, the exhibit will remain on display at the Memorial Art Gallery for several months. Additionally, members are encouraged to save the dates November 8 and 10 for "Images: Musical Impressions of an Art Museum" with Conductor Jeff Tyzik at the Eastman Theatre. The 35-minute musical composition brings to life works from seven different artists, in celebration of the Gallery's centennial. For more information on the concert or to purchase tickets, click here.
For information on George Eastman Circle events, click here. And for information on upcoming events at the Memorial Art Gallery, click here.
Leadership Through Philanthropy
Reaching the $1.2 billion goal of The Meliora Challenge: The Campaign for the University of Rochester requires leadership of all kinds. George Eastman Circle members are playing a significant role in the progress we have made thus far, serving as leaders and exemplars of this Campaign and University. Recently, the following gifts were pledged from our membership to the William E. Simon School of Business and the University of Rochester Medical Center:
Ron Fielding '73 (MA), '76S (MBA) pledged $5 million in scholarship support to the Simon School, which is in addition to previous scholarship gifts totaling more than $2 million. He is a member at the Benefactor level.
Dan Lazarek '91S (MBA) committed $1 million to support the student-run Simon School Venture Capital (VC) Fund.He is a Charter Member at the Benefactor level.
Joe Abrams '74S (MBA) and Patricia Abrams, Charter Members at the Benefactor level, pledged $1 million to the Simon School and Medical Center. Within their gift commitment, they designated $750,000 to the Joseph and Patricia Abrams Endowed Fund for Innovation and Entrepreneurship at Simon and $250,000 to the Abrams Family Fund for Myotonic Muscular Dystrophy Researchat the Medical Center. This gift provides additional support to a $100,000 pledge to the same Fund by their son, Matthew Abrams '02, who is also a George Eastman Circle member at the Member level.
For more information on these gifts, click here.
Since the inception of the George Eastman Circle program, members have pledged more than $1.1 million to the Golisano Children's Hospital. On September 10, the University celebrated the groundbreaking of the new Golisano Children's Hospital, the largest capital project in its history. Click here to read about this historic event.
The new Hospital still has many needs. To learn how you can continue to support the Golisano Children's Hospital, click here.