Features
Ideas for Energy
Rochester trustee and Nobel Prize–winning physicist Steven Chu '70 is named to lead the U.S. Department of Energy.
By Jonathan Sherwood '04 (MA)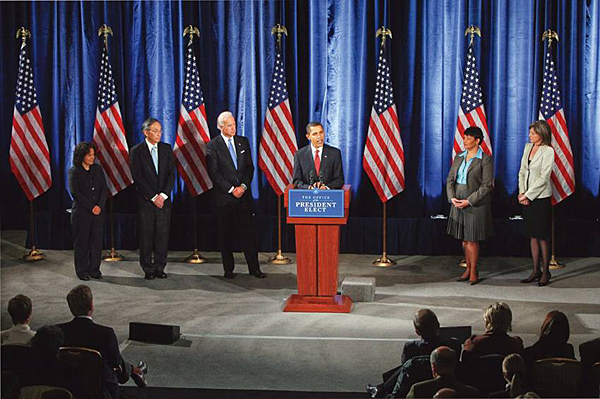 Steven Chu '70 is used to leading some of the nation's most inventive scientific minds as they focus their talents on issues involving energy in the United States. For the last four years, Chu, a University trustee who won a share of the 1997 Nobel Prize in physics, directed the Lawrence Berkeley National Laboratory, where he helped guide multidisciplinary initiatives to research and develop carbon-neutral sources of energy.
The effort requires collaboration, direction, and common purpose among often independent-minded scientists, Chu has noted. And it requires committed leadership.
"To get a bunch of academic researchers to order each other around is normally unthinkable," Chu said in a 2006 Meliora Weekend presentation. "With the highest-caliber scientists saying we have to find a solution, I'm confident that we will."
Chu will soon have a higher-profile role in leading the search for solutions to the country's insatiable demand for fossil fuels, the environmental and economic effects of energy development, and the prospects for sustainable energy. In December, he was appointed by President-elect Barack Obama to be the secretary of energy.
He is one of several Rochester alumni who are heading to Washington this year to take on new roles. Also named to the Obama administration was Heather Higginbottom '94 (see story, page 17). And Chris Lee '87, a Buffalo-area Republican, was elected to his first term to represent upstate New York's 26th district in the House of Representatives.
Pending approval by the Senate, Chu will oversee a cabinet-level department responsible for, among other issues, the nation's energy policies and energy research as well as the country's nuclear weapons program.
In making the appointment, Obama praised Chu's leadership in focusing Berkeley Lab's research on sustainable energy as a way to help develop new energy technologies that could bolster the economy.
"Steven is uniquely suited to be our next secretary of energy as we make this pursuit a guiding purpose of the Department of Energy, as well as a national mission," Obama said. "The scientists at our national labs will have a distinguished peer at the helm. His appointment should send the signal that my administration will value science, we will make decisions based on the facts, and we understand that the facts demand bold action."
Chu says he recognizes the balance that needs to be struck between developing sustainable sources of energy while also helping revive an economy that derives most of its energy from coal, oil, and natural gas.
"Some say we have to concentrate exclusively on re-establishing the health of the economy," Chu said. "I look forward to being part of the president-elect's team, which believes we must repair the economy and put us on a path toward sustainable energy."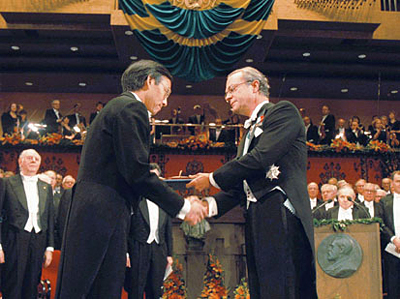 Since 2004, Chu has been director of Berkeley Lab, a Department of Energy lab located in Berkeley, Calif., that conducts unclassified research and is managed by the University of California. Before that, he was a professor of physics and applied physics at Stanford University.
After graduating from Rochester with degrees in mathematics and physics, Chu earned his doctorate in physics from the University of California in 1976 and joined AT&T's Bell Labs in 1978. While there, he and his team developed methods to cool and trap atoms using lasers, work for which he shared the 1997 Nobel Prize with Claude Cohen-Tannoudji and William Daniel Phillips.
Since 1999, he has been a trustee of the University, which also recognized his achievements and leadership by awarding him an honorary degree in 1998.
"All of us at the University of Rochester are thrilled that Steven Chu will be the next secretary of energy," says President Joel Seligman. "He is the right person to lead our nation's efforts to create a wiser and more diverse energy base in the 21st century."
Peter Lennie, the Robert L. and Mary L. Sproull Dean of the Faculty of Arts, Sciences, and Engineering, says Chu is one of the world's most distinguished scientists.
"He is an unusually wise and thoughtful trustee and alumnus of the University, and a scholar whose great breadth and knowledge of energy and scientific research make him a brilliant choice to become secretary of the Department of Energy," Lennie says.
Nick Bigelow, the Lee A. DuBridge Professor of Physics and the chair of the Department of Physics and Astronomy, also praised the appointment.
"Since he was a student at Rochester, his insight, enthusiasm, and gifts for science have been abundantly clear," Bigelow says. "For those who don't know Steve, what is especially wonderful is that at a time when energy is such an important issue for the nation and the world, we will have a brilliant and resourceful leader in the Department of Energy."
The appointment of Chu, who is the first Nobel laureate ever named to lead the energy department, has drawn praise among science watchers.
Writing for Wired magazine's Wired Science blog, editor Betsy Mason noted, "[Chu] recognizes the need to invest in science, from grade schools to universities to industry. He sees the imperative for the government to think in new and big ways about the energy problem. He understands we have to face up to climate change. And, most importantly, he has ideas about how to get it all done and the character to make them happen."
As a senior at Rochester, Chu won the Stoddard Prize, an honor awarded for the best senior thesis by a graduating senior in the Department of Physics and Astronomy, and he won the Stoddard Prize from the Department of Mathematics two years earlier. He also found time to play the trombone in a concert band and to take music lessons at the Eastman School.
While he has noted that winning the Nobel was not a complete surprise because his name had been mentioned as a possible winner for several years before he was selected, he has said in media interviews that winning has influenced his appreciation for public service.
"As a Nobel Prize winner, you become a public figure for all of science," he says. "There are some people who really love that role, and while I don't think I'm one of them, I accept it because it draws attention to science and helps publicize it in a positive way."
By the time he won the Nobel, he had become more active in public service work as a way of repaying the experience and education he received.
"As I become older, I assume more of the role of a graybeard," he noted. "It's part of giving back what you got when you were young and carefree."
Jonathan Sherwood '04 (MA) is a senior science writer for University Communications.