Features
Policy Guide
Heather Higginbottom '94 will help shape domestic policy in the Obama administration.
By David McKay Wilson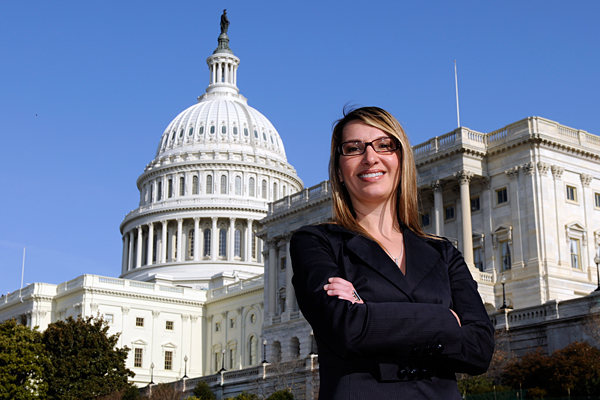 Heather Higginbottom '94 is keenly aware of the historical moment in American politics that she finds herself in. As policy director of the campaign that resulted in the election of Barack Obama, she spent 20 months helping outline the ideas and strategies that successfully put the Illinois senator into the White House.
Beginning in January, Higginbottom will be spending a lot of time in the White House as well, joining the Obama administration as deputy director of the Domestic Policy Council, one of the key advisory boards that guide presidential decision making. But Higginbottom, who has spent nearly 14 years on Capitol Hill, recognizes how dramatically the stakes have changed in just a few short months.
On election night last November, Higginbottom gathered with tens of thousands of Obama supporters in Chicago's Grant Park, where chants of "Yes We Can!" echoed through the air. Since then, America's financial news has worsened, the economy has fallen officially into recession, and joblessness has reached historic highs.
"The responsibility we're all feeling is enormous," says Higginbottom. "But we're coupling that with a tremendous sense of opportunity."
The opportunity to have a hand in setting national policy is the latest appointment for Higginbottom, who has established a reputation as one of the nation's leading policy mavens, excelling both on the campaign trail and behind the scenes at the Capitol. For nearly eight years, she served on the staff of Massachuestts Sen. John Kerry, rising from legislative assistant to legislative director to deputy national policy director for Kerry's 2004 presidential bid.
"Heather is one of the finest policy minds in the country, but is also able to instantly explain complex policy issues in terms easily understood," says Dan Pfeiffer, communications director for the Obama transition team. "That skill is rare and invaluable in a campaign and in the White House. She has the full trust of the president-elect and his most senior aides."
Higginbottom to Address Political Science Ceremony
Heather Higginbottom will be the guest speaker this spring at the diploma ceremony for the Department of Political Science.
"As a senior, Heather enrolled in a graduate seminar on urban politics, an undergraduate taking a class alongside several Ph.D. students," says Gerald Gamm, associate professor of political science and history who taught Higginbottom and who is now chair of the department. "She thrived in the environment and more than held her own. Throughout her years at Rochester, she was lively, smart, and passionate about politics. Heather had a sharp, analytical mind and a deep commitment to understanding how local, state, and national politics work."
Higginbottom, who majored in political science at Rochester, says she was honored to be asked to address the Class of 2009.
But stepping up to the podium will be a change for the often behind-the-scenes advisor.
"I'll have to have one of the White House speech writers help me out," she jokes.
As deputy director of the Domestic Policy Council, Higginbottom helps coordinate one of three principal advisory groups overseen by the president. In addition to the domestic council, the other two main White House councils are the National Security Council and the National Economic Council. Chaired by the president and made up of cabinet secretaries, the domestic council is responsible for advising the president on health care, poverty, education, and other issues. Higginbottom reports to Melody Barnes, the director of the Domestic Policy Council.
Domestic issues such as urban policy and education are the kinds of political priorities that first interested Higginbottom as a political science major at Rochester. The native of Chenango Bridge, a small town outside Binghamton, N.Y., admits she had lofty ideas about what could be accomplished in politics.
"I was always interested in government," she says. "I was interested in how to make changes in people's lives, as idealistic as that sounds."
During her junior year, Higginbottom got her first taste of Washington as part of the University's Washington semester program. She started in the office of U.S. Rep. Rob Andrews of New Jersey, where she found herself vying for work with several interns on his staff. Then she met U.S. Rep. Gene Green, a Houston Democrat who had just been elected and had yet to hire an intern. By the summer between her junior and senior year, she was coordinating Green's intern program.
After graduation, she returned to Washington and found a job with the nonprofit Communities in Schools, which focused on programs to keep high school students from dropping out.
"Heather was always fair, inclusive, and curious about what was going on in the world," says longtime friend Jay Bruns '94, director of global brand management for Hasbro Games. "She wanted to understand, not judge people, and she believed that the world didn't have to be the way it had always been."
After earning a master's degree in public policy and philosophy at George Washington University, Higginbottom considered leaving D.C., but she landed a job with Kerry, the Massachusetts Democrat known for his keen interest in public policy issues. Working with Kerry was a pivotal experience, she says.
"I had the good fortune to work with someone who ran for president," she says. "Once you do that, and you see the potential for change that you can make in people's lives, it's addictive."
After Kerry's defeat, Higginbottom became executive director of the American Security Project, a think tank Kerry helped establish that promotes the debate over the appropriate use of American power in the 21st century. She returned to Kerry's staff in February 2006 until she resigned a year later to join the Obama campaign.
"Behind her quiet determination is a fierce idealism that's alive, even after more than a decade in politics," says Kerry. "She's still at heart the daughter of a family of professors and teachers who love literature and that romanticism hasn't dissipated one bit."
As policy director for the Obama campaign, Higginbottom was part of the campaign's inner circle, working with the Illinois senator and his staff to craft policy positions on domestic issues as the campaign moved along. She helped prep Obama for debates with Republican John McCain, and she was often on the phone with journalists, explaining the details of the candidate's campaign goals.
She met regularly with Obama, hashing out the broad outlines of policies that she'd refine with her staff.
"Senator Obama is really even-keeled, smart, and fun to work with," she says. "You can sit down with him and have a conversation about the economy or urban poverty, and he gets it quickly."
She says Obama listens to people and seeks out advice across the ideological spectrum.
"He has an open mind and benefits from hearing from a wide range of people," she says.
As Obama slogged through the prolonged primary season, Higginbottom and her staff developed policies on a broad range of issues. Obama has been a strong proponent of national service and has said he wants to make college education more affordable. Higginbottom led the team that crafted a policy that would provide a $4,000 tax credit to college students for each year that they perform 100 hours of community service.
"He gave us the task of coming up with a plan that would address college affordability and national service," she says. "We released that plan in the fall of 2007. Now I'm hoping it will happen."
The primary season began with Higginbottom and one other staff member on Obama's policy team, a group that grew to 15 during the general election campaign.
The tight-knit group worked long hours.
"There are no Saturdays or Sundays off," says Higginbottom. "A campaign starts and ends and there's not much in between."
As she shifts her focus from the success of the campaign, Higginbottom still finds time to relish some of the idealism that first launched her into public policy more than two decades ago. In late December she and Barnes visited the White House for the first time as members of the Obama administration.
"Walking up the driveway to the West Wing was one of the most thrilling experiences of my life," she says.
David McKay Wilson is a New York–based freelance writer.