Features
Researching Possibilities
An innovative grant program, a new director, and new initiatives are bringing a fresh focus to undergraduate research at Rochester.
By Kathleen McGarvey
When Alexandria (Kate) Maurer '11 came to the University a year ago, she already had a bit of research experience under her belt. A graduate of a high school specializing in science and math, the Enid, Okla., native had taken part in lab work at the University of Oklahoma's health sciences center and at the Oklahoma Medical Foundation.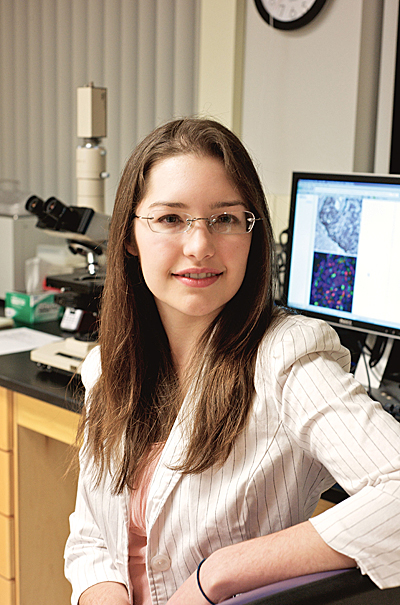 So when Maurer arrived at Rochester, she was ready to take advantage of the opportunities that awaited her.
"I was interested in cancer research and pathology," Maurer says. In the spring of her freshman year, she searched faculty members' Web sites, examining their research projects. She e-mailed those with labs in relevant areas, sent them her resume, and let them know about her interest in pathology and her desire to volunteer.
After meeting with several faculty members, Maurer now works 10 hours a week in the lab of Ganesh Palapattu, an assistant professor of urology in the School of Medicine and Dentistry, pursuing research on the use of molecular inhibitors in the treatment of prostate cancer.
"I wanted to get into a lab, and I decided the simplest way was to contact faculty," she says. "I've always been a self-starter. If there's something I want to do, I always figure out a way to do it."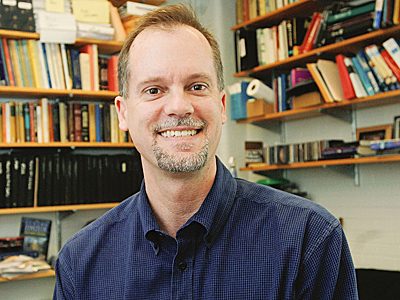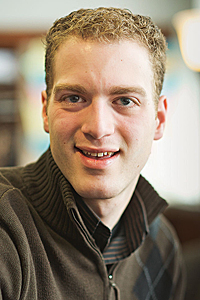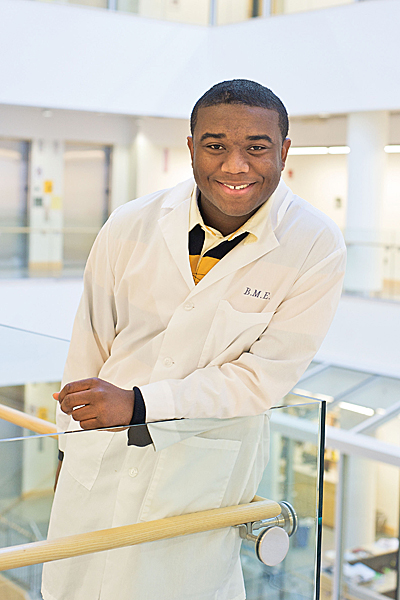 Maurer's initiative is just the sort Steven Manly, an associate professor of physics and astronomy and the new director of undergraduate research for the College, hopes to see in students interested in research.
But he's also trying to do all he can to give that initiative some extra traction. He intends to make it easier for students to find out about research opportunities and to learn about faculty research compatible with their own interests.
"We're trying to make the barriers for students as low as we can make them," he explains, "and to encourage students to be in contact with faculty about their research."
Research by undergraduates at Rochester is nothing new. "It's just part of the culture," says Jonathan Burdick, dean of admissions and financial aid for the College.
But it is receiving fresh emphasis.
A new admissions program, the Portable Research Grant, offers selected students in the freshman class $3,000 in funding for a research project to be carried out while at Rochester. The program was launched with this year's class, providing grants to 32 students. The program augments the extensive range of opportunities for research that already exists for students in the College across disciplines and class years.
Meanwhile Manly is immersing himself in the research methods and norms of disciplines throughout the College. As a physicist, he says, he understands well what possibilities there are for a student eager to work in physics. The opportunities for research in fields such as English or anthropology are new to him, though, and he's trying to become conversant in them all.
"The culture is dramatically different in different disciplines," he says.
He'll be looking, too, for ways to help departments enhance their student research opportunities, perhaps helping those that offer research in the summer to create a competitive grant to bring in undergraduate researchers during the academic year, or to find outside funding sources.
He also hopes to encourage students doing research to make their work public by submitting it to the University's student-run Journal of Undergraduate Research or presenting it at a national undergraduate research conference, a conference in the student's discipline, or the University's Undergraduate Research Exposition. Held each spring, the exposition has been reorganized this year to facilitate more students and faculty and, by limiting the number of presentations, to raise the level of competition among those who will present their work.
"Undergraduate research has become a more prominent piece of what we're thinking about in the College, because we think it's such a valuable part of education and something we do especially well," says Dean of the College Richard Feldman.
"There's a lot of undergraduate research going on," Manly explains, "but maybe there's a chance to really help things along right now.
"It's an exciting time to be in this job, in part because I believe that in many different places—admissions, the administration, among students and prospective students—undergraduate research is perceived as something interesting to do, even though everyone might not have a clear idea of what it is."
Burdick agrees. Among high school students looking at colleges, undergraduate research "is a growing buzzword," he says.
"There are prospective students who will come in to admissions and have a research topic already in mind. Some are just interested in research generally," says Jason Zentz '09. A linguistics and music major from Mechanicsburg, Penn., he is a Meridian, a tour guide for admissions, and has helped this year to interview prospective freshmen.
There are many small colleges that "play up research opportunities, but no small college can compete with what we can offer," Manly says. "Because Rochester is a major research university, we have undergraduate research happening all over the place. It's a teaching tool."
"This is one of the things that makes a place like Rochester different," says Feldman. "The faculty are doing research, and are able to supervise students doing research in a sophisticated way. And the size of the school makes it easier for students to take advantage of opportunities."
And they do. Zentz, for example, has taken on his own research this semester, investigating the structure of noun classes in Babanki, an underdocumented oral language from northwest Cameroon that has between 20,000 and 40,000 speakers.
Working with the guidance of Scott Paauw, a lecturer in linguistics, Zentz is examining data collected in a field methods class at the University of Buffalo a year ago. He consults with the native speaker of Babanki who advised that course, asking him questions to uncover the grammatical structures underlying the language.
The goal "is to have a concise but informative and consistent description of the language," he says.
Zentz came to Rochester knowing he wanted to study linguistics and music. "I love the structural aspects of language—the way grammar works, the way sounds work."
He hopes to become a descriptive linguist—one who studies how languages are structured—and is applying to doctoral programs in linguistics. Thanks to the research he is doing now, he will begin his graduate study already experienced in the process of eliciting data about a language from a speaker.
"That's ultimately what I'll be doing, and it's good practice," he says.
While students in the sciences can usually contribute to research projects faculty members are already engaged in, in the humanities and in some other fields, research is a more individual enterprise, and so students, rather than participating in a larger project, develop a project of their own, as Zentz has done.
But whether working with a group of like-minded scientists or embarking on a project a student has developed and will carry out alone, the pedagogical value of research is enormous, Manly says.
"Research is a great way to teach, because it's not compartmentalized," he says. And Manly should know: In 2003, he was named the New York State Professor of the Year by the Carnegie Foundation for the Advancement of Teaching, and he received a three-year appointment as the Mercer Brugler Distinguished Teaching Professor in the College of Arts, Sciences, and Engineering in 2002.
"When I teach physics, some students don't like it when we use calculus because it's not a calculus class. In our educational system, we over-compartmentalize—but the real world doesn't have those boxes. And in undergraduate research, there necessarily aren't the boxes there are in the classroom.
"It's a different way of teaching that can often have a bigger impact on students than what you can have in the classroom," Manly says.
Using ideas in the lab that are studied in the classroom is exciting, says Imoh Ikpot '10, a biomedical engineering major with a concentration in biomechanics from Chili, N.Y.
Ikpot, a participant in the University's Ronald E. McNair PostBaccalaureate Achievement Program—which prepares participants for doctoral studies through involvement in research and other scholarly activities—started working last summer in the lab of Amy Lerner, an associate professor of biomedical engineering. She and her group of researchers are examining the effects of pediatric obesity on the development of children's knee disorders and of osteoarthritis later in life.
Ikpot looked at how the way a foot pushes off the ground in taking a step affects knee dynamics.
Ikpot presented his work at the national Biomedical Engineering Society Conference in October and at the National Orthopedic Conference in February. This spring he's applying for summer research opportunities at other universities.
"I didn't think it would be so fun. I didn't really know what research was," he says.
Now, Ikpot finds himself more and more attuned to the field he's studying.
"I have a better appreciation for research," he says. When experts in his field present research on campus, "I go, because I'm interested in what's out there, what everyone else is doing."
Increasing a student's engagement with a field is just what Feldman believes research can do.
"The goal of education isn't for faculty to feed information to students," he says. "It's to teach them how to study the discipline.
"When it's done right, a student has the opportunity to engage independently with a problem, to sit down, in the way a faculty member does, and assess data and develop arguments. They're given the right balance of guidance in how to do it, and independence to do it themselves."
Maurer, who is planning to major in microbiology and immunology and later to pursue a PhD and an MD, has found that independence and intellectual maturation in her own work in the pathology lab.
"I've learned a lot about the scientific process that I don't think you get from a class," she says. "In class, you learn about scientific successes. Working in a lab, you learn how to say, 'This isn't working. What can I do to make it work?'"
In her first lab experiences in high school, Maurer says, she learned the scientific process of studying the work that has been done to date and formulating new questions to pursue.
"Now I'm implementing that for myself," she says. "To be a research scientist, you need to know what's going on in the field now, where it's going next, and what questions you need to ask to get there."
For Carrie Trant '12, one of this year's inaugural group of Portable Research Grant students, the freedom and uncertainty of research makes it appealing.
"You can read the textbook or you can be on the cusp," she says. "In the lab, no one can tell you what's going to happen."
"Part of what is so exciting about undergraduate research is we can foster within our students the confidence to take on a problem even if they don't know what the answer is yet," Manly says. "If I could teach one thing, the confidence to ask those questions would be it."
The Portable Research Grant program may contribute to that confidence. The grant "really seems to open doors, which is exciting," Trant says. It also provides students with the means to pursue answers to their questions.
Modeled on a program Burdick began when he was an admissions administrator at the University of Southern California, the grants provide students with $3,000 each to be used for research projects of their choosing.
"It's research broadly defined as 'experiential, nonclassroom learning,'" Burdick says, and there are just two framing stipulations: Students must use the funds between the middle of their freshman year and the middle of their senior year, and the work they do must have a faculty sponsor.
The students attracted by the grants "were students who had a lot of choices" about where to attend college, Burdick says.
Trant was one. The Niskayuna, N.Y., native was choosing between three universities, and the grant "really pushed Rochester over the top."
"The hope is students will use the Portable Research Grants as seed money and then attract some outside funding," Burdick says. He expects most students to use the money to pay for travel in service of their research, or to pay themselves a nominal salary for their research work.
That's what Trant is doing. A conversation with a biomedical engineering graduate student put her in touch with James McGrath, an associate professor of biomedical engineering.
Trant is now working in his lab, thanks to her grant.
"To get into a lab as a freshman is really exciting," she says. And while she's enthusiastic about her experience so far, she's also aware of how many possibilities still lie ahead.
"Whenever you go to professors for their office hours, they're very interested in teaching you," she says. "They want you to learn. I love the atmosphere here, and I'm excited to see what the next couple of years will bring."
Benjamin Plummer '12, a Portable Research Grant student from Wakefield, R.I., looks forward with similar anticipation. Plummer is contemplating a psychology major and his longstanding curiosity about video games has piqued his interest in the research conducted by Richard Ryan, a professor of psychology, psychiatry, and education, on video games and motivation. This semester he is working for credit in the lab of one of Ryan's graduate students, Andrew Baukney-Przybylski.
While he enjoys the research he's engaged in, Plummer is cautious about tapping into his grant. "I'm in no rush," he says. "Maybe next year I'll take a course in a completely different field, and I'll be interested in research in that area. I'm leaving my options open."
For his part Manly acknowledges that working with faculty on research projects is not for every undergraduate—or for every faculty member.
But he says for those who are inclined toward research, the possibilities are bountiful and beneficial.
"Very often with good students, the trick is to point them in the right direction and then get out of their way," says Manly.
"I'm a freshman advisor, and I read through their files before they come to campus in the fall. I love doing it," he says. "They're full of dreams, and I think a lot of what we're about is trying to help them realize their dreams."
Kathleen McGarvey is an associate editor of Rochester Review.