In Review
George Eastman Circle
A History-Making Effort
Annual Fund leadership society concludes its charter phase with goal-breaking success.
By Kathleen McGarvey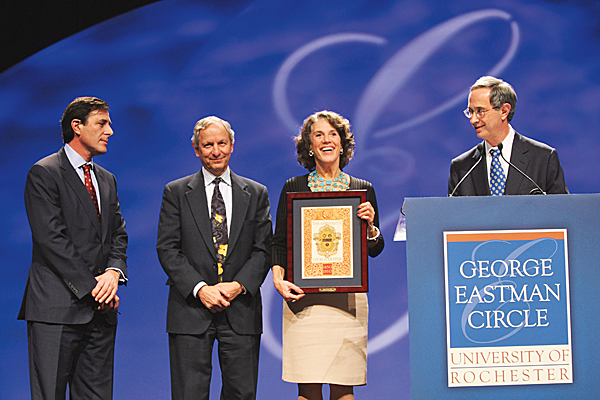 In 1924, Rochester alumni and friends, as well as local residents, joined together in a campaign to raise $10 million for the University as it moved from downtown to what is now the River Campus. The campaign succeeded spectacularly, drawing the participation of more than 70 percent of alumni and 10,000 Rochesterians.
Inspired by the historic effort, University leaders last year launched the George Eastman Circle, a donor recognition society named in honor of the University's legendary benefactor who played a central role in the 1920s campaign.
"I don't think we had a clue what we could accomplish," says Gwen Meltzer Greene '65, a member of the Board of Trustees and the chair of the University's Annual Giving Programs. "There had never been an effort of this magnitude and breadth in our recent history."
And so, unsure how high to set their sights, a small group of volunteers, working with Jim Thompson, senior vice president and chief advancement officer, and his advancement staff, set out to enlist 250 charter members in the George Eastman Circle by the end of 2008.
But just as in the 1920s, results quickly eclipsed expectations.
When 2008 came to a close, 1,082 donors—alumni, parents, and members of the Rochester community—had joined, pledging to make five annual commitments of $1,500 to $50,000 or more. Donors designated their support to all of the University's schools and units, including many areas in the Medical Center.
To so greatly surpass the goal "is remarkable," says Thompson. "This success demonstrates that people are excited about the University and our collective future."
Thompson and his colleagues are now focused on recruiting sustaining members, who will also make five-year commitments. By Meliora Weekend 2011, Thompson says, he hopes there will be 2,000 members.
"These commitments say, 'I'm with you, I'm on board, I want to be part of the expansion and success of the University of Rochester,'" says Thompson.
Mark Quinlan '82, '85S (MBA), a charter member at the Founders Level of $50,000, agrees. The five-year commitment "takes the question out of my mind of what I'm going to do, and the University knows it's going to get that same level of support every year."
After completing his undergraduate degree, Quinlan worked for the University as assistant registrar while earning his MBA from the Simon School. Today he is executive vice president for Associated Bank in Green Bay, Wis.
"I'm a lot more successful than I otherwise would be because of my years at the University of Rochester," says Quinlan.
"Education is one of the most important things," he adds.
As with many charter members, Quinlan says his gift—directed to the Rochester Parent Fund, the Rochester Athletics Fund, and the Simon School Annual Fund—reflects his varied affiliations with the University.
The society is structured on the assumption that donors like Quinlan who have multiple interests can be honored by the University for their total Annual Fund support. "At a university, there's not a field of human endeavor that we don't have someone working on. So we can invite each of our donors in to explore their interests," Thompson says.
"It's been great that we're working together," Greene notes of the newly coordinated fundraising effort between areas of the University. "As Rochester gets stronger, more highly regarded, and more successful, it helps everybody. All boats rise."
The coordination also allows the University to recognize donors in ways schools and units would not be able to on their own. "Our objective is to delight people with the experience," Thompson says.
Historian Doris Kearns Goodwin spoke to George Eastman Circle members at the New York City dinner that publicly launched the group last spring. This year historian David McCullough will address members. Other George Eastman Circle events have been held at Meliora Weekend and on other occasions as opportunities arise. Thompson also plans "rolling events" in cities such as Los Angeles, Chicago, and Boston every two to three years.
Gail Schupak '78 says she appreciates being able to focus her gift. "I'm giving to help the students," she says.
The annual funds supported by the society's members provide critical operating dollars, allowing those responsible for a school or unit to direct funds where they are most needed.
"It's a thousand and one little uses, but it really is the lifeblood," says Thompson.
In the current economy, unrestricted scholarship support has become especially critical, he adds, as students face the financial difficulties that arise if a parent loses a job.
Schupak directed her gift to the College Annual Fund. When she first visited Rochester as a prospective student, "I loved the school, and the vibrations I got from the school," she says. "And I got financial support, which was very important at that point in my life."
A Manhattan orthodontist, Schupak is now also a Rochester parent. Her daughter, Sarah Karron '11, is a student in the College.
"I think it's very important that the University keep its reputation for being generous to people who need money to be able to attend," Schupak says. "I wouldn't have been able to go if I hadn't had a scholarship, and I appreciate that."
The economic downturn has created challenges not only for students but also for the University itself. "It's a tough environment," Thompson says of fundraising in the nation's economic downturn. "We are very empathetic."
Nevertheless, the George Eastman Circle has so far brought notable success. When Thompson arrived in July 2005, the University had about $8 million in pledged gifts. "Now it's over $100 million," he says, well on the way to his target for pledged gifts. "Our goal is to have, on an ongoing basis, $300 to $500 million as a pledge balance. These are future cash flows that the University can count on through good economic conditions and bad."
"I think that our alumni, our parents, and our friends are excited to be a part of something so important—and they understand that this initiative is making history at the University," says Greene.
"Everyone can do well when times are good," Thompson says. "But times are tough, and it is heartening to see people coming through.
These are dear dollars, and I can't tell you how much I appreciate all this generosity. It means the world to us—it means the future to us."
For information on the George Eastman Circle, visit its Web site.