Sports
Track & Field
Maven of Multiple Events
Heptathlete Jamie Landry '09 helps lead the women's track team to success.
By Ryan Whirty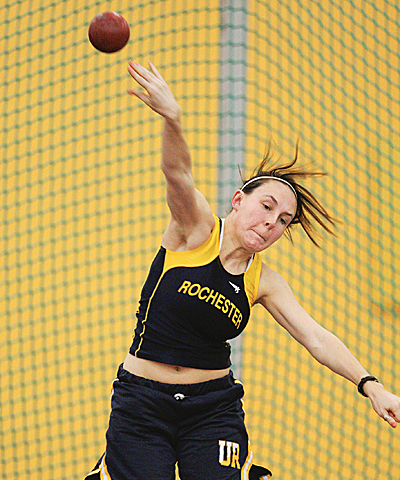 When it comes to track and field, Jamie Landry '09 is the quintessential jack-of-all-trades. Or make that "jane-of-all-trades."
As Rochester's top multi-event athlete, Landry excels both on the track and the field by sharpening not just her body, but her mind as well.
"Many people don't realize that being a multi-eventer is more than running, jumping, and throwing," says the native of Gilford, N.H. "It's being mentally tough enough to put months of training all together on the same day. Unlike many other sporting events, you only get one or two opportunities to get it right."
Landry has certainly gotten it right. During the 2008 outdoor track and field season, she won the heptathlon titles at both the New York Collegiate Track Conference championships and the Eastern College Athletic Conference championships for the second year in a row. She placed 18th in the heptathlon at the NCAA Division III championships. In all, Landry won the heptathlon at six different major meets or invitationals last spring.
Track coach Barbara Hartwig says she's been impressed by Landry's mental toughness and competitive attitude.
"She wants to achieve in everything that she does," Hartwig says. "She has learned that in the multi-events, you do the best you can in an event. If you meet your goals, that's great. If you don't do well, you have to forget it because in half an hour, you will have the next event. You can't let a bad performance live with you or it may spoil your next event."
Despite her individual feats, Landry is most proud of the success of the women's track team as a whole.
"My No. 1 goal for any track season is team unity," she says. "Whether it's a personal best for the day or a team championship, I want my team to succeed."
Given that, it's quite natural that, so far, her best memory of her collegiate athletic years is helping the Yellowjackets win the state indoor championship in 2008. For her part, Landry won the pentathlon at the meet.
Off the track, Landry majors in environmental science and is applying to graduate schools abroad, with eyes on obtaining a master's degree in sustainability or resource management.
This spring Landry is focused on finishing her Rochester career during the upcoming outdoor track season.
Because of the team's nurturing togetherness, Landry says "the track and field program at the University of Rochester has been a perfect fit for my lifestyle as a student-athlete. I love the UR track and field teams because we are an extremely diverse group of people."
She says each team member's athletic specialty is often reflected in each student's everyday life, making the squad something of a sociological study. It's somehow fitting that the team's best multi-eventer also sees the multiple personalities of her teammates.
"It's interesting how certain personality characteristics are amplified by the event that someone specializes in," Landry says. "For example, many of our distance runners persevere through miles and miles of running each week. Many of these same people are the ones who take 22 credits and work two jobs.
"On the other hand, our sprinters are constantly working on speed and agility. Similarly, they are spunky and outgoing in their personal lives. Overall, every event is different, and therefore it brings in a multitude of athletes. It makes for some very interesting practices."
Ryan Whirty writes about sports for Rochester Review.