In Review
NATIONAL TOURNAMENTS
Record Seasons
Squash team and women's basketball finish their seasons with trips to national finals.
By Ryan Whirty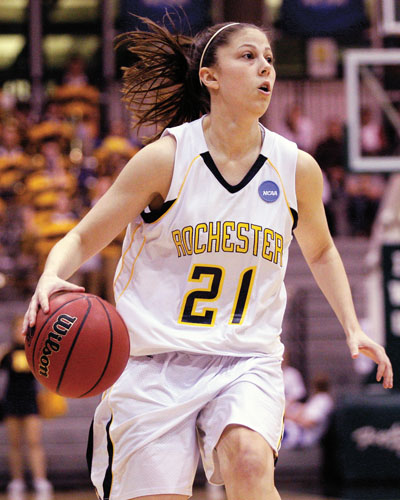 The Yellowjacket squash team came within a whisker of ending more than 80 years of Ivy League domination this winter while the women's basketball team's season of upsets almost carried the Yellowjackets through the Final Four.
Both teams finished fourth in the country after posting stellar performances throughout their seasons.
Finishing at 10–4, the squash team beat Cornell in the quarterfinals of the national championship before falling to Yale in the semis and to Princeton in the third-place playoff. Season highlights included a third straight Liberty League title as well as victories over Princeton, Cornell, and Harvard.
The women ended the year with a 23–8 record, losing in the first round of the Final Four to Hope College and in the consolation round to Amherst. On the way to the national championship, the Yellowjackets snapped second-ranked Kean University's 29-game Division III winning streak and defeated 10th-ranked Christopher Newport University. "This is the best we have played all year," coach Jim Scheible noted after the Yellowjackets knocked off Kean and Christopher Newport.
Guard Melissa Alwardt '11 was named an All-American by D3Hoops.com for her performance at the Final Four, where she also was named to the All-Tournament team.
The trip to the national finals was the second in a row for the squash team, and the first for the women since 2003–04.
---
Ryan Whirty writes about sports for Rochester Review.