Alumni Gazette
'Baptism by Fire'
Tom Daly '04 embarks on a personal mission to find meaning in the sacrifices of his fellow marines in Iraq.
By Karen McCally '02 (PhD)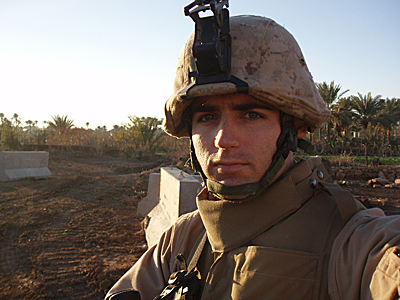 Tom Daly '04 was little more than two years out of Rochester when, as a newly minted Marine lieutenant, he set out on a life-shaping tour of duty in Iraq's most turbulent region, Al Anbar province. After attending Rochester on an NROTC scholarship, Daly, the son of a marine who had never seriously envisioned any other career, began training to become a field artillery officer. In September 2006, he sailed out of San Diego as part of a Marine expeditionary unit that would be stationed in Kuwait.
In November, the mission changed. The unit would enter Iraq. And there, it would help carry out Operation Squeeze Play: an effort to root al Qaeda out of their Anbar strongholds, the cities of Rutbah, Haditha, and the provincial capital, Ramadi.
As he writes in a new memoir, Rage Company: A Marine's Baptism by Fire (John Wiley & Sons), a frustrating and often fruitless effort by U.S. forces to outwit and defeat al Qaeda became a strategic alliance with former enemies—secular Sunni militias who had found a common interest with the United States in defeating the terrorist organization.
Daly is now a project manager at the ITT Corp. and lives in Auburn, N.Y., with his wife, Aimee, and daughters, Clara, 2, and Elise, 3 months. The memoir began as a personal project to find meaning in a mission in which three marines—friends Anthony Melia, Clinton Ahlquist, and Steven Chavez—lost their lives. Sailing back from Iraq, he says, "many of the marines were questioning the purpose of their sacrifice."
Daly concedes it was a hard question to answer. But nothing helped him clarify his thinking more, he says, than reports that the United States was turning the corner in Iraq by paying Sunni militias to do its fighting. Daly had just come from a joint mission with exactly those militias. "They rose up and fought al Qaeda out of a determination to defeat them," says Daly of the movement now referred to as the Anbar Awakening.
"I thought if I didn't put this story out on paper, then it would be something that was glossed over as Americans paying Iraqis to fight for them, and what did these guys sacrifice their lives for, then?" says Daly, who argues that the American presence was critical to the war's momentum in early 2007.
While the story of the Anbar Awakening has been widely reported, Daly, both a forward observer and an intelligence officer, recounts his journey much as he experienced it: day-by-day, with all the complexity of a mission full of shifting alliances, disguised combatants, split-second decisions, and imperfect information.
Bing West, an author and an assistant defense secretary during the Reagan administration, writes in a foreword to the book, "Rage Company is a straightforward, honest account of what U.S. soldiers and marines do when placed in a hostile urban area."
Three years after his deployment, as the violence in Iraq continues, Daly, reflecting on his experience handling intelligence, argues that the outlook is often better than it seems.
Factional violence, he says, "is easily picked up by the news cycle. However, the daily grind of hunting down, capturing, or killing militants, or the flipping of tribes to our side, is easily overlooked or simply too classified to even be released."