Alumni Gazette
So You Want to be a Flamenco Dancer?
Rebecca Thomas '98 makes a career out of an improvisational art form.
Interview by Karen McCally '02 (PhD)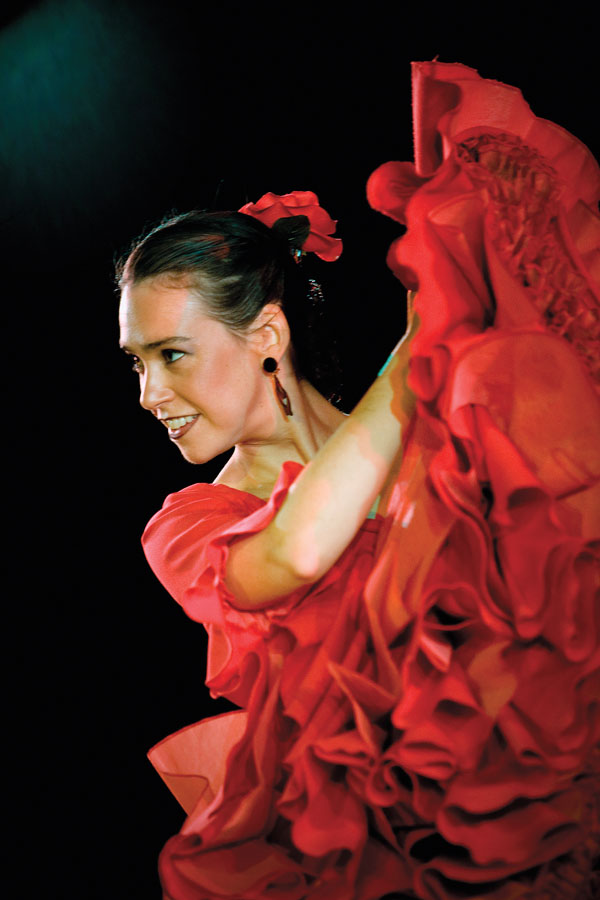 Rebecca Thomas '98 was spending a semester in Grenada when she encountered the captivating art form of flamenco—a combination of music and dance that would inspire the native of West Hartford, Conn., to return to Spain several more times.
Now, with formal training at Madrid's renowned Flamenco Academy Amor de Dios as well as a year of ethnomusicology under her belt, Rebeca Tomas, as she's known on the stage, makes her living in Manhattan as an up-and-coming flamenco dancer, choreographer, producer, and educator.
What is flamenco dancing?
Flamenco is an art form, a combination of music and dance, that started in the south of Spain hundreds of years ago, from a mixture of cultures that included Spanish Christians, Sephardic Jews, Arabs from North Africa, and Gypsies who came over from India. The most notable thing about the dancing is the footwork. We use heeled shoes with nails. There's lots of handwork as well. And a lot of suffering and pain that you see often on flamenco dancers' faces, which comes from the suffering of the Gypsies and the Arabs and the Jews. A lot of this is expressed in the voice and the lyrics. But then that's interpreted—the emotion of it—in the dance. It's also very improvisational. I don't rehearse a lot with my musicians. I just go out there. There's a lot of back and forth, like in jazz, between the musicians and the dancer.
How did you get into flamenco dancing?
I went abroad for a semester. I was majoring in psychology and I was studying in Grenada. I went to a flamenco show there, and I was dumbfounded. I was on a program where we had to keep a journal. And I wrote in my journal: "I have to do this. I have to know this. I have to be a part of this." So I started classes. I was a musician, and the footwork was amazing. And in flamenco dancing, as a dancer, you're a musician.
What does your family think of your career choice?
At first they were nervous. I went back to Spain, to Madrid, and took more classes. But then I got to a good enough level that the dance program at Rochester invited me to do a lecture and demonstration. And because I had studied ethnomusicology I could talk about flamenco in addition to dance it. That's when my parents realized I could actually do something with it.
So you don't have a day job?
No. This is my career. I teach and I do a lot of arts education. Flamenco is such a cultural art form that there's a lot of demand for it in schools. I can go to schools and give workshops and give performances and teach kids about it. And I do gigs. I can show up with just two musicians and just dance on a floor and people want to see it.