Alumni Gazette
'Champion of Change'
Maureen Roche '97, director of The Campus Kitchens Project, receives a White House honor.
By Karen McCally '02 (PhD)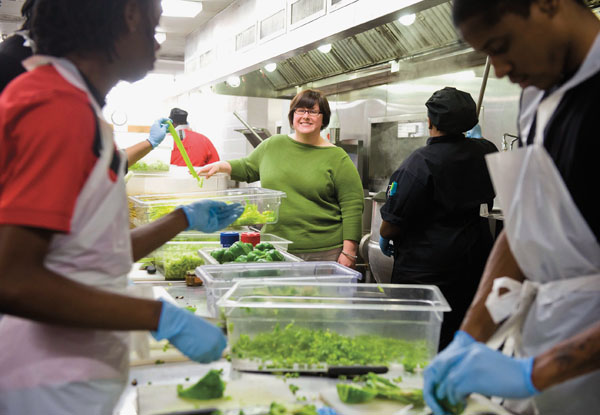 "I was flabbergasted," says Maureen Roche '97, describing her response when she learned in January that she'd been selected as a White House Champion of Change.
The director of the Washington, D.C.–based nonprofit The Campus Kitchens Project, Roche joined seven other "champions"—Americans working in innovative ways to make big impacts in their communities—in accepting the honor and taking part in a panel discussion last January 12.
New Champions of Change are honored each week. Roche says she was particularly moved to be named one of eight champions "following in the legacy of Martin Luther King Jr."
"To be honored in his name—it was incredible," she says. "This whole idea that there are people who are following in his footsteps and somebody thought that I was one of those people is really just mind-blowing."
Roche has been at the project since 2007, and its director since 2008. "CKP" has helped students at more than 30 colleges and universities to set up community kitchens near their campuses. The idea is to tap into the bounty of college campuses—in food, energy, and talent—and share it with local communities in which access to affordable and nutritious food is a daily challenge. The project is a subsidiary of the D.C. Central Kitchen, a community kitchen established in the nation's capitol in 1989 that carries out the dual role of serving donated food to the hungry and operating as a culinary job training program for unemployed men and women.
Roche emphasizes that students setting up campus kitchens are mastering a complex enterprise. A new kitchen, she says, is "not just a program that's going to operate for a while and then it's done. We require that it be sustainable."
That requires that students, school administrations, and the surrounding communities all become stakeholders. For students, the demands are considerable. They establish relationships with community organizations, plan menus, organize food transport, and prepare meals. In some cases, they work directly with local farmers to establish farmers' markets and community gardens.
Robert Egger, the nationally recognized nonprofit leader who founded the D.C. Central Kitchen, says Roche brings some unique assets to her role.
"She empowers other leaders to own the idea—so that they can interpret it in their school—and then share what they developed throughout the network." He says she's developed a cascading leadership model, which helps give each campus coordinator and team "the ability to mold the idea to fit their school, their community, and their vision of how to tackle hunger."
Like the civil rights martyr in whose named she was honored, Roche embraces the idea that "we are our brother's keeper."
"The concept of being your brother's keeper is one that my mother really instilled," says Roche. Her grandmother, who emigrated from Ireland in 1930, was famous for nourishing not only blood relatives, but a larger "family" that extended deep into the community. "She would make these huge St. Patrick's Day dinners. And there was never someone who wasn't always welcome to the dinner table, whether you were a member of the family or not."
A political science and psychology double major at Rochester, Roche immersed herself in politics, interning in the Rochester office of Congresswoman Louise Slaughter and later, as a participant in the political science department's Washington Semester Program, in the Washington, D.C., office of then Congressman Charles Schumer. She notes that the Rochester campus and community are well attuned to the issue of hunger and the ethic of community service. "Most of the time students come to us," she says, describing how the project has expanded across the country. That said, she adds she would relish the chance, if it came, to help establish a kitchen in Rochester.
For now, she's focused on fundraising, site development and management, and, yes, trying to feed herself as well as she's helped feed others.
It's a challenge for driven professionals like Roche.
"It's been my New Year's resolution to cook more at home," she says, noting that the chefs at the D.C. Central Kitchen serve excellent food.
"They always joke with me, 'You don't know how to cook.' I said, 'I don't need to know how to cook, that's why I work at a kitchen.' "
"They gave me a crockpot one year for Christmas because, according to the chefs at the kitchen, everybody can crock. Well, I'm slowly figuring it out."