Class Notes
A Large-Scale Accomplishment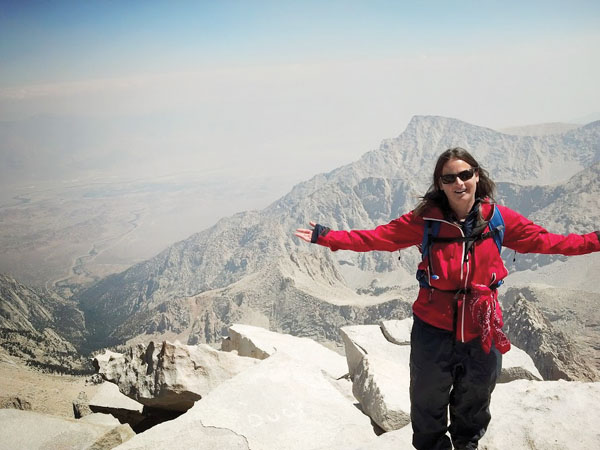 It took Rachel Isenberg '02 and her two friends 16 hours to climb California's 14,500-foot Mount Whitney last August. She says that's a leisurely pace. "It can be done in 12. We just kind of took our time and enjoyed it."
For Rachel, scaling the highest peak in the continental United States was the latest in a series of summertime physical feats. She started the annual ritual for fun, and later, also to raise money for the Parkinson's Disease Foundation in honor of her mother, who suffers from the illness. She attracts sponsors from her Facebook page as well as from a personal page on the foundation's website. Since 2009, she's raised nearly $18,000.
"I've always enjoyed hiking and nature, and being active and traveling," she says from her office at Temple University, where she's an English language instructor.
On August 25, Rachel and two friends from graduate school at the University of Pennsylvania started the hike up Mount Whitney at 4 o'clock in the morning. "My friends felt the altitude a bit, which is typical," Rachel says. "But we got to do sunrise and sunset, which is pretty cool."
Her greatest challenge came in 2011, when she and Doug Briller '01 scaled Tanzania's Mount Kilimanjaro, which at more than 19,000 feet, is the highest freestanding peak in the world.
"Kilimanjaro is a five-day climb and you pass through about five different ecosystems," Rachel says. "But any climb takes a similar mentality. A lot of it becomes mental after a while, just to keep on hiking for hours or for days, to have that kind of determination and fortitude. Or craziness!"