Vibrant Region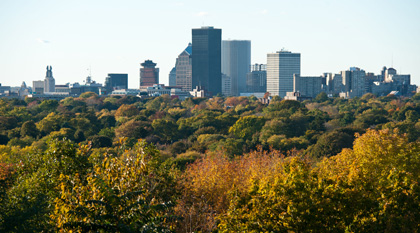 The Center for Governmental Research in Rochester (CGR), reporting on the "Economic Impact of University of Rochester and its Affiliates," drew these conclusions in April 2010 ...
Ranked as the 6th largest private employer in New York State, the University remains firmly entrenched as the number one employer in the Rochester region with 19,610 Full Time Equivalent (FTE) employees and almost 8,000 full-time undergraduate and graduate students as of December 31, 2009.
The University is clearly the leader in the transition of Rochester's economy that is now driven by the education and health services sectors.
As for research, the CGR report notes...
While the University's employment and spending are a critical foundation of the region's economy, of equal importance is the catalytic impact of the institution's research enterprise.
The University has received more than $1.8 billion in external funding (federal and non-federal agencies) over the last five years. Total awards to University of Rochester averaged $361.5 million per year (in constant dollars) from FY2005 to FY2009.
The total invention disclosures have grown by 9.6% over the past five years. The growth is primarily driven by the Medical Center, where they have experienced a 15% invention disclosure growth rate from FY2005 to FY2009.
Over the past five years, for every one million dollars in extramural funding, CGR analysis indicates an average of $105,909 in royalty revenue is generated by the University. At more than three times the average for 2006, Rochester's track record in royalty revenue for the past five years is clearly on the cutting edge in terms of generating royalty revenue from research expenditures.
From FY2005 through FY2009, there have been a total of 26 start-up companies formed as a result of research at the University of Rochester, both the River campus and the Medical Center. Of those 26 companies, 20 are still operating in the Rochester area.
It is clear that the University of Rochester is a major catalyst for economic growth and has helped Rochester become a technologically adept region.