Synergy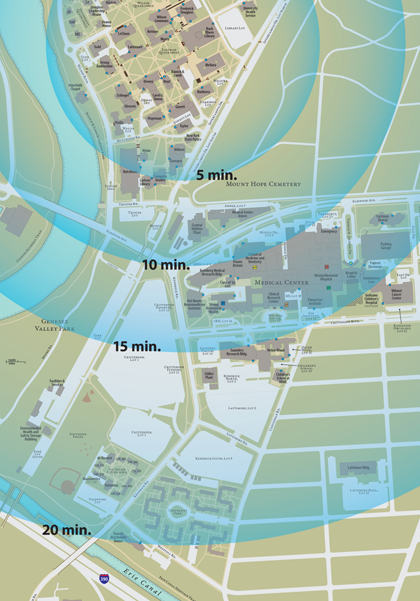 The close proximity of the River Campus to the University of Rochester Medical Center fosters cross-campus cooperation between medicine, engineering and applied and pure sciences in special research centers, such as these devoted to:
---
Creating connections
A new medical technology innovation masters program immerses engineering students in clinical settings so they can devise practical solutions to medical problems. Multidisciplinary research initiatives flourish in other areas as well.
---
"...a brainstorm I've had ..."
Rochester industrialist George Todd, like his close friend George Eastman, was a self-made individual who never attended college but became one of the UR's staunchest patrons.
"I want to tell you about a brainstorm I've got," he told friends in the 1920s, when the University began to experience overcrowding at its Prince Street Campus. Why not move the university to the site of Oak Hill Country Club, along the banks of the Genesee River on the south side of the city, Todd urged. This would put it right next to the University's new Medical Center.
This idea was scoffed at by those who wanted the university to relocate to the shores of Lake Ontario or Irondequoit Bay, or to genteel East Avenue. But Todd, with the help of James Havens, an influential attorney and former Congressman, was able to persuade Eastman, whose opinion mattered most.
In addition to orchestrating a land swap that moved Oak Hill Country Club to a now world-renowned site in neighboring Pittsford, Todd spearheaded a $10 million fundraising campaign.
In 1930, the River Campus opened its classrooms to male students (the women remained at Prince Street).
The stage was set for the remarkable synergy of research and teaching that occurs between Arts, Sciences and Engineering and the Medical Center.
Timeline of University of Rochester research milestones