Tradition of Discovery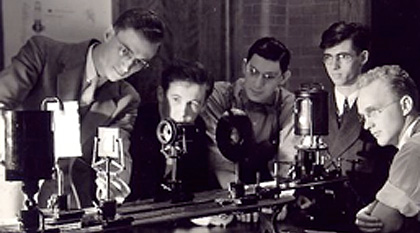 For more than 150 years, the University has been a pioneer in fields as diverse as geology, optics, medical education, economics, political theory, and human behavior.
---
Rochester's first Nobel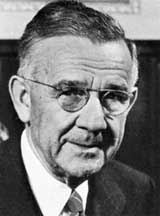 George Whipple was an exceptional administrator (co-founder and first dean of the University's School of Medicine and Dentistry, no less).
He also was a gifted teacher.
But his greatest fame was achieved as a researcher.
"Through the building of a great medical center, through two world wars, and the Great Depression, for fifty years, rigorous and indefatigable, from student to professor emeritus," Whipple researched blood formation and the role of the liver in the regeneration of red blood cells lost to anemia, writes John Blanpied.
Whipple's indispensable assistant, Frieda Robscheit-Robbins, helped manage experiments in which dogs were safely kept in a state of anemia while being fed a seemingly infinite variety of diets. The experiments conclusively demonstrated that dogs fed with meat products, especially liver, experienced the most rapid regeneration of hemoglobin and red cells.
For his classic work, Whipple shared the ultimate recognition: The Nobel Prize in Physiology in 1934.