Health Promotion Office
Mindful University Project
The Mindful University Project is:
A University-wide collaboration to create a culture of mindfulness for a campus community ever better.
A strategic initiative to educate our students and the faculty and staff who support them about contemplative practices.
A multi-level approach which offers a thoughtful selection of opportunities for personal practice within a supportive community.
We recognize the stress that our students are facing – the pressure to do more, to excel academically, and of course, to be ever better. In fact, according to the 2017 National College Health Assessment, sixty-four percent of Rochester students have felt overwhelming anxiety, ninety percent felt overwhelmed by all they had to do, and the majority reported that anxiety and stress were negatively impacting their academic performance. Because of this, we want to offer a way for our students to not only manage their stress and calm the chatter of their minds, but also make their lives better in a way that is accessible and meaningful.
But our students can't make this change by themselves. They need to be immersed in a community which supports them at all levels. From the faculty who teach them, and the academic advisers who support them, to the residence advisers who live with them, and the healthcare professionals who care for them – we are all in this together. Which is why our program is not just student-focused, but is one that spans across the entire community, and supports the needs of faculty and staff members as well.
What to Expect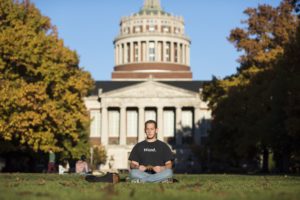 When creating a Mindful University, it is important to recognize that the program not solely be about mindfulness, as an area of intellectual study. What is necessary is to create a mindful institution grounded in the personal experience of key thought-leaders who are actively cultivating attentiveness, presence, and compassion. Merely teaching members of our community how to meditate is just one small part of our proposed initiative. We must create both breadth and depth in our programming, so that long-term evolution is possible and future growth occurs organically. This may be a tall order, but it is one that is essentially important to our success.
We have already started to explore ways to cultivate mindfulness throughout our community.
Here are some of the initiatives we're working on:
An evidence-based Mindfulness & Meditation workshop designed specifically for college students.
Drop-in meditation and yoga sessions as well as other contemplative practices such as labyrinth walking.
Day-long silent retreats.
Mindfulness lecture series.
Resource library.
The Year of Mindfulness (2019-2020 academic year).
---
Join our Contemplative Community
You can be a part of the Mindful University Project by joining our Contemplative Community. Currently, this community includes over 200 faculty, staff, administration, and student leaders from throughout the University, representing all of our schools and student support departments. Check out a video of our first community meeting on November 14th, 2018.
As a member of our community you'll be invited to attend lectures on topics such as mindful leadership, contemplative pedagogy, and the psychology of mindfulness. You can engage in opportunities to develop your personal meditation practice through mindfulness workshops, drop-in meditation sessions, and meditation retreats. We'll also teach you how to integrate mindfulness and contemplative practices into your daily work, and you'll have the opportunity to connect with others doing the same.
Whether you are new to meditation or have a long-standing personal practice, we welcome you.
---