Overview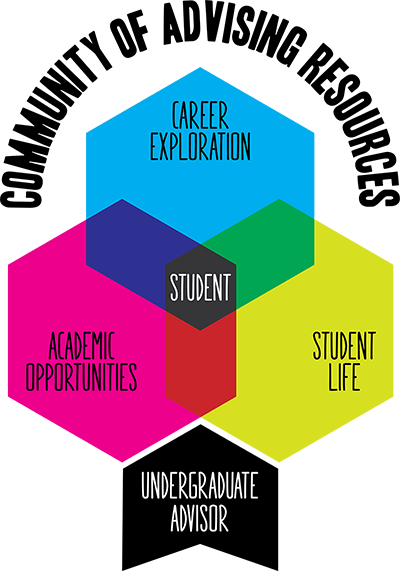 Undergraduate advisors guide a small group of students through their freshman year and into the sophomore year, until they declare their majors. As an undergraduate advisor, your primary goal is to help new students successfully transition into college.
You will meet with your first-year and transfer advisees during August orientation and guide them through the online course registration process. For sophomores, you should send a welcome back message at the start of the school year, and plan a check-in meeting during the fall semester to support them as they work on their major declaration.
During the fall and spring semesters, you will interact with your advisees individually, helping them to:
Explore majors, minors, and clusters
Navigate campus
Identify academic and campus resources
As an undergraduate advisor, you will be part of a community of academic advisors in the College, including College Center for Advising Services (CCAS) advisors and peer advisors. No previous advising experience is needed. 
All undergraduate advisors participate in one-day training in August and have the opportunity to attend various information sessions and webinars throughout the year. Frequent emails will help keep you up to date on upcoming deadlines and activities.
We've also included some additional information below on:
For more information about undergraduate advising contact Marcy Kraus at marcy.kraus@rochester.edu.
---
First-Year Group Meetings
Undergraduate advisors who wish to combine their groups and meet as an advising team at the first advising group meeting, may do so.
Student orientation assistants will be available during your Thursday group advising session and can assist with things like helping students look up a class in the course schedule or comment on their individual experiences. If you would like an orientation assistant, please indicate this on the reply form.
Once again, we will reserve classrooms for advisors' use during group advising sessions. We will also make it possible for advisors to meet with advisees in more informal settings, as many of you have requested. Please indicate on the reply form your preferred location for your group meeting and we will do our best to accommodate you.
Hajim advisors: Please note that you will receive special information about your advising schedule from the Hajim Deans' Office.
Overview of Sophomore and Transfer Advising 
Sophomore and transfer advisors are asked to help students connect with departmental advisors, CCAS advisors, and online information so that students can declare their major by the end of the sophomore year. To this end, expectations for advisors include:
Guiding advisees as they complete the online registration process both semesters, by being available for conversations about course selections and the removal of advisor holds after individual meetings with advisees
Contacting and meeting with advisees to discuss changes in course schedules after registration and throughout the drop/add period
Referring transfer advisees to the CCAS if questions arise about transfer credit
Responding actively to student needs for advice and referral, particularly in terms of linking sophomores to formal and informal departmental advisors as they make plans to declare their major and clusters
Professional Development Workshops
We offer regular advisor development workshops during the academic year. Past workshops have addressed topics such as:
Financial aid
Supporting students in distress
International students
Veteran students
Special academic opportunities
Health professions advising
Study abroad
Please let us know of topics that interest you when you submit the reply form. We would like every advisor to attend at least one workshop each year (and more if you are so inclined!).