Tutoring
Thank you to our Tutors for a successful virtual Spring 2020!
The WC online calendar is closed throughout the summer and will reopen in Fall 2020.  
As the University continues to update its policy on online instruction, we will update the tutoring calendar. If you have a scheduled appointment or any tutoring concern, please contact us at tutoring@rochester.edu. 
---
Tutoring is a free service available for any undergraduate of the University of Rochester. Students should already be working with their professors, TAs, workshop leaders and/or study skills consultant before they come to tutoring. Wondering if tutoring is right for you? See our what to expect section.
Give us your Feedback
Please use our online comment form to tell us about your experience with your tutor or our tutoring program.
---
Announcements
The Spring 2020 virtual one-on-one tutoring calendar is currently closed until Fall 2020. 
If you are a returning tutee and would like to create an appointment, please refer to our Zoom Tutoring for Tutees guide (PDF).  
If you are a new tutee, please take our free, short Blackboard course before logging in to make sure you know how to use the system and what to expect from tutors.  Instructions for the courses can be found under the Schedule and appointment section below.  Once you complete the course, simply login to the appointment system and set up an appointment per the Zoom Tutoring for Tutees guide mentioned above.
View this handy how to guide (PDF) on how to set up a second camera to capture your notebook and  facilitate your tutoring sessions.
Sunday virtual drop-in tutoring is currently closed.
Sundays from 4pm to 8pm on Zoom (times vary for each subject)

On Sundays, log into WC online and choose the 'CETL Drop-In Tutoring' calendar.  
Each course will have its own Zoom room.
Click on a white open time for the course you wish to drop into and the zoom link will appear in the pop-up window.
Click on or copy and paste the Zoom link into your web browser and you will be automatically entered into the Zoom room with the tutor.
You do not need to pre-register/sign up to drop in.
If you wish to switch courses, you will have to log back into the CETL Drop-In Tutoring calendar in WC online and choose a new course to get their zoom link.

Subjects offered: Chemistry (6-8pm), Computer Science (4-8pm), Math (6-8pm), Orgo (4-6pm), and Physics (4-6pm)
If you have any questions or need help, please reach out to us at tutoring@rochester.edu. 
In person one-on-one and drop in tutoring in Gen Hall will remain closed for the rest of the Spring 2020 semester.
Directions to the Tutoring Zone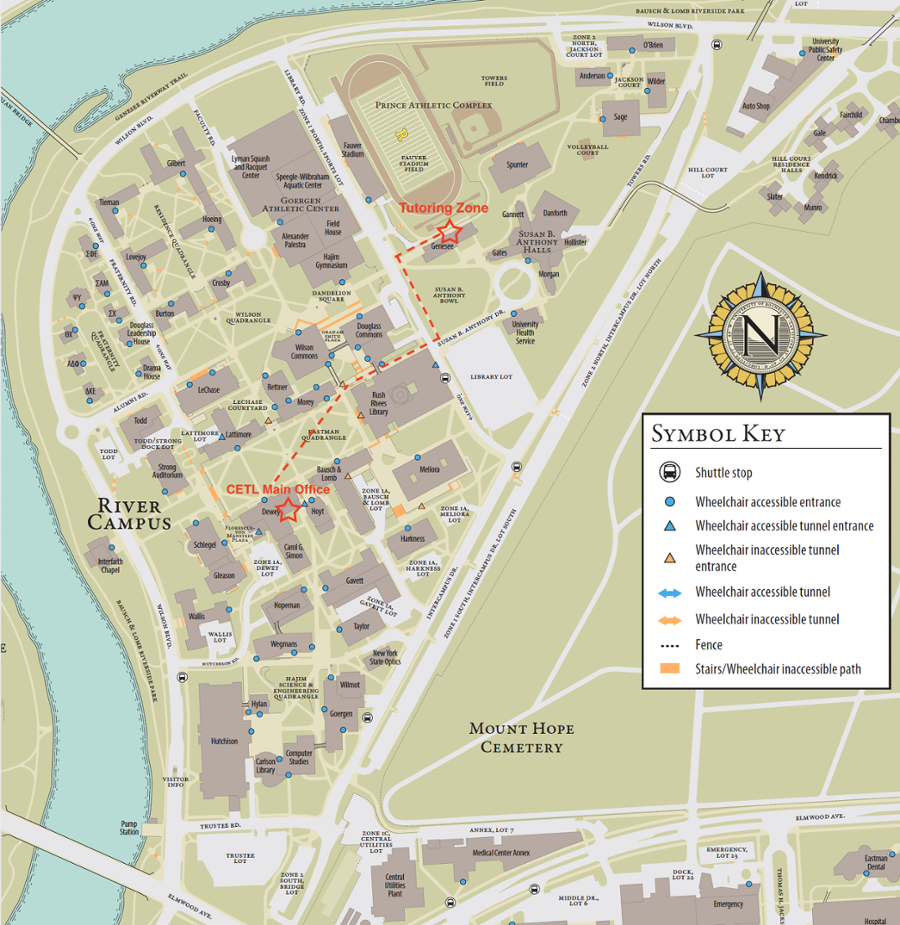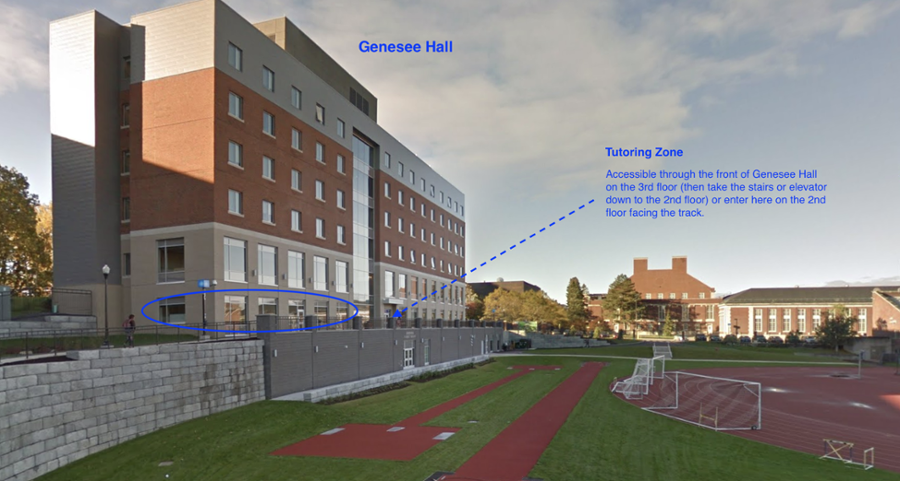 Get One-on-One Tutoring
What to expect from tutoring
The purpose of tutoring is to help you become an active, independent learner. Working with a tutor can enrich your understanding of the course material, help you focus on what is important in the class, and help you apply better study methods.
Tutors can:
Review and help clarify assignments
Help you understand concepts that the instructor has already presented in class
Provide you with additional examples and practice problems
Help you understand the textbook and apply the information
Tutors cannot:
Do your homework for you
Guarantee an error-free assignment or a better grade; it is still your responsibility to do the work
Teach new material missed in class; tutoring is not a substitute for classroom instruction
Help with take-home or make-up tests
---
Schedule a tutoring appointment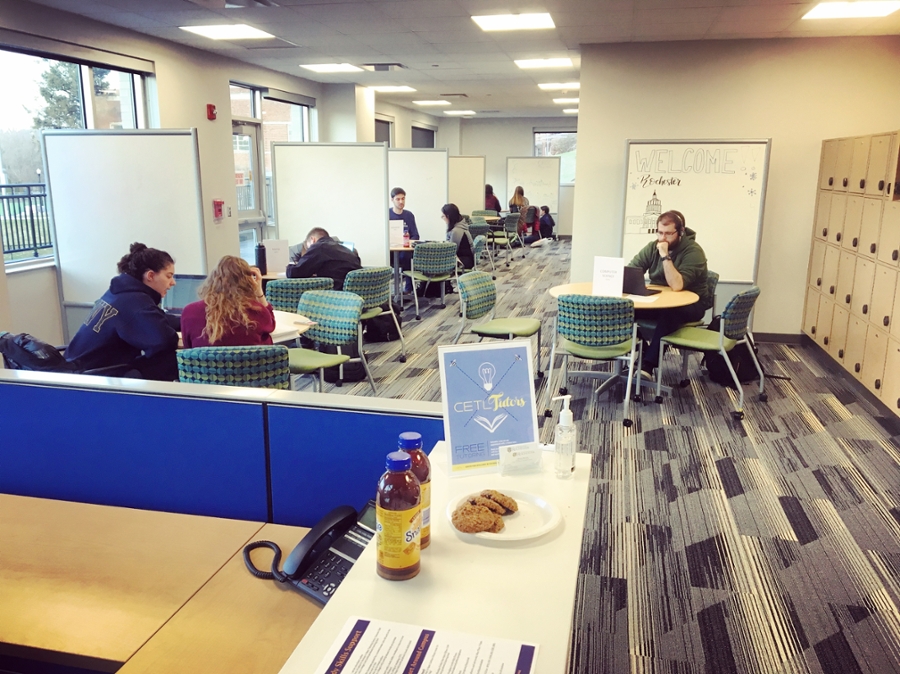 Students wishing to participate in tutoring must complete a short introduction to learn about tutoring services and expectations prior to making an appointment.
Step 1: Log into your Blackboard Account
Step 2: Click on the "Services" tab at the upper right-hand corner and locate/click on the "Academics tab". Locate/click on the "Need a Tutor?" link
Step 3: Self-enroll in the "CETL Tutoring Access" course
Step 4: Once enrolled, look for "CETL Tutoring Access" under "My Organizations" on the Main page
Step 5: Complete the 4 modules in this course and follow the directions in the last module to schedule your first appointment.
If you would like more information on academic resources, how tutoring works, how to use the scheduling system, or have any issues with this Blackboard introduction, please set up an appointment with the tutoring coordinator at CETL. You can stop by the front desk or email tutoring@rochester.edu.
---
Cancel an appointment
Please cancel your appointment online and be sure to get in touch with your tutor. No-shows are counted against you and we have a "three strikes and you're out" policy for missed appointments.
---
Prepare for a tutoring session appointment
Bring all academic support materials to each tutoring session (textbook, notes, homework, pen/pencil, etc.)
Do as much of the homework or assignment as possible before the session
Come prepared with questions as best as you can—try to be as specific as possible!
---
Courses covered
Most of our tutoring is for 100-level STEM courses, including (but not limited to): CHEM 131/132, 203/204; PHYS 113, 121, 122; BIOL 110-113, 198; MATH 140/160, 150; and 1CSC 161, 171.
If we do not have tutoring available for the course you want, you should speak to your professor about any options or referrals he or she may have. Also, please get in touch with CETL tutoring (email: tutoring@rochester.edu) so we can try to find additional resources for that course.
---
FAQ for tutees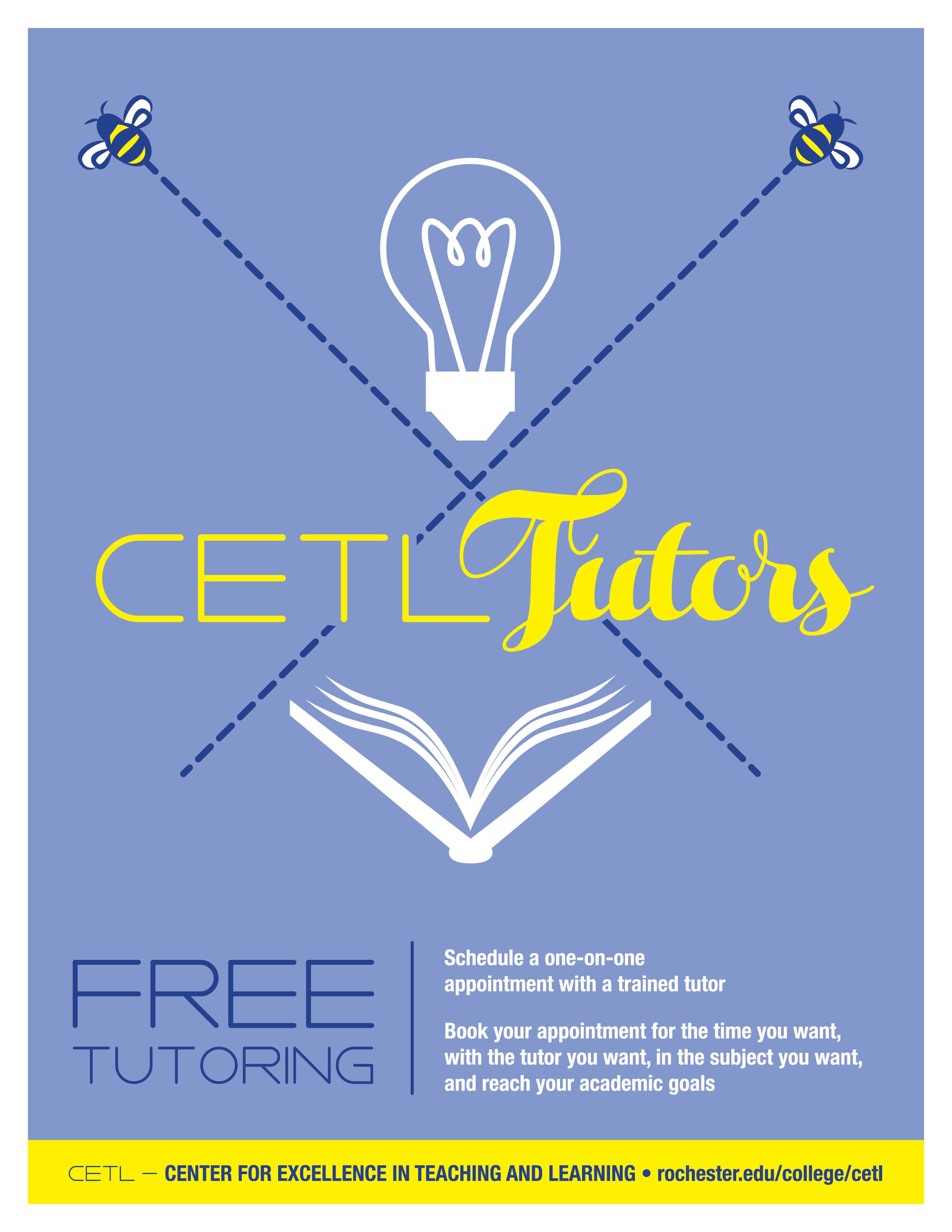 1. What if my course isn't listed?
We do not have tutoring available for that course and you should speak to your professor about any options or referrals he or she may have. Also, please email the tutoring coordinator at tutoring@rochester.edu so she may try to find resources for that course.
2. I am not an undergraduate at the University, can I still receive tutoring?
No, unfortunately we cannot accommodate individual needs outside of the University of Rochester. If you have questions, please feel free to contact the office.
3. How often should I see my tutor? Where do I meet my tutor?
You can schedule appointments at any point in the semester. It can be a one-time visit with a tutor for a particular problem, or you can set up repeating, weekly appointments (those are recommended).
Meet your tutor in the Tutoring Zone located in Genesee Hall room 230. Genesee Hall is the residence hall which over looks the football stadium.
4. When can I book appointments?
We strongly encourage you to book appointments as far in advance as possible to give the tutor notice. The tutoring system will allow you to make appointments up to two weeks in advance. The system will not allow day-of or day before appointments so you will need to plan at least 48 hrs in advance. If you need immediate help, please talk to your teacher/TA, check out other on-campus resources or email CETL.
5. Is there a limit on tutoring?
The number of sessions generally allowed for students is 2 sessions a week. If you have a special circumstance or think you need more tutoring, please stop by CETL or email CETL to consult with the Tutor Program Coordinator.
6. What if I need additional tutoring?
We can address concerns on a case-by-case basis. Please refer to the other CETL programs page listed on our site if you need additional help with your courses.
7. Can I meet with the same tutor every week?
Absolutely! In fact, we encourage you to meet with the same tutor every week if you like him/her and work well together. Please speak to your tutor and they can set up repeat appointments in the schedule for you.
8. How far in advance can I schedule appointments?
The online schedule is available to students two weeks in advance.
9. What if I can't make an appointment?
Please go online and cancel your appointment time and be sure to get in touch with the tutor. No-shows are counted against you and we have a "three strikes and you're out" policy for missed appointments.
10. What if my tutor doesn't show up to my tutoring session?
It is best to try and get in touch with your tutor to see if they are running late, or why they missed the appointment. Always try to follow up via email or text before your appointment time to clarify any details. If you cannot resolve the issue, please contact CETL so that we can take care of the problem.
11. I don't know if tutoring is helping, what should I do?
Talk to your professor and/or TA about issues you may be having in class; they should always be your first point of contact. Remember, tutoring isn't a quick fix. Assess your study habits or find a study partner; schedule an appointment with our study skills counselors in CETL and address any underlying academic concerns you have.