Graduate Research Symposium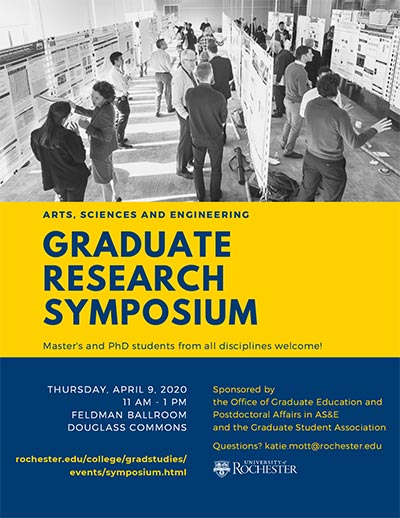 Arts, Sciences and Engineering's Graduate Research Symposium will be held on Thursday, April 9 from 11 a.m. to 1 p.m. in Wilson Commons.
The research symposium will feature poster presentations, research talks, and an awards reception. We are looking to showcase the very best research by graduate students across the disciplines, including master's and PhD candidates, in Arts, Sciences and Engineering (AS&E).
Call for Abstracts
All graduate students in AS&E are invited to submit an abstract to be considered for the poster session. If you have something of your own to share with your colleagues —a thesis proposal, new research finding, or independent study—please consider submitting an abstract. Accepted abstracts will be invited to present a 3' x 4' poster (printing costs paid by GEPA) at the symposium.
Submissions should:
Include a title, list of authors, and a brief abstract of your research
Be no more than 250 words
Priority will be given to research where the student was the first author or a major contributor. Presenters should be willing to provide a five minute "talk-through" of their poster at the symposium.
Submission Deadline
Students must submit their abstract through our online submissions form by Friday, February 14 at 5 p.m. Submissions will be reviewed and applicants notified on or about Monday, March 2.
Awards
Posters presented at the symposium will be eligible for one of several $500 cash prizes. Judges drawn from across the faculty will select the best posters (and presentations) as part of the poster sessions.
There will be individual prizes for the best poster in the humanities, natural sciences, social sciences and engineering, as well as a people's choice award.
Pre-Symposium Workshops
To help prepare students for the symposium, the GEPA office will hold three pre-symposium workshops:
Poster Design: Introduction to poster design, creation and printing. Special attention will be paid to presenting research from disciplines where posters are not a standard presentation format.
Presenting Your Research: Workshop on presenting your research, with an emphasis on presenting posters and three to five minute research overviews.
Networking at Conferences: Workshop on networking at conferences, including practice starting research conversations.
Dates and times to be announced.
Contact
If you have any questions about the event or abstract submission process, please do not hesitate to contact Katie Mott (katie.mott@rochester.edu).