In Memoriam
Tribute
Bruce Lansdale '46: An American Greek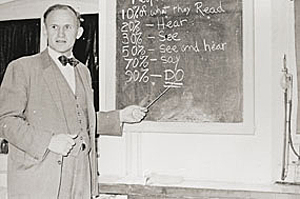 Bruce Lansdale '46 was what we might call an American Greek. He belongs to a cohort of individuals who come to Greece, with no Greek heritage, and fall in love with the country.
Bruce arrived in Greece in 1926, barely a year old, when his father, Herbert Lansdale, himself a lifelong philhellene, came to direct the YMCA in Thessaloniki. Often he would visit the Farm School and enjoy playing with the animals and mingling with the students. After several years in the United States, graduating Phi Beta Kappa from Rochester, becoming an ensign in the U.S. Navy, and earning a degree in rural sociology and agricultural education at Cornell, he returned to Greece in 1955 to direct the American Farm School.
Anyone with just a passing acquaintance with modern Greek history recognizes the early part of Bruce's tenure as difficult years for ordinary Greek citizens, who had barely recovered from the ravages of World War II and the Greek Civil War. Under Bruce's leadership, the tuition-free Farm School graduated hundreds of youngsters—boys and girls—who returned to their villages as enlightened leaders and scientific farmers.
And, oh, to be in his company. His talks were laced with wry humor or outright hilarity when he spoke in fluent Greek. We can refer to Bruce's many publications or his long autobiographical poem in a bilingual Greek and English edition called Metamorphosis: Why Do I Love Greece?
When Bruce retired in 1990, he and his wife, Elizabeth (Tad) Krihak Lansdale '47, traveled throughout Eastern Europe, Asia, and Africa, offering leadership seminars. When he died on February 2, at age 84, Bruce was surrounded by his family, which, in addition to Tad, included their sons David, Jeffrey, and Michael, daughter Christine, and eleven grandchildren.
As I wrote in Stewards of the Land: The American Farm School and Greece in the Twentieth Century, "It would be difficult to overstate [Bruce's] influence on the institution and hence on the history of agriculture and rural society. Furthermore, he was attended to in the corridors of power in Athens, most significantly for the Farm School, in Parliament, in the Ministry of Education, and even the Palace before the monarchy fled in 1967."
Would I be irreverent if I wrote that if there were a heaven, those who thought they were ensconced there to enjoy their "eternal rest" were prodded by Bruce Lansdale, who on Feb. 2, 2009, announced to them, "Get up, there is much work to be done"?
—Brenda Marder
Brenda Marder is American Farm School Historian and author of Stewards of the Land: The American Farm School and Greece in the Twentieth Century (Mercer University Press, 2004).