Alumni Gazette
Network Star
Nomi Miron Bergman '85 earns recognition as one of the nation's top executives in cable and telecommunications.
By Karen McCally '02 (PhD)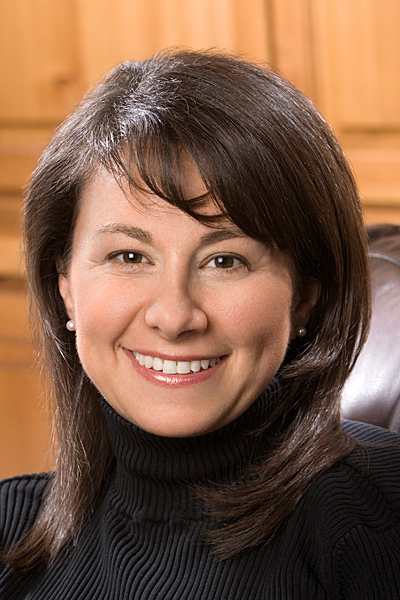 When Nomi Miron Bergman '85 was a Rochester student, few people had cable television, the personal computer was a novelty, and the Internet was an obscure project of researchers for the Defense Department.
More than 20 years later, cable TV and computers are staples of the professional middle class home, the Internet has revolutionized communication, and Bergman is a nationally recognized executive in the emerging field of high-speed data.
This winter, the president of Bright House Networks, the nation's sixth largest cable operator, received what cable insiders consider a top prize: The 2008 National Cable & Telecommunications Association's Vanguard Award for Distinguished Leadership. She also was named "Person of the Year" for 2008 by CED, "the premier magazine of broadband technology."
Bergman, who has grown up in the industry as the daughter of cable executive Robert Miron—now the chairman and CEO of Advance/Newshouse, Bright House's parent company—says the rise of women leaders in the field of broadband technology resonates with the industry's history.
"What I've long admired about the cable industry is that it was built by a bunch of cowboys," she says. "This industry grew by programmers, operators, and technologists collaborating to chase a shared vision. The industry was one of the earliest to invest in diversity, pursuing innovative ways to develop talent, and to make sure it continually reflected its customer base."
And although she eschewed a role in her father's industry when she graduated from Rochester with a double major in economics and statistics, a cousin convinced her that her interests and skills in operations would make her a valuable asset to the cable industry.
After a brief stint with Arthur Andersen, Bergman began working with Advance/Newhouse in 1987. Joining the company full time in 1992, she earned recognition for taking on challenges like revamping the company's billing systems. Named one of 15 industry "Wonder Women" by Multichannel News in 2005, she was named president of Bright House in 2008. Helping oversee cable properties throughout the country, Bergman keeps an office at the company's corporate location in Syracuse.
Bergman has made a name for herself while raising three daughters, Rebecca, 16, Dori, 13, and Allison, 8, with her husband, Neal.
Industry leaders say Bergman combines a deep knowledge of telecommunications technology, experience, and skill in operations, and a knack for building coalitions.
Mike Lajoie, the chief technology officer at Time Warner Cable, says Bergman recognizes the needs of the industry as a whole. For example, she has brought Bright House into at least two joint ventures that are joining resources to address common challenges, such as competition from wireless companies.
Barbara York, senior vice president of industry affairs at the National Cable & Telecommunications Association, agrees:
"Nomi is one of the smartest, savviest, and most effective executives I have had the pleasure to work with in the cable industry. That she is a working mother makes this even more astounding. That she is so accomplished in the high-tech space triples the accomplishment."