In Review
Endowed Professorships
A Signature Honor
Experts in finance, economics, optical engineering, history, and patient care are appointed to professorships named in honor of alumni and friends.
By Kathleen McGarvey
The University honored the achievements of several faculty members this spring with appointments to new professorships established through the generosity of University alumni and friends.
An honor designed to recognize the national stature of a professor's work, the named positions are part of a longstanding tradition to celebrate the work of Rochester's faculty.
Among this spring's honorees: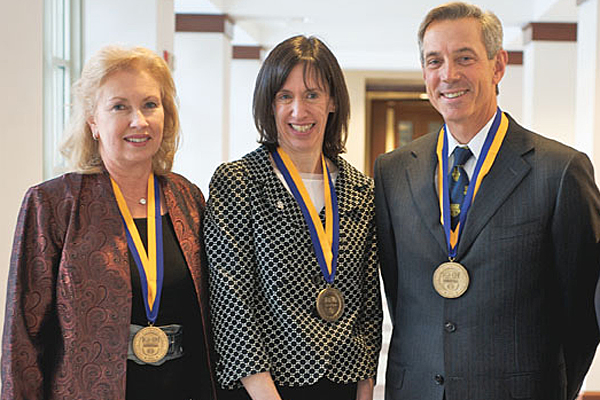 Toni Whited, an expert in finance, macroeconomics, and econometrics, was installed as the Michael and Diane Jones Professor of Business Administration at the Simon School, a professorship established by trustee Michael Jones '76 and his wife, Diane. Michael Jones is senior vice president and senior portfolio manager of Federated Clover Investment Advisors.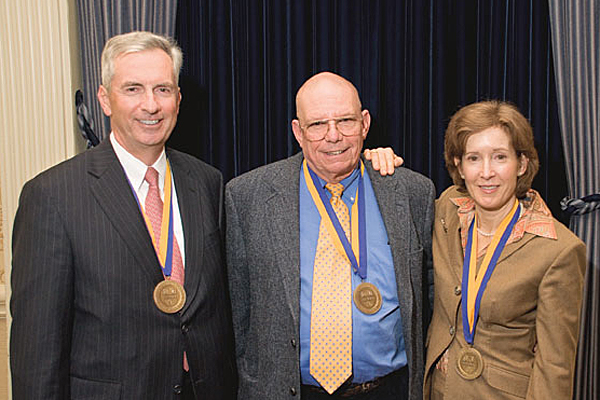 Ronald Schmidt, who developed and chaired the University's Executive Development (MBA) Program at Erasmus University in the Netherlands, was named the Janice M. and Joseph T. Willett Professor of Business Administration for Teaching and Service, also at the Simon School. The professorship was established by trustee Janice Willett '78S (MBA), a financial writer and editor, and her husband, Joseph '75S (MBA), a former chief financial officer of Merrill Lynch and Co. and a retired chief operating officer of Merrill's European region.
And Jannick Rolland, a professor of optics, was installed as the Brian J. Thompson Professor of Optical Engineering. Named in honor of Thompson, a provost emeritus, former dean of engineering, and a former director of the Institute of Optics, the professorship was endowed by John Bruning, a former CEO of Corning Tropel Corp.
Also scheduled to be formally recognized this spring were historian Thomas Slaughter as the first Arthur R. Miller Professor of History, established by Miller '56, '08 (Hon), a University Professor at New York University School of Law and one of the nation's preeminent scholars of civil procedure; and Susan McDaniel, the director of the Institute for the Family in the Department of Psychiatry, as the Dr. Laurie Sands Distinguished Professor of Families and Health at the School of Medicine and Dentistry. The professorship is named in honor of Sands '76M (MD), a Rochester physician who died in 1995.