Features
A Guide for Graduate Students
Graduate students are the 'lifeblood of a research university,' says Wendi Heinzelman, Rochester's newest dean of graduate studies, as she brings a new focus to the work of more than 1,000 master's and doctoral students in Arts, Sciences & Engineering.
By Robin L. Flanigan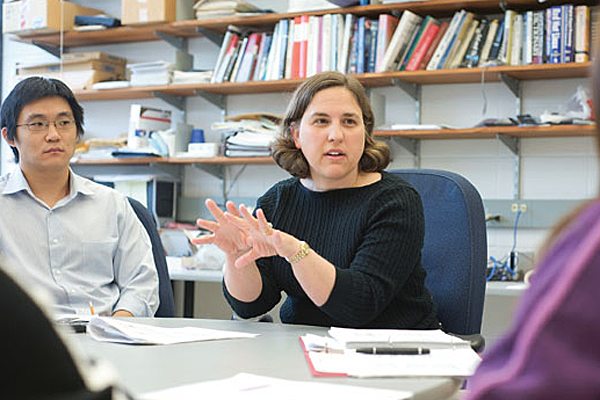 Unlike many undergraduates, graduate students start their coursework knowing what they want to do and where they belong. But they still need programs and policies that support their role as an integral part of the campus, says Wendi Heinzelman, who last summer assumed the new position of dean of Graduate Studies in Arts, Sciences & Engineering.
"Graduate students really are the lifeblood of a research university–the piece that keeps research moving in new and diverse directions that faculty alone can't do," she says. "They bring in new energy and new perspectives and new ideas, then take what they do here and make their mark on the world."
Meet the Graduate Students
Let us introduce a few of the students pursuing graduate degrees in Arts, Sciences & Engineering.
Heinzelman, an associate professor in the Department of Electrical and Computer Engineering and in the Department of Computer Science, assumed a post previously held part time by Paul Slattery, who had served as dean of Research and Graduate Studies since 1998. Her appointment, while enabling Slattery to devote more time to the rapidly expanding areas of technology transfer and information technology, is part of an effort to bring an institutional cohesiveness to programs for some of the University's most ambitious students.
"In some sense this is a new regime," says Bruce Jacobs, vice provost and University dean of Graduate Studies. "There is a new emphasis on graduate education not only in Arts, Sciences & Engineering, but on graduate education as it cuts across the University, which I applaud very enthusiastically. There is a new set of opportunities here, and I think Wendi will make the best of them."
As dean, Heinzelman oversees the academic policies and procedures affecting about 1,200 graduate students, including 950 or so pursuing doctoral degrees.
"She really does put graduate students first," says Matt Moynihan, a third-year doctoral candidate in chemical engineering and head of the Graduate Organizing Group, the University's representative body for graduate students. "You can see it in her face when you talk to her. It's important to give people an opportunity to try and connect with the school, but she has a big job in front of her if she wants to create a sense of community at the University of Rochester that graduate students want and need."
A diverse lot, graduate students come from an exceptionally wide range of backgrounds and academic disciplines. Some are just out of college, and some have established careers and are taking part-time evening classes. Others have come straight from other countries and can easily feel isolated.
"How do you get that group of people to fit together?" Moynihan asks. "In general, it doesn't happen."
But Heinzelman has begun those efforts, and they have been commended both by students and administrators.
"She has brought marvelous energy and wisdom to the job," says Peter Lennie, senior vice president and the Robert L. and Mary L. Sproull Dean of the Faculty of Arts, Sciences & Engineering. "She has been very vigorously looking at ways to strengthen our programs, and she has already made a number of important changes that I'm sure will see us well into the future."
The changes started with an orientation at the start of the academic year to welcome first-year graduate students to the campus.
Heinzelman also has focused on clarifying policies she admits can seem "vague and confusing." For example, the concept of academic probation had no University-wide definition or policies for how probation would be rescinded, or what type of support a student on probation would receive. Meanwhile, students filling out the paperwork to apply for internships often would hear conflicting advice from their department and from the Office of Graduate Studies.
"We needed to make it clear what the standards are," says Heinzelman. "Policies aren't meant to be roadblocks, they're to keep students on track, and we can't expect them to follow the rules if they don't know what the rules are."
For those times when problems arise despite clearer standards, Heinzelman appointed two ombudspeople to provide confidential, impartial, and independent counsel to students who may feel unable to approach an advisor, department chair, or anyone else in the academic chain of command. An ombudsperson is in place for Humanities and Social Sciences and one for Natural Sciences and Engineering. The new positions are intended to help connect students with resources, resolve issues, and identify problems that may need to be addressed by administrators. The service started in January, although statistics about its use won't be gathered until the end of the year.
Other projects over the past year have included creating an Outstanding Dissertation Award for each of the college's four divisions: Humanities and Humanistic Social Sciences, Social Sciences, Natural Sciences, and Engineering. And Heinzelman has encouraged the creation of new master's programs. The University has added a master's degree in literary translation; it's waiting for state approval to offer advanced degrees in alternative energy, as well as technical entrepreneurship and management.
Joan Saab, the director of the graduate program in Visual and Cultural Studies, appreciates Heinzelman's "thoughtful and pragmatic" approach to solving problems and clearing up misunderstandings.
"I find her consistently easy to work with because she's able to see multiple big pictures," Saab says. "She doesn't see each question or request as an individual instance; she wants to know how they all fit together in the best interest of the students and the graduate program that they're in."
Moynihan, the doctoral candidate in chemical engineering, also praises Heinzelman's initiative to make the Graduate Organizing Group an umbrella group for six student cultural associations that are not well known to many graduate students.
"I didn't even know they existed–there was that level of disconnection," he says of the Turkish Student Association, Chinese Students and Scholars Association, Taiwanese Student Association, Rochester Indian Association, Intercultural Dialogue Club, and a University Chapter of the Materials Research Society. "But we have a dean trying to bring us all together. That goes a long way."
Despite the economic downturn, Heinzelman says no departments were asked to make cuts in their admissions, although she has asked departments to be prudent in both their admissions procedures and in setting stipend levels for graduate students.
Heinzelman grew up in Berkeley Heights, N.J., the daughter of Suzanne and Larry Rabiner. When she went off to college without knowing what to study, her father, who coauthored some of the first books on speech recognition, suggested she give his specialty a shot. Over college breaks, Heinzelman had several internships working on video compression and speech synthesizers, which got her hooked on research and sparked her interest in graduate work.
"I was not a natural engineer," she admits. "I just love solving technical and mathematical problems. There's a lot of beauty in finding solutions to these types of problems when the answer isn't obvious. It was like an art for me, and that led me to where I am."
Having a mother who taught science to kids in grades five through eight was another contributing factor. Because of her parents' influence, she knew there was more to engineering than what is portrayed in the popular satirical comic strip Dilbert, that "every aspect of our lives is touched in some way by what engineers do."
One of her current ambitions is to promote that message more, particularly to young women who tend not to have the same inclination as boys to build and dismantle things—a difference she has seen play out in her own home, where she and her husband, Steve, have a 6-year-old son, Nate, and a 4-year-old daughter, Molly.
Heinzelman, whose own research focuses on wireless communication, networking, mobile computing, and multimedia communication, earned her bachelor's degree in electrical engineering in 1995 from Cornell University, and her master's degree in 1997 and doctoral degree in 2000, both from MIT. Specializing in creating ad hoc and sensor networks, she knows firsthand the vital role that graduate students play in research at the University; she worked closely with seven of them this past year.
On Heinzelman's professional to-do list: a survey for graduate students that would deliver valuable feedback about their educational experience; a visitation program to bring a diverse set of potential graduate applicants to campus to meet with faculty and students; training programs on the responsible conduct of research and teaching methods; and development of new master's programs that build on the University's unique strengths.
"My hope is that graduate students feel more now that people are listening," she says. "And that they know if they have issues, they can bring them to me and I will address them."
Robin L. Flanigan is a Rochester-based freelance writer.