Features
Transformative Research
Increasingly successful at garnering funding for their work, Rochester scientists stand to gain further over the next several years thanks to renewed federal recognition of the importance of university research.
By Scott Hauser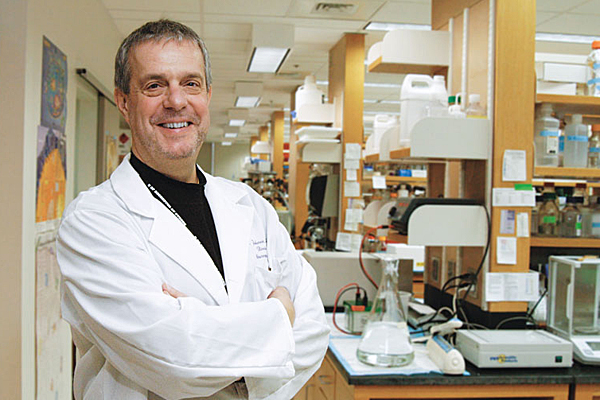 Loisa Bennetto has spent much of her scholarly career trying to unravel the biological and psychological mechanisms behind autism, a neurological developmental disorder with no known cause that affects as many as 1 in 150 children in the United States.
The associate professor in Rochester's Department of Clinical and Social Sciences in Psychology often hears parents report that their children with autism are very particular about what they will eat, even insisting on foods of only a certain color, texture, or taste, for example.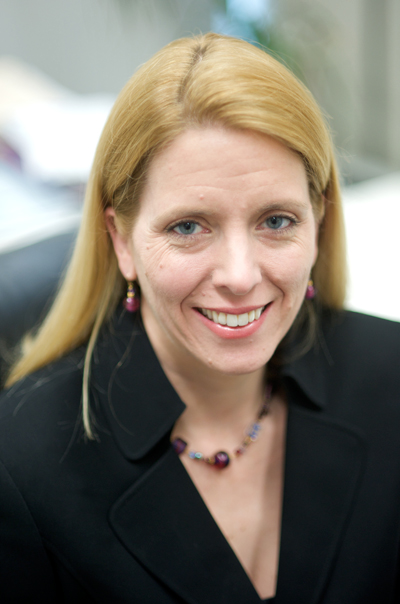 "Parents frequently tell us that their children with autism are picky eaters, and for some children, it can have a significant impact on their health," says Bennetto, an expert in the neurocognitive bases of autism. "Understanding why a child with autism refuses certain foods could be a tremendous help to struggling families."
That understanding could also help identify the hereditary source for the atypical sensory perceptions—and may help isolate some of the genes—involved in autism.
This spring, Bennetto received a major boost in her efforts when the National Institutes of Health (NIH) awarded her a $3 million grant to follow up on her preliminary studies, which indicate that children with autism are less able to identify tastes and smells than their normally developing peers. Along with Medical Center coinvestigators Christopher Stodgell, an associate professor of obstetrics and gynecology, and Susan Hyman, the division chief in the Division of Neurodevelopmental and Behavioral Pediatrics, she plans to work with 175 families who have a child with autism.
Bennetto's grant is an example of what's commonly called "sponsored research"—projects that are funded by federal and state public health and scientific agencies that dispense funds after a careful peer review process. Sponsored research, which also includes funding from sources such as corporations and foundations, has long been a leading means of support in America's top research universities. Faculty members in nearly every division of the University rely on winning such funding to help them pay the salaries of staff researchers and student workers, buy laboratory equipment, and pay other costs of conducting the cutting-edge work that can lead to new discoveries or even transform fields.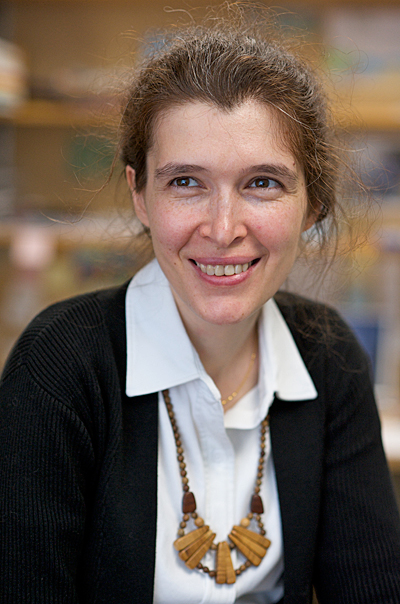 Over the past decade, Rochester researchers have become increasingly successful at garnering sponsored research funding. In the fiscal year that ended June 30, 2008, Rochester received $389 million from such agencies as the NIH, the National Science Foundation (NSF), the Department of Energy, and others. That's a nearly 75 percent increase from 2000, when Rochester received $220 million in sponsored research.
In February 2009, the Association of University Technology Managers recognized Rochester—for the seventh year in a row—as one of the top 10 institutions in the country for revenues it receives from licensed technologies.
"Research universities today are the research labs of the nation," says President Joel Seligman, who highlighted the importance of sponsored research as a key component of the University's success in his annual community address delivered in June at the Memorial Art Gallery.
As some of the nation's corporate giants have scaled back their research and development operations, the role of research universities has become increasingly important, he says.
That role is expected to become even more critical over the next few years under President Barack Obama's proposal to spend up to 3 percent of the nation's gross domestic product on research and development as part of his administration's efforts to stimulate the American economy.
"On April 27, President Obama made what history someday may recall as one of his most significant addresses, remarks that may prove to be the equivalent of President Kennedy's declaration to Congress in 1961 'that this nation should commit itself to achieving the goal, before the decade is out, of landing a man on the moon and returning him safely to earth,'" Seligman says. "If even a significant part of President Obama's initiative is achieved, research universities such as Rochester will play a pivotal role."
Earlier this year, Congress enacted the American Recovery and Reinvestment Act, a $787 billion economic stimulus package that includes $10.4 billion for NIH, $3 billion for NSF, $1.6 billion for Department of Energy research programs, and $20 billion for health information technology.
And while not all faculty members receive sponsored research funding, the landmark legislation—with its emphasis on the importance of research—has been cause for optimism among universities such as Rochester.
"We have a historic opportunity in the next few years," Seligman says. "The role of universities in contributing basic and applied research has been dramatically amplified."
Like Loisa Bennetto, Betza Zlokovic has dedicated his career to addressing a looming medical dilemma, in his case, the prevalence of Alzheimer's disease. Unless an effective treatment is developed, as many as 100 million people are expected to live with full-blown symptoms of the disease by the year 2050.
A professor of neurology at the Medical Center, Zlokovic and his team are making progress to connect a gene that encodes certain proteins with the brain's ability to form new blood vessels and to a protein that removes amyloid beta peptide, the toxin that builds up in the brain tissue of Alzheimer's patients.
"This is a new pathway for the study and treatment of Alzheimer's disease," says Zlokovic, who is the director of the Center for Neurodegenerative and Brain Vascular Disorders. "If we can stop this cycle, we could slow or stop the progression of the neuronal component of this disease."
The significance of Zlokovic's work has been recognized in two recent honors he has received—the MetLife Foundation Award for Medical Research in 2007 and the Potamkin Prize from the American Academy of Neurology this April.
Zlokovic, who's earned support from the National Institute on Aging and other agencies and foundations, says that he's intrigued by research as much for the answers that are surprises as for the answers that he expects.
"Research is important for the new ideas that come along," Zlokovic says. "Whether the ideas are right or wrong, you always learn something new, and that knowledge oftentimes leads to breakthroughs that you couldn't have predicted at the outset."
In the biology department, associate professor Vera Gorbunova has been exploring how a basic biological building block may have enormous implications in treating cancer.
Focusing on telomerase, an enzyme that can lengthen the lives of cells, but that can also increase rates of cancer, Gorbunova and her team have found that telomerase is highly active in small rodents, but not in large ones. Or in humans.
While many small rodents such as mice are known to be cancer prone, some rodent species are extremely long-lived and cancer resistant, suggesting they possess novel anticancer mechanisms.
"We haven't come across these anticancer mechanisms before because they do not exist in the two species most often used for cancer research: mice and humans," says Gorbunova.
She's found a source for her research in an unlikely place, the naked mole-rat, a mouse-sized rodent that lives up to 30 years and has never been observed to develop cancer.
"We have preliminary evidence that naked mole-rat cells secrete a factor that slows the growth of human cancer cells," she says. "This opens a new chapter in cancer research by introducing a cancer-resistant rodent model. Cancer research to date has focused on mice, which as a species are very cancer prone. The focus on cancer-prone species has been helpful in developing anticancer treatments. However, to find ways of cancer prevention, the research must focus on organisms that are cancer resistant."
The recipient of two major grants totaling $3 million from the National Institutes of Health, Gorbunova also has been supported by grants from the Ellison Medical Foundation, the American Federation for Aging Research, and the Susan Komen Foundation.
In addition to emphasizing the importance of the role of universities as a source of scientific, technological, and medical research, the Obama administration also earlier this year rescinded federal restrictions on the use of embryonic stem cells, a decision that's expected to bring new emphasis to ongoing work at the University. About 40 scientists at the University oversee labs with $78 million in grants for several stem cell research projects.
Mark Noble, a professor of genetics, neurology, neurobiology, and anatomy, is working with his colleagues Margot Mayer-Proschel and Chris Proschel to apply the tools of stem cell biology to the repair of spinal cord injury and other traumatic injuries to the central nervous system. The research has revealed powerful new approaches to the promotion of repair from such injuries and is showing enormous promise, Noble says.
"Stem cell medicine is already revolutionizing the way we practice medicine and conduct biomedical research," says Noble, who is also the director of the University's Stem Cell and Regenerative Medicine Institute. "These new areas of discovery offer an opportunity to drastically change the way we approach many important medical problems, and to improve the lives of millions of adults and children."
Beyond medical science, Rochester researchers are exploring new technologies to improve the lives of people in other ways.
For example, Ching Tang, the Doris Johns Cherry Professor in the Department of Chemical Engineering, is exploring ways to develop low-cost, thin-film solar cells. Tang, who joined the faculty in 2007, is considered the father of the multi-billion-dollar industry that has sprung up behind organic light-emitting diodes or OLEDs. Tang invented the first efficient version of OLED technology.
Among Rochester's efforts to address the national energy crisis, researchers at the Laboratory for Laser Energetics are analyzing whether nuclear fusion can be used to reduce the nation's dependence on fossil fuels. In 2007, the U.S. Department of Energy's National Nuclear Security Administration renewed its commitment to fund the laboratory for another five years, a commitment that could amount to $351 million by November 2012.
For Seligman, such commitments are votes of confidence in institutions such as Rochester.
"Research universities are one of the most important social institutions in our society today," says Seligman. "Their research, teaching, performing arts, and community service have a profound impact in creating the democratic, economically vibrant, tolerant, and dynamic society that we all seek."
For researchers like Bennetto, the goal is to find answers to compelling questions. Over the course of her five-year study, she and her team hope to determine if certain sensory impairment traits run in families. They also hope to help identify the genes tied to taste and odor perception to see if they can find a connection with autism.
But mostly she hopes to make the lives of children with autism and their families a little easier.
President Joel Seligman's 2009 annual address to the University community can be found at the president's Web site.