Alumni Gazette
Lawyers and Superheroes—Now That's Comical!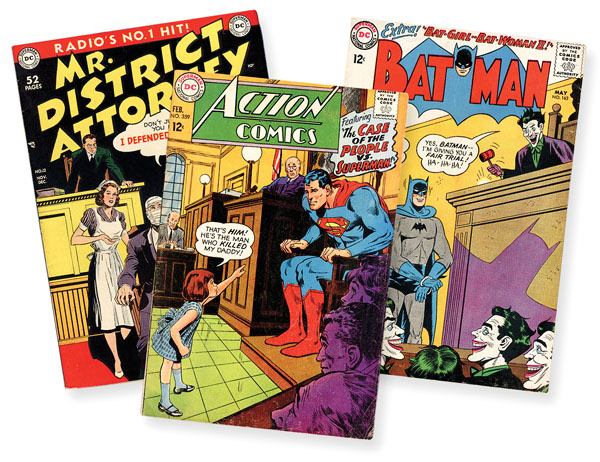 In the summer of 2009, Mike Widener, a rare book librarian at Yale's Lillian Goldman Law Library, was contemplating a new exhibit on law and popular culture. He started thinking about comic book superheroes and villains, stark caricatures of good and evil, or in one superhero's case, of truth, justice, and the American way. When he started making inquiries, one thing was clear: designing a comic book exhibit was a job for Mark Zaid '89.
"Mark's name was the one that kept coming up," says Widener. Zaid is not only a "Super Lawyer," whose Washington, D.C., practice in the areas of national security, intelligence gathering, and secrecy policies has earned him that coveted title from Super Lawyers magazine. He is also a noted collector of vintage comic books who maintains a Web site, www.esquirecomics.com, devoted to buying and selling high grade comics (those from the so-called Platinum, Golden, Atom, and Silver ages, from the 1930s through the mid-1960s).
Widener contacted Zaid and asked him if he'd be willing to curate an exhibit for the Yale Law Library. Zaid responded, if not faster than a speeding bullet, then certainly more swiftly than lawyers are wont to. "It took me all of perhaps three seconds, if that, to respond in the affirmative," he says. The result is "Superheroes in Court! Lawyers, Law and Comic Books," an exhibit based on Zaid's collection that launched in September and remains on display through mid-December in the library's rare book gallery.
"Comic book companies and characters have lived and died at the hands of lawyers and court decisions," Zaid notes, underscoring that the exhibit shows not only the workings of the law in the lives of superheroes, but "how comic books and their titles have been trademarked and copyrighted, as well as litigated."
According to Widener, the exhibit has attracted a diverse group of visitors, including a reporter from the New York Times, whose article on the "quirky" exhibit appeared in the newspaper in September. As for that kind of coverage, says Widener, "We were blown away."
—Karen McCally