In Review
QUOTABLE COVERAGE
Risk Analysis
Simon School's New York City conference offers lessons on American economy.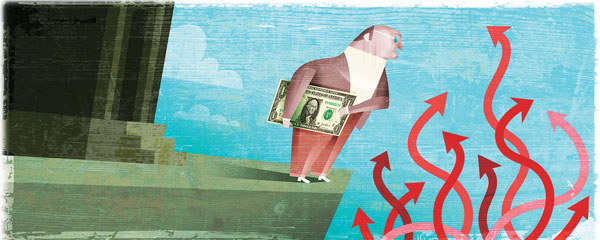 Representatives from some of the nation's leading financial, legal, and policy media outlets were on hand this spring as more than 300 leaders from industry, government, and academia discussed the "Emerging Risks to America's Financial Stability," a one-day conference sponsored by the Simon School in New York City. Held in the heart of the nation's financial center, the conference offered an opportunity to hear in-depth from some of the country's most prominent economic and business analysts. Here's a sample of what they said:
Fox Business News
"The decade ahead—from a technology standpoint—is going to be transformative, disruptive, and incredibly exciting. . . . For me, the decade will be defined by the following four words: mobile, social, collaborative, and cloud."—Anita Sands, COO of UBS Wealth Management, talking about trends in information technology with the TV network as part of its live coverage of the conference.
Dow Jones Newswires
"If we create an entitlement, let's do it right."—Veteran economist and Yale University professor Robert Shiller, talking about how the United States can better contain spending by tying growth of debt and Social Security to GDP.
Forbes
"Incentives within the medical system are horrible. I get the Rolls-Royce of health coverage for nothing."—Freakonomics author and University of Chicago professor Steve Levitt talking with the magazine about incentive structures in the health care system, the debt debate, and other topics during the conference.
Law360.com
"The Madoff and Stanford frauds reminded us of the importance of getting evidence early on of wrongdoing. It's important to have people come forward, and we are amenable to incentives. That means increasing corporate cooperation, encouraging self-reporting and reduced sanctions, deferred prosecution, and nonprosecution agreements."—Robert Khuzami '79, the SEC's chief enforcement officer, talking about convicted financier Bernard Madoff and accused financier Allen Stanford.
NorthJersey.com
"You are our partners, not our banks."—New Jersey Gov. Chris Christie, talking about his efforts to work with the business community in New Jersey to spur economic growth.
—Scott Hauser