In Review
ATHLETICS
Senior Recognized with Squash's 'Heisman'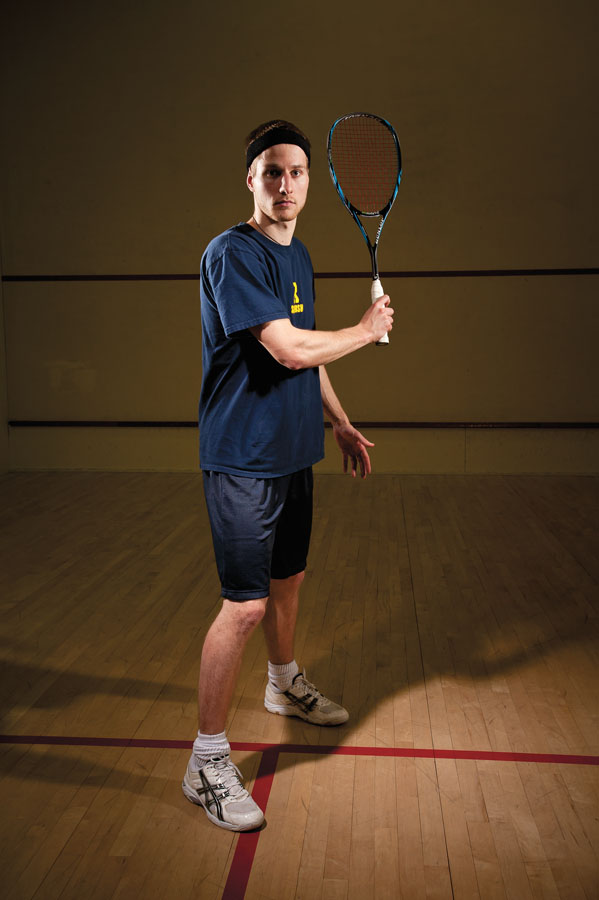 Squash player Benjamin Fischer '13 went up against the nation's top players all season in the No. 1 and No. 2 positions on a Rochester squad that finished fifth in the nation. As the season came to an end in February, the economics and business strategies major from Lucerne, Switzerland, was recognized for more than his talent on the court as he was named the College Squash Association's 2012 Skillman Award winner, an honor given annually to a top men's collegiate squash senior player.
Considered college squash's version of NCAA Division I football's Heisman Trophy, the award recognizes not only top players, but also players who demonstrate outstanding sportsmanship, leadership, and contributions to collegiate squash.
"Beni has been a model of consistency, fairness, and commitment in his work ethic, behavior on court, and demeanor off court," says Rochester coach Martin Heath. "He has accepted his wins and his losses with equal grace and has assumed his leadership responsibilities within the team with quiet assuredness and good humor."
Fischer finished his four years as a Yellowjacket with a 38–23 record, an impressive mark considering he has never played below No. 3 for the team. A three-time All-American, Fischer earned first team honors in 2010 and 2011 and second team in 2009.
Fischer finished the 2012 team squash season by defeating Kenneth Chan of Yale University at No. 1, helping Rochester earn fifth place in the Potter Cup Tournament, the equivalent of squash's national championship.
The award is named for John Skillman, who led Yale University to 16 national titles during his 41 years as the Bulldogs head coach. Skillman won the United States professionals tournament three times in the 1930s.
—Scott Sabocheck