Overview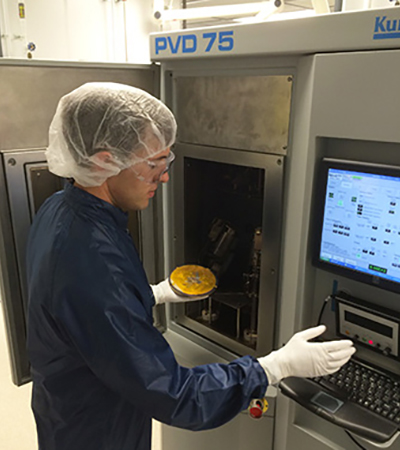 Four years of planning and lobbying culminated on August 26, 2011, with the official opening of the Integrated Nanosystems Center (URnano), dedicated to researching and fabricating materials on a microscopic level.
The center consists of a nearly 1,000-square-foot metrology (measurement) facility and a 2,000-square-foot, cleanroom fabrication facility. Its array of electron microscopes, sputtering tools, etchers and other equipment is tailored to assist key University of Rochester and regional research interests.
Those interests include development of biosensors, fuel cells, nanoscale filter membranes and light emitters. Applications range from GPS systems to detection of lethal biological warfare agents, and from portable dialysis devices to more efficient energy use.
URnano seeks to:
Encourage interdisciplinary research and educational opportunities among the University's engineering, science, and medicine departments
Foster research collaboration with University affiliated industrial concerns
Train current and future generations of technologists
In doing so, URnano helps the local community by nurturing novel ideas through the lab and eventually to private development, fostering creative regional opportunities.
Collaboration with industry has been a URnano goal from its inception, and was a major reason U.S. Representative Louise Slaughter worked hard to secure $4.4 million in federal funding to help launch the center. "I'm particularly excited because I know that this lab will create jobs, not only in the lab itself, but also in new companies catalyzed by the research taking place in the lab," Slaughter said on the day URnano officially opened its doors.