Overview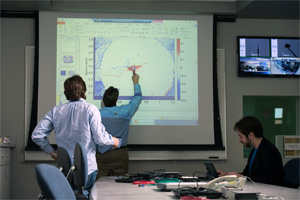 Graduate programs in Arts, Sciences and Engineering welcome applications from students who are actively engaged with their education and are looking for a challenging environment to expand their knowledge through further study. The University of Rochester emphasizes individualized study that allows students to create an educational experience utilizing Rochester's unique facilities, nationally ranked faculty, and superb research infrastructure.
Student Profiles
The University of Rochester offers graduate students the chance to pursue research at the highest level in an environment scaled to the individual. Graduate education is central to the mission of all schools and is an important vehicle for the missions of both research and professional preparation. The students highlighted here have experiences that are unique to them but not unique to the philosophy and the opportunities in their education that we offer to our graduate students.
Professional Development
At the University of Rochester, we believe that graduate education should be composed of rigorous academic study, cutting-edge research, and relevant professional development. Whether your education takes you to academia, government employment, or the private sector, we have extensive resources to assist you in preparing for your career after graduation.
The City of Rochester
In 2010, USA Today named Rochester one of the the top-ten college towns among mid-sized metropolitan areas. In 2007, the city of Rochester was named one of the top ten most livable cities in America by the Places Ranked Almanac in their 25th anniversary edition. Rochester placed sixth on the list, which evaluates several criteria in making its selections: local economy, recreation, housing, education, health care, transportation, ambiance, crime, and climate. Learn more >>
More Information
Please complete our inquiry form to receive additional information about graduate programs in Arts, Sciences and Engineering at the University of Rochester.