Overview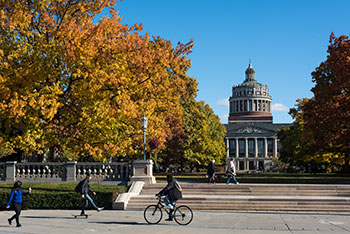 Arts, Sciences and Engineering (AS&E) at the University of Rochester comprises the School of Arts and Sciences and the Hajim School of Engineering and Applied Sciences. We offer both the intellectual excitement of a major research university and the intimacy and opportunities of a great liberal arts college.
Graduate training provided by the departments and programs of Arts, Sciences and Engineering accounts for more than 60 percent of the doctoral degrees awarded by the University.
The University of Rochester emphasizes individualized study that allows students to create an educational experience harnessing Rochester's unique facilities, nationally ranked faculty, and superb research infrastructure. We believe that graduate education should feature rigorous academic study, cutting-edge research, and relevant professional development.
In all aspects of campus life, we nurture educational excellence, advance the professional and personal growth of our students, and value diversity and social responsibility.