June 2013
Meliora! A Message from Our Chair
Dear Friends,
It's an exciting time for the George Eastman Circle. We are happy to announce that legendary sportscaster Bob Costas will be the keynote at a special event for George Eastman Circle members in August, during the 2013 PGA Championship week in Rochester. I am also excited to share that Robert Gates, former U.S. Secretary of Defense, will headline this year's Meliora Weekend.
You can read more about "An Evening with Bob Costas" and our Meliora Weekend events in this edition of our quarterly newsletter.
Last week, more than 100 alumni, parents, and friends of the University celebrated the launch of the Delaware Valley regional campaign for The Meliora Challenge: The Campaign for the University of Rochester at the National Constitution Center in Philadelphia. Led by George Eastman Circle members Neil Cullen '64 and Betsey Cullen '66, campaign co-chairs, andJoseph Serletti '82M (MD), '88M (Res), chair of the Delaware Valley Regional Cabinet, the Delaware Valley regional campaign seeks to raise $12.5 million by June 30, 2016. The campaign also aims to expand its George Eastman Circle presence and has set an additional goal to surpass 100 memberships.
Whether you live in the Delaware Valley, in Austin, Texas, or in Shanghai, China, you have the ability to help us continue to grow around the world. When it's time to renew your commitment, use the opportunity to discuss it with a friend who is interested in giving back to the community or an important cause. If you have recently joined us, welcome, and thank you for joining.
If you are a Charter Member and haven't renewed your membership, I encourage you to do so today. As we come upon the close of the University of Rochester's fiscal year—June 30—I would also like to remind you to submit your annual George Eastman Circle pledge if you have not already. Your continued commitment is helping to make a difference!

Nathan Moser '75
Life Trustee
National Chair, George Eastman Circle
Bob Costas and Robert Gates Headline Upcoming Events
When the 2013 PGA Championship is under way in Rochester, N.Y., this August, the George Eastman Circle will celebrate by hosting "An Evening with Bob Costas." Emmy Award-Winner Bob Costas has provided moving coverage of sporting events for more than 25 years. Known for his class and charm, he is considered one of the most respected sports journalists of our time.
All George Eastman Circle members are invited to attend this exciting event, which will be held on Friday, August 9, at the Rochester Riverside Convention Center at 6:30 p.m.
Save the dates—this year's Meliora Weekend will be celebrated October 10–13. All George Eastman Circle members will have early access to Meliora Weekend registration. The weekend will be packed with nearly 150 events for the University community to enjoy, including a keynote address by Robert Gates, former U.S. Secretary of Defense, on Saturday, October 12, at Kodak Hall.
Gates was appointed defense secretary in 2006 by President George W. Bush, and was asked to remain in office by President Obama, serving until 2011. President Obama awarded him the Presidential Medal of Freedom on Gates' last day in office. Before becoming secretary of defense, Gates was president of Texas A&M University and interim dean of the George Bush School of Government and Public Service at Texas A&M. He joined the Central Intelligence Agency in 1966 and served as director from 1991 until 1993. He is the author of the memoir From the Shadows: The Ultimate Insider's Story of Five Presidents and How They Won the Cold War.
Members will have the opportunity to enter a lottery to purchase up to four tickets to Robert Gates' keynote address. Additional details on Meliora Weekend events and specific information about how to purchase tickets will be mailed to homes this summer.
Be sure to stay up to date on the latest events and registration news by visiting the Meliora Weekend Web site atwww.rochester.edu/melioraweekend.
For questions about "An Evening with Bob Costas" or Meliora Weekend events, please contact the office of Donor Relations at (585) 275-7393 or DonorRelations@rochester.edu.
Leadership through Scholarships
The concept that a scholarship can be the difference in a student's educational pursuits is one in which The Meliora Challenge: The Campaign for the University of Rochester is heavily invested. By the close of the Campaign, the University aims to raise $225 million in student support, primarily through scholarships.
To complement the endowed scholarship program, the University has launched a new current-use scholarship initiative: the George Eastman Circle Scholarship Program.
George Eastman Circle members exemplify leadership by pledging their support to schools and programs across the University for a period of five years. Now, with a commitment of $5,000 or more annually, members can use their five-year commitment to be leaders in student support. George Eastman Circle Scholarships have an immediate impact on students, providing unrestricted funds that are disbursed to recipients soon after they are received.
U.S. Army veteran and George Eastman Circle Charter Member H. Robert (Bob) Williams '57E (MM) was the first to take advantage of this opportunity.
Bob was able to afford a first-class education at the Eastman School of Music thanks, in large part, to the G.I. Bill and a graduate assistantship from Eastman. The benefits he received from both helped to make tuition extremely affordable. It was an experience he is paying forward through the H. Robert Williams George Eastman Circle Scholarship.
"I had freedom from the worries of having to take out a large loan and repaying it for years to come that today's students often face," Bob says. "I would like to be able to help someone else experience that same feeling."
Members can choose the school their George Eastman Circle Scholarships will support. Bob, a horn player, has been conductor for 30 of his 39 years with the Pleasanton Community Concert Band, in California. With his scholarship, Bob has chosen to help those pursuing a career in music at his beloved Eastman School. As a perk of his philanthropy, Bob—and others who create a scholarship—will be invited to the University's annual Celebration of Scholarships dinner where he'll be able to meet students and learn firsthand how they are benefiting from his support.
Most students interested in the University of Rochester have exceptional talent and the dreams, drive, and commitment to match. A George Eastman Circle Scholarship helps make a Rochester education more accessible for deserving and outstanding students. These commitments not only advance the student support goal for the Campaign, but also the University's mission to Learn, Discover, Heal, Create—and make the world ever better.
Read more about these scholarships in the new George Eastman Circle Scholarships booklet here.
Your Philanthropy at Work
George Eastman Circle members have pledged $50 million in annual funds since the program's inception in 2007. Here is a small sampleof the innumerable ways your funding has made an impact on the University and the surrounding community throughout this past year.
Strong Memorial Hospital
$306,058 pledged
Enhancements to clinical and research programs have ensured the delivery of patient- and family-centered care, improvements in patient safety, and training for the next generation of caregivers.
For the second year in a row, U.S. News & World Reportranked Strong among the best hospitals in the U.S. for its neurology/neurosurgery (#46) and urology (#48) programs.
Collaboration with the School of Nursing supported best-practice training in elderly patient care for 700 nurses at Strong Memorial and Highland Hospitals.
Athletics
$1,410,379 pledged
National recruitment of talented student-athletes has resulted in a top five Division III ranking based on the number of Academic All-Americans.
Support fueled outstanding accomplishments in men's cross country (second state championship), women's cross country (first individual champion in 25 years), women's field hockey (first appearance in the NCAA tournament and Elite 8; set a record for season wins), and men's soccer (nationally ranked for the 12th year in a row).
Funding enhanced equipment, uniforms, facilities, and technology.
Men's and women's basketball, softball, and squash completed their best competitive decade, with winning percentages greater than 60 percent.
Memorial Art Gallery
$1,616,900 pledged
Work began on "Poet's Walk" and "Story Walk," two new pedestrian walkways that highlight historic and contemporary poets and stories related to Rochester's history.
Several award-winning art and wellness initiatives were offered to the public, ranging from custom tours for Alzheimer's patients and their caregivers to hospital patients experiencing the healing power of viewing art at their bedsides.
Renaissance Remix, in the Dorothy McBride Gill Discovery Center, provided visitors a glimpse of the Renaissance through the eyes of a young boy growing up in mid-16th century Europe—a time of political, cultural, religious, and social change.
To learn more about the remarkable impact George Eastman Circle members have made in each area, click here.
Supporting The Meliora Challenge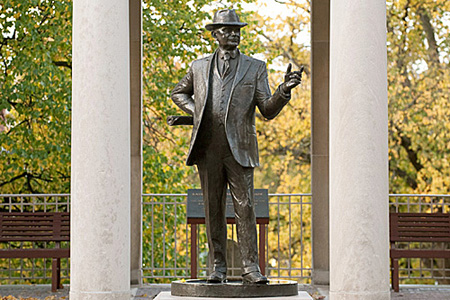 George Eastman Circle members remain vital to achieving the unprecedented $1.2 billion goal for The Meliora Challenge: The Campaign for the University of Rochester. Their generosity and commitment to supporting Campaign priorities—faculty, students, programs, Annual Fund, and facilities—is critical to advancing our mission to Learn, Discover, Heal, Create—and make the world ever better. The Campaign's $350 million faculty goal will be achieved primarily through reaching a goal of 80 new endowed professorships. Most recently, the University has celebrated and enjoyed support of endowed professorships from these George Eastman Circle members:
On April 24, Theodore (Ted) M. Brown, Ph.D., known for his exceptional contributions to the diverse fields of history, public health and the medical humanities, was installed as the inaugural Charles E. and Dale L. Phelps Professor in Public Health and Policy. Charles Phelps, University professor and provost emeritus, and his wife, Dale, a University of Rochester professor of pediatrics, are Charter Members of the George Eastman Circle. Their commitment of $1.5 million established lasting faculty support in health care policy and public health research. To read more on Brown, the Phelpses, and this gift, click here.
Outstanding anesthesiologist Michael P. Eaton, M.D., was installed as the inaugural Denham S. Ward, MD, PhD Professor on April 1. The professorship, named in honor of another preeminent anesthesiologist, Denham S. Ward, M.D., Ph.D., two-time chair of the Department of Anesthesiology and George Eastman Circle member, was established thanks to leadership gifts from Ward, his wife, Debra Lipscomb, and the generosity of many other individuals. The Ward Professorship is one of 28 new endowed professorships created at the School of Medicine and Dentistry since the start of The Meliora Challenge; the goal is to reach 40 new endowed professorships by the Campaign's conclusion. To read more on Eaton and Ward, click here.
Trustee Alan Hilfiker '60 realized a lifetime goal by making a generous commitment to create the Alan F. Hilfiker Distinguished Professorship in English. This gift was in addition to the existing Alan F. Hilfiker Endowed Graduate Fund and the Alan F. Hilfiker Undergraduate Scholarship Fund. Alan and his wife, Carol Hilfiker '60W, are Charter Members of the George Eastman Circle. To read more on  Hilfiker and this commitment, click here.
The Margaret Warner Graduate School of Education and Human Development community celebrated at the formal dedication and ribbon-cutting ceremony of its new home, Raymond F. LeChase Hall, on May 16. The building's name honors the father of University Trustee R. Wayne LeChase who with his wife, Beverly, made a $3.5 commitment that enabled construction to begin in 2011. The LeChases are also Charter Members of the George Eastman Circle. To read more on the ceremony, click here.
Upcoming Events
The George Eastman Circle is helping to shape the future of the University and the lives of those it serves. Your five-year commitments are providing critical budget-relieving annual funds to specific schools and units of the University. Together we're strengthening the University and, ultimately, its ability to make a profound impact on society.
One of the ways we're able to thank you is to extend invitations to various regional gatherings, dinners, and University programs. Here is a list of upcoming events:
New York, NY / June 12, 2013
Center for Medical Technology and Innovation:
An Innovative Approach to Bridging Technology and Medicine, in the McGraw-Hill Building
Featured speakers:
Robert L. Clark
Senior Vice President for Research
Dean and Professor, Edmund A. Hajim School of Engineering and Applied Sciences
Greg T. Gdowski
Executive Director, Center for Medical Technology and Innovation
Associate Professor, Department of Biomedical Engineering
Mark B. Taubman
Dean, School of Medicine and Dentistry
University Vice President for Health Sciences
Rochester, NY / June 20, 2013
The Rochester Forum, Memorial Art Gallery
Featured speakers:
Webster Pilcher, "The New Science of Human Brain Mapping"
Faculty Ambassador
Chair, Department of Neurosurgery
Ernest and Thelma Del Monte Distinguished Professor in Neuromedicine
Russell Peck, "New Pathways and Byways for Women in the 21st Century"
Faculty Ambassador
John Hall Deane Professor of English
New York, NY / July 15, 2013
Albert Paley: Paley on Park Avenue, Harmonie Club
Join President Joel Seligman and Grant Holcomb, the Mary W. and Donald R. Clark Director of the Memorial Art Gallery, for a reception and lecture by artist Albert Paley.
Rochester, NY / August 9, 2013
An Evening with Bob Costas, Rochester Riverside Convention Center
Rochester will be in the national spotlight as Oak Hill Country Club hosts the 2013 PGA Championship. To mark the occasion, legendary sportscaster Bob Costas will be the featured speaker at this dinner exclusively held for George Eastman Circle members.
Rochester, NY / October 10-13
Meliora Weekend
For more information about attending any of these events, please contact the Office of Donor Relations at 800-281-2055.