October 2013
Meliora Weekend
George Eastman Circle Offerings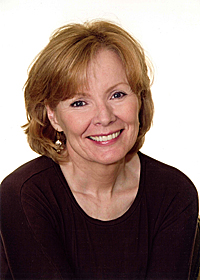 Meliora Weekend is fewer than two weeks away! The George Eastman Circle will host an exclusive evening with Peggy Noonan, columnist for The Wall Street Journal and best-selling author (left), on Friday October 11.
Forbes Magazine has called Noonan's columns "principled, perceptive, persuasive, and patriotic." Her essays have appeared in TIME, Newsweek, The Washington Post, and other publications; she also provides frequent political commentary on television.
Tickets to the Peggy Noonan event are $35 per person, and registration is open through October 11. If you have questions, please contact the Office of Donor Relations at (585) 275-7393 or DonorRelations@rochester.edu.
In addition to this exclusive opportunity, we would like to encourage you to stop by the George Eastman Circle Hospitality Suite while you are on the River Campus, Saturday, October 12. Located in the Welles-Brown Room in Rush Rhees Library, this suite offers our members and their guests a place to relax in a family-friendly environment and take some respite from the bustle of the day's events.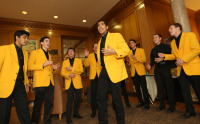 Visit between 9:00 a.m. and 6:30 p.m. to enjoy food, drink, and performances from the student music groups The YellowJackets and The Midnight Ramblers.
Online registration for Meliora Weekend events has been extended and is now available until Monday, October 7, at noon EDT. To look at the entire schedule of events and register for weekend events, click here.
Meliora! A Message from Our Chair
Dear Friends,
We are at the beginning of a new academic year at the University. With this time-honored tradition upon us once again, I have been reflecting on the George Eastman Circle and the impact your leadership support has had on The Meliora Challenge.
The Campaign, which concludes June 30, 2016, has a goal of $1.2 billion and we are well on our way to meeting that challenge. In helping to sustain this momentum, I am excited to share that, instead of having our annual George Eastman Circle dinner next year, we will be gathering to officially launch New York City's regional campaign for The Meliora Challenge. The event will be held on March 13, 2014, in Lincoln Center's Alice Tully Hall. All George Eastman Circle members are invited to attend. More information on this event will be coming to you in the new year.
All George Eastman Circle gifts count toward the Campaign's Annual Fund goal of $130 million. Our progress currently stands at $109 million and I'm proud to share that George Eastman Circle memberships have accounted for half of what has been raised for the Annual Fund—a true point of pride.
While we are on a trajectory to achieve our goals, it's important that we continue to have an impact beyond the life of this campaign. Renewing your membership, your commitment to the University, is still among the most significant gifts you can make. Read about the remarkable impact the George Eastman Circle has had at the University and around the world on ourWeb site. I also encourage you to read  "Your Philanthropy at Work" in this edition of our newsletter.
Whether you have just joined the George Eastman Circle or if you are in the process of renewing your membership, I thank you from the bottom of my heart for your commitment to the University and for making such an important difference in our world.

Nathan Moser '75
Life Trustee
National Chair, George Eastman Circle
Member Profile:
Sam Snowden '04 and Bobbi Stewart Snowden '06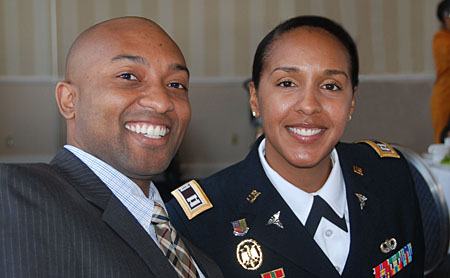 All of our members have wonderful stories to share. We are pleased to feature one such story from members who live in Montgomery County, Maryland.
As undergraduates, Sam and Bobbi Snowden's experience with the University of Rochester can be summed up in one word: flexibility. A native of Virginia, Bobbi attended the University of Rochester, where she could pursue her interests in health and behavior as well as in athletics, while at the same time pursuing her goal to be in the Army.
Intrigued by the University's flexible curriculum, Bobbi was able to explore new areas of interest, such as music and dance. She even minored in dance, music, and sociology in addition to her major in health and society.
Sam also loved the idea that, at Rochester, he could pursue whatever subjects interested him. An athlete who played football and ran track, he was particularly encouraged by the accessibility of the professors, deans, and athletic directors who, despite their prominent positions, were welcoming and communicative with students.
Sam majored in psychology and business, and when it was time for him to make career decisions, he turned to his trusted football coach for advice. The coach put Sam in touch with an alumnus, and Sam says he can directly trace his career path back to this important connection. Sam is now a client manager at Unum, a disability employee benefits company, and Bobbi is a captain in the U.S. Army Medical Service Corps.
Sam and Bobbi joined the George Eastman Circle as associate members, a level they say encourages young alumni to begin the habit of giving early on in their careers. Because Sam's employer, Unum, offers a matching program, the Snowdens are able to triple the impact of their gift.
Sam says, "There's more to education after the education is over; there's also networking and giving back. The George Eastman Circle reminds us of what brought us to where we're at now."
Your Philanthropy at Work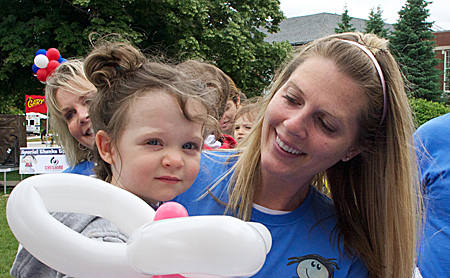 George Eastman Circle members have pledged $50 million in annual funds since the program's inception in 2007. Here is asmall sample of the innumerable ways your funding has made an impact on the University and the surrounding community throughout this past year.
Golisano Children's Hospital
$1,534,848 pledged

Construction began on a new, state-of-the-art children's hospital that will include the larger Gosnell Neonatal Intensive Care Unit, private patient rooms, and an advanced imaging facility.
U.S. News & World Report ranked the Children's Hospital among the nation's best in four pediatric specialties: gastroenterology, neonatology, orthopaedics, and neurology/neurosurgery.
Scientists were able to give increased attention to the initial steps that occur when type 1 diabetes mellitus first develops in a child or young adult, for a better understanding of the disease.
Hajim School of Engineering and Applied Sciences
$1,552,953* pledged
A new master's degree program in medical technology and innovation was established, enabling collaboration with the School of Medicine and Dentistry.
More than half of the undergraduate student population received need-based scholarship support.
New initiatives in professional networking and writing were created in collaboration with the Gwen M. Greene Career and Internship Center.
Funding provided more students with the opportunity to participate in study abroad programs.
*Since the naming of the Hajim School in 2009
River Campus Libraries
$589,678 pledged
Storage space and disc capacity were increased for digitization projects.
Student study spaces in the Carlson Science and Engineering Library were renovated to support study groups, individual work, and chemistry and biology workshop meetings.
More seating, computers, and whiteboards were added to the Physics, Optics, and Astronomy Library.
Undergraduate students had access to The New York Times, USA Today and Democrat and Chronicle newspapers at no charge through the Student Readership program.
To learn more about the remarkable impact George Eastman Circle members have made in each area, click here.
Upcoming Events
The George Eastman Circle is helping to shape the future of the University and the lives of those it serves. Your five-year commitments are providing critical budget-relieving annual funds to specific schools and units of the University. Together we're strengthening the University and, ultimately, its ability to make a profound impact on society.
One of the ways we're able to thank you is to extend invitations to various regional gatherings, dinners, and University programs.
This summer, George Eastman Circle members celebrated their impact in Rochester and enjoyed An Evening with Bob Costas with the legendary sportscaster.
Here is a list of upcoming events across the nation:
October 10–13, Rochester, NY
Meliora Weekend; for details, click here.
October 24, Chicago
Chicago Regional Cabinet Annual Dinner, University Club of Chicago, 6:30 p.m.
October 29, New Jersey
New Jersey Regional Cabinet Annual Celebration, Green Brook Country Club, 6:30 p.m.
October 30, New York
Westchester Regional Cabinet Annual Celebration, Winged Foot Golf Club, 6:30 p.m.
November 13, Washington, D.C.
Washington, D.C. Regional Campaign Launch Dinner, Ronald Reagan Building and International Trade Center, 6 p.m.
December 3, New York City
New York Holiday Party, The Metropolitan Club, 6 p.m.
December 5, Texas
Texas Regional Cabinet Annual Dinner, Hilton Palacio del Rio, San Antonio, 6:30 p.m.