September 2017
Meliora! A Message From Our Chair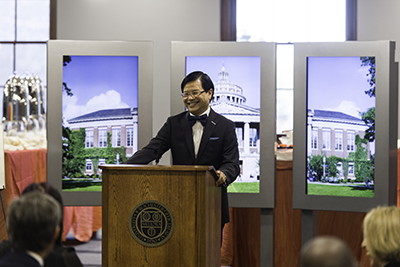 Welcome to the September edition of our George Eastman Circle newsletter. This summer, I started my new role as National Chair, and my first order of business is to thank Nathan Moser '75 for his six years of tremendous service leading our program. Thanks to your leadership, we are now nearly 3,500 members strong.
In this issue, you will read about one of our youngest members, Koji Muto, who joined the George Eastman Circle before he even graduated from the University of Rochester in 2015. Koji embodies what it means to be a leader, and we are fortunate he serves as an ambassador for us.
Koji lives in Houston, Texas. Thankfully, he remained safe throughout the duration of Hurricane Harvey. In all, 15,000 alumni, parents, and friends of the University live in Texas, Florida, Puerto Rico and the Caribbean—where Hurricanes Harvey, Irma, and Maria recently left a path of destruction. Our hearts go out to everyone affected there, and in Mexico where two catastrophic earthquakes recently occurred.
Thank you for all you do for the people who your dollars impact at the University of Rochester and its Medical Center. The collective power of what our George Eastman Circle membership can achieve is incredible. I hope you enjoy this issue, and I look forward to the work ahead of us. Hope to see you October 12-15 at Meliora Weekend.
Evans Y. Lam '83 '84S (MBA)
Member, Board of Trustees
National Chair, George Eastman Circle