The Rochester Review, University of Rochester, Rochester, New York, USA




Overture
Back in 1918, George Eastman asked his friend Rush Rhees," Why don't you have a music school?" It was a question that was to change the course of professional music education in America.
By Denise Bolger Kovnat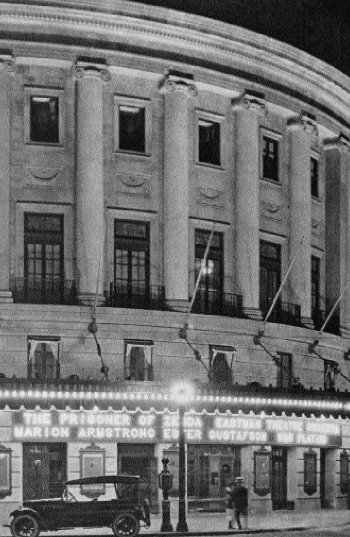 Seventy-five years ago, George Eastman bought himself a music school.
It cost him $20 million, all told, back when a million was really a million. First, he bought the competition outright, then he built one of the most splendid monuments to music America had ever seen, and then he imported some of Europe's finest musical talent to fill it.
As his school grew, he took a proprietary interest, fussing over the roof tiles, checking the box-office receipts, giving tours to youngsters, and even decorating the walls of the second-floor corridor with his hunting trophies -- elk and moose and bighorn sheep. A self-proclaimed "musical moron," the Kodak tycoon/philanthropist wisely stayed out of the business of music education, however. "I am unable to whistle a tune, to carry a tune, or remember a tune," he declared. "But I love to listen to music and in listening I've come to think of it as a necessary part of life." His interest in his "music project," he said, was to provide the means of sharing his pleasure with others.
Clearly, he made good on his investment. We all did. To date, the Eastman School can claim eight Pulitzer Prize winners -- one, composer George Walker '56E (DMA), '57E (DMA), just this year -- scores of Fulbright and Guggenheim winners, a steady and prodigious output of principal players for the nation's best orchestras, and thousands of virtuoso singers, conductors, composers, teachers, scholars, and music mavens in general -- all providing "for the enrichment of community life," as the inscription on the Eastman Theatre reads, in communities everywhere.
It all began in 1918. "Why don't you have a music school?" Eastman asked his friend, Rush Rhees, the University's third president, during one of the regular Sunday-evening concerts at the multimillionaire's mansion.
Back then, Rochester was a university in name only -- in truth, a good regional college with 700 undergraduates on a 25-acre Prince Street site. Thanks in large measure to the friendship of Eastman and Rhees (who first met in 1901 but didn't get around to first names until 1925), Rochester would emerge in little more than a decade as a genuine national university, with a grand new men's college beside the Genesee, a gleaming modern medical complex nearby, a tradition-steeped women's campus on the Prince Street site, and the sumptuous Eastman School of Music downtown.
The music school came first. In April 1918, Eastman purchased the Institute of Musical Art, a small conservatory adjacent to the Prince Street Campus, for $28,000 and sold it to the University for $1. A year later, he announced his gift of more than $17 million for the school and secured a property he believed to be the best in the city. (The odd-shaped lot confounded the building's architects, however. Eastman had refused to buy an adjoining parcel on the corner of East Main and Swan streets because the owner held out for an exorbitant price.) Two years later, on September 19, 1921, the Eastman School of Music opened its doors, and one year after that came the opening of the adjoining Eastman Theatre, which was originally conceived as a center for music, dance, and silent film.
In full formal regalia the Eastman Theatre Orchestra plays backup to the silver screen in the theater's picture-palace days.

The idea of using the theater for film shows was a natural for the founder of Eastman Kodak, who also hoped that movie ticket sales would help subsidize the symphony orchestra. Rhees, on the other hand, according to Elizabeth Brayer's newly published George Eastman, a Biography, admitted that the news that his University would be operating a motion picture theater "nearly gave me apoplexy."

It may be hard, even for those who know and love the Eastman Theatre, to appreciate what a colossal event its opening was. "The most beautiful and costliest picture palace in the world is about to be dedicated," the New York Herald declared. "It is neither New York, London, Paris, nor any other metropolitan center that is to provide this most magnificent setting for the silver screen. It is a staid and conservative upstate city, known for its posies rather than its posers. . . ." Polish pianist Ignace Jan Paderewski called it the finest temple of music in which he had ever performed. The 67-year-old John Philip Sousa stopped by when he was in town for a concert and, wind lover that he was, proclaimed the ventilating equipment to be the "most perfect system in any theater in the world."
In the Italian Renaissance style, the structure was lavishly appointed by Lawrence White of the famed New York architectural firm McKim, Mead, and White. Its treasures included a jewel-like painting by Maxfield Parrish, the most popular artist of the day, along with enormous murals by Prix de Rome-winning artists Ezra Winter and Barry Faulkner, busts of Bach and Beethoven flanking the stage, and that distinctive marquee -- at 367 feet the longest in the world.
The only compromise, perhaps, can still be seen in the back of the hall: The architects had overlooked the need for light fixtures above the balcony and, with none available on time for opening day, a resourceful contractor gussied up a pair of metal washtubs to do the job. Eastman liked the surrogate chandeliers so much that he saw no need to reorder. To this day, the concentric circles of the washtub bottoms -- gleaming gold though they may be -- give them away.
The venture had its detractors, of course. One critic called it "the world's greatest experiment in attempting to exchange money for culture." Time magazine sniffed about "a $17 million school of music . . . somewhat grandiose for a town of Rochester's size."
Alf Klingenberg from the Institute of Musical Art became the school's first director (and was let go shortly thereafter because the board of managers disagreed with his approach to music education). In keeping with the trend of the day, the first 32 faculty members were almost entirely European, including German-born pianist Max Landow, who had been a pupil of Liszt; Dutch-born and European-trained Adelin Fermin, who taught voice; French organist Joseph Bonnet, trained at the Paris Conservatoire; French pianist Pierre Augieras, who taught the first lesson at the school; Thomas H. Yorke Trotter of the Royal Academy of London; Norwegian composer Christian Sinding (although George Eastman had wanted another Scandinavian, Sibelius himself); the Armenian Rouben Mamoulian in the operatic department, later to distinguish himself in Hollywood; and Scottish pianist Frederic Lamond, who studied with Liszt and played as a youth for Tchaikovsky. ("My boy, you have done very well to learn my pieces. No one else ever plays them," Tchaikovsky told the 14-year-old in 1882.) From Russia came violinists Vladimir Resnikoff and Samuel Belov, cellist Joseph Press, and the singer Vladimir Rosing, who headed up the operatic department (and of whom Bernard Shaw once commented, "Vladimir Rosing is more than a tenor . . . he is a whole band").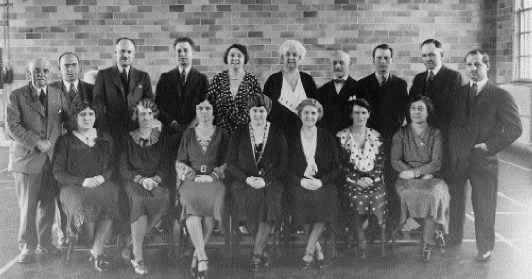 Ten-year veterans: In 1931, members of the original faculty still teaching at Eastman gather in the gym for a group portrait: Seated: Hazel Stanton, Ernestine Klinzing, Dorothy Gillette Scott, Mabel Lewis Cooper, Jane B. Mumford, Marjorie Truelove MacKown, Effie Knauss; standing: George Barlow Penny, Samuel Belov, Edgar Rose, Harold Gleason, Lucy Lee Call, Marion Weed, Adelin Fermin, Gerald Kunz, Raymond Wilson, Arthur See.

Attempting to capture the flamboyant temperaments of the opera department of the 1920s, novelist Paul Horgan published The Fault of Angels in 1933. (Horgan was an associate of the department early on.) Set in the fictional city of Dorchester, the novel spotlights a multimillionaire and philanthropist named Henry Ganson and an opera conductor, with all the airs of un grand artiste, named Vladimir Arenkoff. In the following paragraph, Horgan gives us a glimpse of Arenkoff -- and of the kind of exotic continental imports that thrived at Eastman in the early 1920s.
"'How do you do?' Vladimir said, rapidly, colorlessly, with a smile that seemed irrelevant. He was a narrow Russian with pale-blue eyes that protruded over his thin cheeks. He had a large nose that looked like the track of an object thrown off centrifugally and suddenly frozen. His brow sloped backward until it met pale hair that sloped farther backward, to drop off his skull in a fall over his neck. His shoulders were hunched, his arms were long, and his hands held together a cigarette with a yellow stain. His evening clothes were luxuriously careless in design and wearing. When he smiled his teeth were a little shocking."
These were the 1920s, after all, and students, too, aimed for a certain je ne sais quoi. "There was a period when we were all wearing no makeup except lipstick. Everybody was death pale except for those bright red lips. You see the style coming back today," says Adelaide Fish Cumming with a throaty laugh. A voice major and a member of the Class of '26 (the second class to complete four years at Eastman), Cumming went on to a career in radio and worked many years as the embodiment -- and mellifluous voice -- of Betty Crocker.
She remembers studying with the legendary Martha Graham, who taught dance to Eastman students -- for just one year. And no wonder, Cumming says. "I always had a feeling that she was bored to death with us. I don't blame her, we were so awkward and gawky." (Graham nearly stayed on, however. It is said that at contract renewal time she got as far as signing "M" before abruptly laying the pen down on the desk.)
The Note Book, a student publication that sold for five cents in 1922, scolded, "Students! Is there a genuine School Spirit in Eastman? We think not! And we think it is about time something were done about it. . . . At a recent Freshman party, twenty of the eighty members were present, and at a Sophomore party, about eighteen out of sixty were sophomores. It's really a lamentable state of affairs! Class dues are very poorly paid. The basketball team is struggling along for more than a year with almost no support."
Six years later, Dorothy Pund Allen, Class of '28, sought to counter the lamentable state by writing this class cheer:
Rackety yak, zip coon gate!
Watch this class of '28!
Always smiling, full of pep
That's the way we won our rep
For
EASTMAN!
Still, like students today, they had come mainly for music. "Music frees us!" wrote Gertrude Broadwell Briggs '27 in the 1926 yearbook, Keynote (predecessor to The Score). "When we truly respond to it, we set up a certain harmonious vibration which tunes us one to another -- to Mother Earth, the ever-lasting sea, that larger world of sun, stars, and planets of which we are a part. . . . In the truest sense, the whole universe is a song."
What kind of song, in the opinion of the school's board of managers, was another question entirely. In 1924, they were in the market for a new director: an American preferably, or at least an English-speaking individual sympathetic to this country, who would further the cause of American music without descending into provincialism, an individual who was at once broadly educated and deeply knowledgeable about music.
They found him in Howard Hanson. He was brought to the attention of Eastman and Rhees by Albert Coates, an Englishman who taught at the school and conducted the Rochester Philharmonic Orchestra. At the time, the 27-year-old Hanson was studying in Italy as the first American composer to win the esteemed Prix de Rome. Prior to this, he had built a successful career as a music educator at the College of the Pacific in California, becoming a full professor at the (spectacularly youthful) age of 19, and a dean only three years later.
The only child of Swedish Lutheran parents, Hanson was born in Nebraska on October 28, 1896, in the town of Wahoo -- "Wah-HOOO!" as he would gleefully pronounce it. "That name was a memorable help to us in making up yells for the football team," he told people. (He also relished the tale of the Wahoo superintendent of schools who once advised him, "Young man, you don't have to be a musician; you have brains.")
Impressed with the young candidate, Rhees asked him to write down his thoughts on leading the new institution. In a long letter composed in a New York hotel room on January 26, 1924 -- just before going to lecture to the American Music Guild -- Hanson weighed the job ahead of him with remarkable accuracy.
"If Rochester is to take an important place in American music, it will not be an easy task. It will take the life of some man to do it. It is not a physical task but a spiritual one. The director of your school will have to breathe fire into a great machine, and endow it with his own enthusiasm for a great cause. Rochester is not a music center, and for it to become such a center a great thought would have to be born there, which by its very bigness and idealism would direct to it all those who believed in the same things."
He arrived in Rochester on September 15, 1924, just six weeks shy of his 28th birthday. Tall, blond, and woodwind-thin, sporting a European goatee and wire-rimmed glasses, he is seen in his early photos frowning and furrowing his brow, as if to steel himself for the task ahead -- or simply to make himself look that much older than his students. "It took a lot of nerve to appoint a young sprout like me," he later admitted.
True to his Midwest origins, he championed American music and a new brand of American musical education. "The only thing to do is to make a clean break with European traditions and start to express ourselves without too much regard for the Old World attitude," he wrote in 1924. "We must express our own life." Less than a year later, he organized the first American Composers Concert, featuring the works of Aaron Copland, George McKay, William Quincy Porter, Mark Silver, and Adolph Weiss and Bernard Rogers, both of whom later came to teach at Eastman. Five years later the annual series became the Festival of American Music, which continued through 1971, ultimately showcasing the works of some 500 composers.
It was clear from the start that Hanson was in charge. "When you are a pioneer, you have to take the bull by the horns," he once remarked. "I'd make up my mind and I'd do it." Still, he went about it cordially enough. "Such a charming man," one colleague observed. "You came away from an appointment positively elated, and only 15 minutes later realized that your request had been denied." His legacy is that he did take the bull by the horns -- to the extent that, at the time of his death, Newsweek magazine called him "perhaps the most influential educator in American music."
He began almost immediately to alter the course of the new institution -- away from the idea of a continental conservatory focused on individual training and toward that of a music school in the context of a university, providing a broad perspective on music and the humanities to which music belongs.
"And what are my ideals of musical education?" Hanson wrote in the student weekly, The Note Book, just two months into his administration. "To answer briefly I should say, the development first of the man, then the musician and then the technician. For if a man is not first of all a man of broad mind, big heart and deep feeling, all of the education in the world will make him neither a great man nor a great musician. And in like manner a great musician must acquire in his study first a broad knowledge of his subject in its relation to art and life."
The music had begun.
Denise Bolger Kovnat is associate editor of Rochester Review.
| UR Home | Review Contents | Mail |


Copyright 1996, University of Rochester
Maintained by University Public Relations
Last updated 12-4-1996 (jc)