The Rochester Review, University of Rochester, Rochester, New York, USA




Alumni Gazette
Conductor of Electricity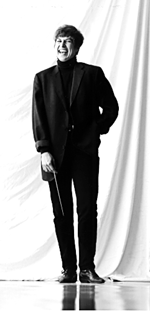 When the judges called her to the podium after the final round of the international Pedrotti competition for young conductors last year, Bridget-Michaele Reischl '85E couldn't move.
"It took me a second or two to even smile because I was so shocked," she says. "My jaw literally dropped. It was almost as if someone had punched me in the stomach."
She didn't go to Italy expecting anything like actually winning, you see. "I went because I was 32 years old and I needed to find out, before I'm not technically a 'young conductor' anymore, just how I stack up with my peers."
The Antonio Pedrotti Competition, which started in 1989 and takes place biennially in Trento, is considered one of the most prestigious conducting competitions in the world. Reischl is the first woman and the first American to win.
"The competition went on for three weeks, and the locals treated it like a sporting event," she says. "They selected their favorite entrant, a 20-year-old Croatian kid, and I sort of stupidly assumed that if the crowd liked him so much, the judges would feel the same way."
Reischl is music director of the symphony orchestra and opera theater at Lawrence University. She's been there since 1992, after a stint as interim director of orchestras at Oberlin. The Pedrotti competition isn't her only flirtation with fame: She took first prize in the Karl Böhm International Conducting Competition in 1988, and three years later, after a guest appearance with the Mozart Chamber Orchestra at Lincoln Center, was hailed as "a discovery" by The New Yorker.
Has the Pedrotti prize fueled her ambition? "In a way it has--but in another way it has actually relaxed it a little. It's so easy for conductors like me to get stuck with a label--'Oh, you're just an academic conductor,' they'll say--that it's rewarding to succeed in a competition with professionals." The prize means a lot to her, she says, because she's hoping it will allow her to continue teaching, which she loves, and at the same time "go out and get professional gigs."
What attracted Reischl to professional conducting in the first place "may seem very silly, but it's the sound of the orchestra," she says. "It's the most incredibly powerful thing when that sound washes over you. I don't know if it's the sheer volume or the blend of sounds--but once I heard it, I decided I would get over my fear of being in front of crowds and just do it."

---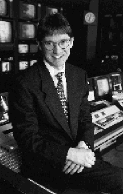 You win some, you lose some--and some get wrecked by huge inflated basketballs.
That's the way it is in television sports. Like the time last spring when Steve Ulrich '78 and crew were in Seattle to tape a spot promoting the summer Olympics on NBC: There they were on scenic Elliott Bay, with the city skyline in front of them and Mount Rainier in the distance. "We had a rower out there dodging ferries in this tiny single scull while we tried to get a shot with the Space Needle in the background," he recalls.
Beautiful, right?
Well, no. "One, it was a tough angle. And two, it so happened that this was the week of the basketball championships and Seattle was celebrating--so they had rigged up this huge inflated basketball right on top of the Space Needle."
As director of talent and promotion for NBC Sports, Ulrich is used to such surprises. What's harder is "staying current with all the various moving parts. Unlike my colleagues who promote other television shows or products, my day can change because Shaq twists his knee."
Accuracy is another hurdle. "We're all sports fanatics," he says of his department of four. "You have to be. A lot of people think they know sports, but when you're working on this level, every nuance, every statistic has to be correct, right down to what color uniform someone wears. People will call you on it if you're wrong."
He started out as a researcher, matter of fact. His first job, straight out of college, was to compile a 3,000-page book of historical, statistical, and biographical information for the 1980 Olympics two years down the road. "The best job in television," he remembers. "And I got it through the University. I was home in Lockport, New York, one day, and Tim Hale, the dean of Rochester track coaches, called me up and said, 'Steve, we've got a letter here from NBC with a job opening that seems to have your name all over it.'"
Ulrich met the three major criteria: NBC wanted an athlete with writing ability who also spoke French, Russian, or German. "I was on the track team, I could speak German, and I had written one column inch for the CT," he says. "So, for two years I got to travel to sporting events all over the world collecting information." He went to the games, despite the U.S. Cold War boycott (they were played that year in Moscow), as part of a small group that provided nominal coverage.
From there, he became a production assistant for NBC's pre-game football show and then moved into programming, "dealing with the actual scheduling and procurement of sports properties. Virtually everything is in a bid situation," he explains. Finally, 14 years ago, he became director of talent and promotion, "sitting, across the desk, from the same spot where I was first interviewed."
A tough job, as the saying goes, and Ulrich enjoys every minute of it. He can testify that "Bob Costas is the nicest guy you'd ever want to meet" and that Frank Deford wears a purple tie every day. And he's had the pleasure of working for nearly two decades with one of his favorite athletes, Frank Shorter, the runner who won an Olympic gold medal in 1972.
What's next? As the Review was going to press, Ulrich was hard at work on the baseball playoffs. After that come promotions for the NBA--which will then leave him with "less than 1,400 days to go" till air time for the Sydney Olympics in 2000 (the 1998 winter games will be on CBS). "When you consider the fact that we're broadcasting five of the next six Olympic games, we have quite a responsibility to make sure that this huge financial investment pays off," he explains.
Which is why he's thankful that he's been a runner for more than 25 years. In the business of TV sports, it isn't just the athletes who need to stay in shape: For a major event like the Olympics, "you're basically working on four or five hours of sleep for 18 days in a row. It's pretty intense, but you just work your way through it."

---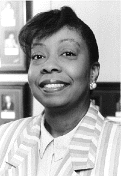 Supervising a big-city school district is rather like running a major corporation--what with mission statements, operational plans, board meetings, and budget balancing, not mention gobs of red tape, all to be dealt with, firmly.
The difference, as Kay McClendon Royster '90W (EdD) will point out, is in the product. A generation of young people well prepared to take their place in American society isn't exactly Rice Krispies or Amana refrigerators.
That's why Royster, newly installed superintendent of the Kalamazoo (Michigan) Public Schools, says her main focus in the new job is "quality control" to assure the very best product her schools can deliver.
Her priority, she says, will be "children and achievement." In a story in the Kalamazoo Gazette when she took the position last summer, she said that her first step would be "to learn from the community--parents, teachers, students--how they feel about achievement and how we can organize ourselves to improve in that area."
She also plans a hands-on administration. "I want to hear from my principals directly," she says.
Regarding her own career, she says, the new appointment fulfills "a professional and personal goal to provide major leadership for children in an urban district." (In taking the job, she became both the first woman and the first African-American to fill it.)
In Atlanta, where she had most recently been assistant superintendent for instruction, she worked in a school district of 60,000 students. Kalamazoo, in contrast, has just 12,000 students.
"But having had the opportunity of working in larger districts, medium-sized districts, and smaller districts--urban and suburban--what I've learned," she says, "is that children are children. And no matter where they are, they have very similar needs in looking to adults for direction."

---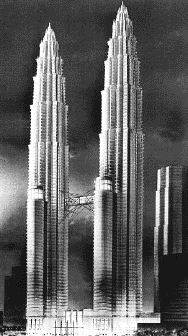 For almost a quarter of a century, Chicago's Sears Tower has held--hands down so to speak--the title "World's Tallest Building." At 110 stories, it scrapes the sky at a lofty 1,454 feet.
But, with considerable help from Gary Pomerantz '79, the Petronas Towers complex (at left) in Kuala Lumpur has been creeping up on it. Even though Petronas boasts a "mere" 88 floors, thanks to its soaring twin spires it tops out at 1,483 feet above ground level.
Although edifice-proud Chicagoans point out that if you are willing to count antennas, Sears is still the taller of the two buildings, such arguments may soon be moot. The Chongqing Tower, currently under construction in China, will be 114 stories and 1,500 feet tall when completed, beating out both Chicago and Kuala Lumpur.
Big, bigger, or biggest, Pomerantz says, "a building is much more than steel and cable." He should know. A chemical engineering major at Rochester, Pomerantz has been in charge of making Petronas-- due to open in January--habitable: As a principal at Flack and Kurz Consulting Engineers in New York City, the firm responsible for the air, water, and climate control systems for the towers, he designed the working "guts" of the Kuala Lumpur project.
Kuala Lumpur is only two degrees from the equator, Pomerantz will tell you, in a part of the world where chain-pulled ceiling lights are common, and oppressive heat and humidity are the daily fare-- a potential problem for any 88-story structure, particularly one that houses 18,000 people.
"Every day is a cooling day in Kuala Lumpur," says Pomerantz, now back in his Manhattan office (which, incidentally, sports a fine view of another former champ in world's-tallest competition, the Empire State Building). "It is usually a good 93 degrees outside, with 70 percent or more humidity--absolutely unbearable in a huge structure."
As a way of optimizing energy efficiency and maintaining air quality, Pomerantz has equipped the Petronas Towers with a system that uses an energy-recovery wheel to salvage cooled air that might otherwise escape, and then using the exhaust air to precool and dehumidify fresh air. This process reduces the cooling load by about 50 percent.
Miles of fiber-optic cabling snake through the innards of the complex, which also has its own central utility plant to provide electric power for chillers, and heat recovery to produce steam for turbine-driven chillers. The safety and security features--placement of backup generators, elimination of parking under the buildings, and more secure placement of a computer center--are a response to the Oklahoma City bombing, Pomerantz says. And pressurized floors and stairwells, as well as elaborate sprinkler and smoke-exhaust systems, will help to keep the buildings safe in case of fire.
No matter how many extra feet the Chinese manage to tack on to their rising Chongqing Tower, Pomerantz's Petronas, seems like, can still claim the title of "world's gutsiest."

---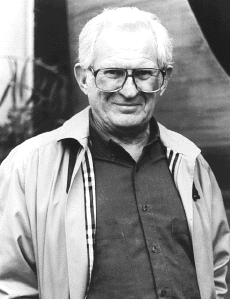 Trekkies know it by heart-- the theme that begins with four otherworldly notes as a voice declares, "Space: the final frontier. . . ."
When Alexander Courage '41E wrote it 30 years ago (non-Trekkies: we're talking about the theme for the original Star Trek television series), he had no idea that he had composed what would become one of the best-known anthems of the 20th century. To him, it was just another job.
"I did it in a week, with an orchestra of 17 people and one female singer," he recalls. He even left the show, not long after being hired by Gene Roddenberry, to return to his work on the film Doctor Dolittle. "The show just wasn't going anywhere," he explains--and, at the time, it wasn't.
To those who know Courage (he's "Sandy" to his friends), the Star Trek theme is just one success in an extraordinary career that spans nearly five decades in movies and television. A recent Boston Globe article hailed him as "the last of the orchestrators from MGM's golden age." His arranging credits include Funny Face, Seven Brides for Seven Brothers, Guys and Dolls, Showboat, and My Fair Lady, as well as more recent hits like Superman and Superman IV, Congo, Dennis the Menace, First Knight, Glory, and Hook. For television, he was the composer for Peyton Place, Falcon Crest, Judd for the Defense, National Velvet, The Waltons, and, of course, Star Trek. He's also a favorite arranger for the Boston Pops and the Oscar presentations.
Nowadays, he says without a trace of hauteur, there are "only three people" he'll work for: "John Williams and Jerry and André"--Jerry Goldsmith and André Previn, that is. As this story was being written, he was about to leave for London to work with Goldsmith on the feature film The Ghost and the Darkness--a movie he knows nothing about, he says, "but that's typical. I think it has something to do with Africa because it has a lot of drums."
With Previn, he's at work on an opera based on A Streetcar Named Desire, commissioned by the San Francisco Opera. The two friends go back nearly 50 years. When Previn was musical director for My Fair Lady, Courage says, "I needed some money at the time, so I asked him if I could do all of the long numbers.
"I orchestrated all of Rex Harrison's numbers--'I've Grown Accustomed to Her Face' and 'Why Can't a Woman Be More Like a Man?'--and the whole opening and the whole closing." He also orchestrated the show-stopper, "I'm Getting Married in the Morning."
Other memorable movies, from a career that's packed with them:
Showboat: "I got to MGM in 1948, as raw as you can imagine. I was working for a marvelous man, a composer named Adolph Deutsch. Showboat was done in 1950, and that's when I did my first 'playback' for a movie--that is, music that's designed to be sung and danced to on the recording stage, rather than recorded on the soundtrack later."
Hello Dolly: "Originally, I walked off that picture. I got mad at the whole thing and said, 'I quit.' Later on, it was in dire trouble, way over budget--and Fox, like all studios in 1969, was in bad shape. The whole picture had to be redone, so I went back."
Doctor Dolittle: "At the time, it was the biggest, most expensive musical ever. Lionel Newman, who was head of the music department at Fox, was kind enough to share two Oscar nominations with me--one for this and one for a movie that was done just a year before called The Pleasure Seekers."
He is most proud, however, of a piece he orchestrated many years before, a song by Adolph Deutsch called "I Guess I'll Have to Change My Plan." The song, which he thinks "is one of the most exquisite things that anyone could ever come up with," is from MGM's The Bandwagon, starring Fred Astaire and Jack Buchanan, known as "the English Fred Astaire."
Not that he's unaware--or unappreciative--of the fact that Star Trek fans would surely disagree. Right now, he's happily at work with Jerry Goldsmith on the music for First Contact, the eighth Star Trek film. "It's kind of full circle for me, having started the whole thing," he says.
One to beam up, Scotty. I hear music playing.

---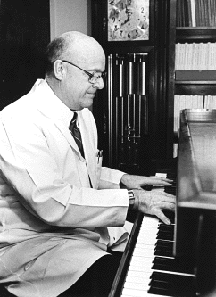 Appearances possibly to the contrary, Dr. Donald Huene '59M is not exactly Dr. Dolittle.
Huene lives in Fresno, California, not Puddleby-on-the-Marsh, and he wouldn't be caught dead in public in a top hat. But Huene, like Dolittle, is a "proper doctor," and, like Dolittle, Huene has plenty of animals.
An orthopedic surgeon with a full-time practice in the Fresno area, Huene also operates a 40-acre ranch. There, with the help of a grown son, he raises champion English pointers, thoroughbred race horses, geese, and ratites (i.e., big birds like ostriches and emus).
"Well, I do keep busy," he says modestly over the phone from his Fresno office.
Huene has a busy surgery practice and sees about 80 patients a week, most of them with wrist and elbow problems.
This proper doctor isn't simply a bone cutter, though. "I have 14 medical-product patents," he notes with some pride. His inventions include tools that promote safer and more comfortable healing after bone surgery--devices such as headless screws, expandable plugs, and bone staples.
At home, bones forgotten for a time, he scours his ranch looking for ostrich eggs in summer, emu eggs in winter, in nests that father ratites make for the hens. (The retrieved eggs then head to the incubator, not the frying pan.) Or he cleans out the stables and feeds the horses. Chases the geese out of the garden. Feeds the ratites, supervises the training of the horses, or does whatever else is necessary to run a large and diverse ranching operation.
Huene isn't Dolittle enough, however, to keep the livestock for simple companionship. The ranch is a working operation, and all the animals earn their keep. The dogs, of course, are breed champions, with the ribbons to prove it. "I had always kept brood mares, but then I switched to race horses because the money is better," he says. His horses are good racers, he admits, and in California, the winners' purses are lucrative.
Ostriches and emus are raised for their meat and skins. Ratite meat is lean and low cholesterol, and becoming popular with the lean cuisine set. Ratite skins are used by famous designers to make elegant shoes and bags.
Along with surgery and ranching, Huene likes to fish and also, just to keep things from getting dull, collects antique clocks and player pianos.
Unlike Dr. Dolittle's sister Sarah, who is always complaining about his lifestyle, Huene's wife, Annette, tolerates it all very well, he reports.
"Sometimes it's tough keeping up with everything, especially in winter, when dark comes earlier and stays later. But most of the time, there's no problem," he says. "We have a good life." So did Dr. Dolittle.

---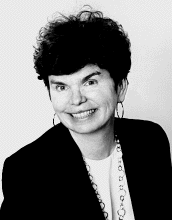 Pamela York Klainer '80 (PhD)
You can hire a coach, it seems, for every sport but the game of life itself. So, Pamela Klainer's idea was logical: She became a work coach.
A few years ago, she began coaching people on making the most of life--especially the contribution they make through work. Her company, called Work/ Play!, offers clients assistance with the "integration of work and meaning." That is, she helps people develop satisfying answers to the question, Why am I doing this? Klainer also structures workplace interventions for companies and helps organizations and individuals make stewardship decisions about their time, talent, money, and skills.
"People now work so much that if their work isn't meaningful, it's a big loss in their lives," she says.
It's a story in itself: how a woman once on the fast track to a school superintendent's job ended up coaching people on their work lives. Klainer went into the Peace Corps after college and served in rural Panama. There, during a two-year battle with poor sanitation in a hot, sweaty land, she learned lesson number one about social change: It's nearly impossible for poor people to lift themselves out of poverty by their bootstraps alone. It takes education and serious money, for starters.
Klainer returned to the United States and became a teacher, working with disabled children. After a few years, she began pursuing a doctorate in education, thinking she might make schools better by improving their work systems.
However, the job market in education was bad when she finished her degree, so she joined a financial-services firm her husband had created.
After 15 years, she was ready for a change. Tying together all the strands of her own interests and experience, she created the consulting firm.
Klainer has coached people in the fields of business, financial services, higher education, sales, health care, science, psychotherapy, and religion. Through one-on-one meetings or group sessions, she helps clients develop fresh images of themselves and their capabilities, allowing them to break out of slumps, find new directions, and achieve new personal bests.
With her counsel, for example, one client left the Protestant clergy after three decades to head a foundation that funds programs helping women and girls. "Pam found me," says Rose Mitchell, now director of the Women's Foundation of Genesee Valley. "She had come to hear me preach and we began talking. As a pastor, I had been working hard constantly, but realized I had a sense of boredom. The driving force of change for me was women's issues. I had published books on women's liturgies and had worked on women's worship--and I kept wondering what else could I do with this interest of mine.
"When Pam and I first talked, I didn't think I would leave my workplace, but eventually I found the church too limiting an environment. Now I feel as if I had left the cloister and stepped out into the world."
Contributed by Denise Bolger Kovnat, Kathy Quinn Thomas, and Jan Fitzpatrick
| UR Home | Review Contents | Mail |


Copyright 1996, University of Rochester
Maintained by University Public Relations
Last updated 12-19-1996 (jc)