POST-50TH REUNION, OCTOBER 17­19, 1997
W. Thomas Marrocco '40E (Mas) retired in 1971 from the University of California at Los Angeles, where he was professor of music. He now lives in Eugene, Ore., where his son Richard is the head of the Marrocco Laboratory at the Institute of Neuroscience.

Elizabeth Hamilton Dabczynski '45RC (Mas) (see '76 Eastman).

During a luncheon at Eastman's 75th Anniversary Kickoff Weekend last fall, Dorothy Spencer Remsen presented an honor to retired Eastman professor Eileen Malone from the American Harp Society in recognition of her distinguished career. Remsen was Malone's first graduate.
'46, '47, '48
50TH REUNION, OCTOBER 17­19, 1997
As part of the celebration of its 75th anniversary, the Eastman is exhibiting the photography of Georganne Bairnson Mennin '47E (Mas). The exhibit, which opened with a reception on Oct. 25, will run through May 31, 1997. Symphony No. 9, a composition by Mennin's late husband Peter Mennin '45E, '48E (PhD), was performed by the Eastman Philharmonia during the 75th Anniversary Concert on Oct. 26 in the Eastman Theatre.

Mary Jeanne van Appledorn '50E (Mas), '66E (PhD) has had several compositions published recently, including Spirit Divine for chorus and organ; Variations and Toccata on "Jerusalem the Golden," for organ; Reeds Afire, for clarinet and bassoon; and Cycles of Moons and Tides. Trio Italiano, a six-movement work for trumpet, horn, and trombone, which won the 1996 International Trumpet Guild's Brass Trio Composition Competition and was also accepted for publication and premiered at the ITG conference in June 1996. Passages, a work for trombone and piano, was premiered at the 25th International Trombone Festival in Austria in July 1996 and won an award in the 1996 Composers Competition of the British Trombone Society. A solo organ work, Shabat Shalom, was included in a CD by organist Barbara Harbach '81E (DMA). Skybells and Potpourri, compositions for carillons, were performed during concerts at the Crystal Cathedral in Garden Grove, Calif., in summer 1996. Van Appledorn's commissioned work for the native American flute, A Native American Mosaic, was premiered in January at Texas Tech. Van Appledorn, who won her 17th consecutive ASCAP award last summer, was the subject of a feature article in the Lubbock (Tex.) Avalanche-Journal in July of last year. She is Paul Whitfield Horn Professor of Music at Texas Tech University School of Music in Lubbock.

Jim Foglesong E (see '68).
'51, '52, '53
45TH REUNION, OCTOBER 17­19, 1997
Rev. Gerard Farrell '51E (MM) has received the papal honor, Pro Ecclesia Et Pontifice ("For the Church and the Pontiff"), in recognition of his contribution to the study and practice of the liturgical chant of the Catholic church. Father Farrell has been a faculty member of the sacred music department at Westminster Choir College of Rider University since 1976. The pontifical distinction is given traditionally as a personal gift of the reigning pope.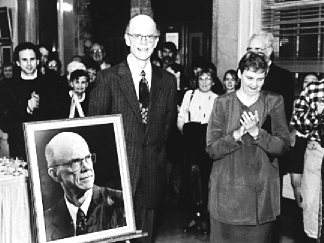 Jon Engberg '54E, '70E (DMA) and Judith Cowin Engberg '54E (above) were honored last fall for their many years of support of the Eastman School. The celebration included a concert to dedicate a new Hamburg Steinway piano for Kilbourn Hall and the unveiling of a portrait of Jon Engberg (see above), who retired in August 1995 after serving 20 years as associate director for academic affairs and associate dean of graduate studies at the school. The portrait, by photographer Louis Ouzer, will hang in the Cominsky Promenade.

A new Hamburg Steinway piano in Eastman's Kilbourn Hall has been dedicated to Jon Engberg '56E (Mas), '70E (PhD) and Judy Cowin Engberg '54E. Jon Engberg retired in 1995 after 20 years as associate director for academic affairs at Eastman. Judy Engberg is a retired piano teacher. The piano was dedicated in a concert Oct. 12 in Kilbourn Hall, which featured duets by Eastman faculty, including Barry Snyder '66E (Mas). The evening's events also included the dedication of a Louis Ouzer portrait of Jon Engberg that will hang in the Cominsky Promenade.
'56, '57, '58
40TH REUNION, OCTOBER 17­19, 1997
Ronald Bishop was principal tuba with the Cleveland Orchestra for two European tours in 1996. In September, Bishop gave recitals and master classes in Auckland, Christ Church, and Wellington, New Zealand. He also presented a recital and master class at the University of Michigan in October and played "Tubby the Tuba" with the Cleveland Orchestra in November. . . . Concertino for English Horn and Strings by A. Oscar Haugland E (DMA) was given its world premiere on March 19, 1996, at the Salle Du Metropole in Lausanne, Switzerland. The work was performed by English horn soloist Markus Haeberling, for whom the work was composed, with the Orchestre de Chambre de Lausanne. Haugland's three-movement composition was also broadcast over Swiss radio in March 1996.

Stitch-te-Naku, a composition for cello and orchestra by Katherine Hoover, was premiered by the Rohnert Park Chamber Orchestra in California last October. In September, New Music, a video about the commissioning, rehearsing, and Kennedy Center premiere of Hoover's Dances and Variations for flute and harp, premiered. The National Flute Convention in New York in August featured Dances and Variations and Three for Eight, a piece commissioned for the convention by the New York and Long Island Flute Clubs. Hoover also conducted and performed at the convention. Last fall, she lectured and attended master classes and performances of her work at the College of Notre Dame in Baltimore, Meredith College, and the University of North Carolina at Chapel Hill. Parnassus Records plans to issue the first "all-Hoover" CD this spring.

Sally Williams McClintock (see '60RC undergraduate). . . . Paul Tardif E '63E (Mas) (see '86 Eastman).
'61, '62, '63
35TH REUNION, OCTOBER 17­19, 1997
Horace Boyer E (Mas), '73E (PhD) (see Alumni Gazette).

Last fall, pianist Steven Herbert Smith '78E (DMA) performed a festival of three concerts called "Piano Entente" on Penn State's University Park campus. The concerts, which featured recent music by contemporary composers, included works by John Beall '73E (PhD) and Don Freund '73E (DMA). Smith is professor of piano at Penn State. . . . Barry Snyder E (Mas) (see '54 Eastman).

D. W. Justice '71E (Mas) writes that his academic record of 18 summers and two years of residence at Eastman should qualify him for the "distinction of academic longevity." Justice, who returned to Eastman for doctoral work following his retirement as chief music consultant for the board of education of Sault Ste. Marie, Ontario, Canada, says his career as a student ended following a coronary in 1989. . . . Pianists Anthony Lenti '79E (DMA) and Marianne Wydra Lenti '68E, '79E (DMA) presented a piano duo concert to open the Steinway Music Series at the University of North Carolina at Charlotte in October. . . . Violinist Barbara Sonies is a founding member of the Philadelphia Trio, which includes pianist Elizabeth Keller (wife of John Zurfluh '68E) and cellist Deborah Reeder. The group has recently released a third CD by Centaur Records of trios by Turina and Martinu. Sonies performs and teaches in the Philadelphia area and is concertmaster of the Opera Company of Philadelphia Orchestra and teaches at Temple University and Swarthmore College.

Marianne Wydra Lenti '70E (Mas), '79E (DMA) (see '67 Eastman). . . . John Zurfluh (see '67 Eastman).

Trimedia Records of Cleveland released a new CD of the music of Frederick Koch E (DMA) last fall. In October, his String Quartet No. 4 was premiered by the Amphions Quartet for the Cleveland Composers Guild and, that same day, mezzo-soprano Beverly Rinaldi sang a Koch song cycle to poetry of Janice Power. Koch was a recipient of a 1996 Individual Artist Grant from the Ohio Arts Council. . . . Geary Larrick E (Mas) wrote reviews for the September 1996 issue of Multicultural Review. In December, he performed a solo vibraphone recital at Lincoln Senior Citizen's Center in Stevens Point, Wis.
'71, '72, '73
25TH REUNION, OCTOBER 17­19, 1997
Vibraphonist and composer Ted Piltzecker has been named the Lincoln Center Institute composer-in-residence. In November, he received an award from the ASCAP Foundation and in December performed for the Percussive Arts Society at Wellington College in London. While there he also gave master classes at the Guild Hall School. In January he performed and gave a vibraphone clinic at the International Association of Jazz Educators Convention in Chicago. . . . Deborah Dabczynski Rolfe (see '76).

John Beall E (PhD) and Don Freund E (DMA) (see '66). . . . Jeff Tyzik '77E (Mas) (see '84).

Dorothy Darlington reports that she (along with Timothy Baker and William) announces the birth of Jonathan Lewis on Sept. 16, 1996.

Andrew Dabczynski was named director of Eastman's Community Education Division in November. Dabczynski had been supervisor of fine arts education for the Waterford (Mich.) School District. He says the move to Eastman is "a homecoming of sorts since my wife, Diane Green Dabczynski '77E, sister, Deborah Dabczynski Rolfe '72E, and mother, Elizabeth Hamilton Dabczynski '38E, '45RC (Mas), are all alumni."

Diane Green Dabczynski (see '76 Eastman). . . . Several compositions by Clement Reid were premiered last year. They included Day of the Lord at the McChord Chapel, with Cheryl Hilmo as soprano soloist, last June; Theater Piece #4 at Pacific Lutheran University's contemporary music series in September 1996; and Nocturne by members of the New Performance Group at Cornish College of the Arts in Seattle in December.

On an Expanding Universe, an orchestral composition by Kevin Hanlon, was performed by the Fort Worth Symphony Orchestra last October. Hanlon is associate professor of composition at Southern Methodist University.

Diane Abrahamian '86E (Mas) served as guest conductor for Rochester's first All-County Vocal Jazz Ensemble in February 1997. Abrahamian was also the guest conductor for the Oswego All-County Vocal Jazz Ensemble in March. She has been teaching vocal music at Penfield (N.Y.) High School since 1981.

Organist Karl Moyer E (DMA) retired in June 1996 as music professor at Millersville University in Lancaster, Pa. His first compact disc, The Hooks of Orwell and North Easton, a collection of organ music played on two different organs, was released in 1996. At the time of his retirement, Miller was featured in an article in the Lancaster New Era. According to the article, Miller's family shares his love of music. His wife, Carolyn, teaches violin privately; his daughter, Cindy Moyer '87E, '89E (Mas), '94E (DMA), is a violin and music theory teacher at Humboldt State University in California; and his other daughter, Susan, is a cellist with the Florida Philharmonic in Fort Lauderdale. [Editor's note: This information was incorrectly reported in our last issue. Alumni Review regrets the error.] . . . Street Music for flute, clarinet, and euphonium by Walter Saul E (DMA) was performed in September 1996 at Browncroft Community Church in Rochester for the second annual Christian Fellowship of Art Music Composers Conference. Saul also directs a new chamber music concert series, "Concerts in the Chapel," now in its third season at Warner Pacific College in Portland, Ore.
'81, '82, '83
15TH REUNION, OCTOBER 17­19, 1997
Barbara Harbach E (DMA) (see '48). . . . Holy Canticles, by composer Dan Locklair E (DMA), was premiered by the choral ensemble Bel Canto Company, which commissioned the work, in October at Wake Forest University in Winston-Salem, N.C. Locklair is composer-in-residence and professor of music at Wake Forest. . . . Paul Sturm E (Mas) and his wife, Nancy, live in Warren, N.J., with their daughters, Julia and Carolyn. Sturm teaches music and is a freelance musician.

Bill Grimes E (Mas), '88E (DMA) (see '84 Eastman).

Pianist Jeffrey Hellmer E (Mas) teaches jazz studies at the University of Texas at Austin. In 1996, he traveled to Moscow and accompanied most of the American trumpet delegation that performed at the first International Trumpet Competition, held at the Moscow Conservatory. Hellmer was soloist for the second consecutive year with the Dallas Wind Symphony and performed jazz concerts and adjudicated throughout the United States. His solo jazz piano CD, Windows, was released by Bayside Distribution last year. The University of Texas Jazz Orchestra and Studio Orchestra, directed by Hellmer, performed at the Longhorn Jazz Festival in 1996 and has been chosen to perform at this year's International Association of Jazz Educators Convention in Chicago. Hellmer has also recorded a CD with classical saxophonist Harvey Pittel, which will be released by Crystal Records in 1997.

Symphony No. 1 by Robert Dusek premiered in November in Colorado in a performance by the Boulder Sinfonia, which commissioned the work. In the spring of 1996, MMC Recordings released the CD MMC Orchestral Miniatures, Vol. I, which includes Dusek's Leviathan recorded by the Warsaw National Philharmonic. Dusek is a pianist in the trio "Entrances" with his wife, clarinetist Karen Hanson Dusek '87E, and violinist Ann McCue. The trio performs mostly new music and has been contracted to record for the Contemporary Record Society. . . . Jazz drummer Rich Thompson has joined Eastman as a part-time instructor in percussion. Thompson, who taught at Eastman's summer jazz workshops for eight years, also teaches instrumental music at the Rush-Henrietta Central School District, where he coaches the top jazz ensemble in the high school. Thompson currently performs with the Larry Ham-Dave Glasser Quartet in New York City and has appeared for the last two years with the Rochester Philharmonic Orchestra with Pops conductor Jeff Tyzik '73E, '77E (Mas). In 1996, he was part of a seven-month world tour with the Count Basie Orchestra. In December, Thompson released a trio CD with pianist Frank Vincent and bassist Bill Grimes '88E (DMA). . . . Heidi Chisholm Wolfgang writes, "My husband, Randall, and I are pleased to announce the birth of Thomas Randall, on May 16, 1996, who joins our daughters, who are 7 and 4. I am still busy playing and repairing instruments in the New York area."

Mallory Thompson E (DMA) has been appointed professor of music and director of bands at Northwestern University's School of Music in Illinois. Thompson is only the third person to hold this position in the school's 100-year history.

Violinist Fritz Gearhart '88E (Mas) and pianist Paul Tardif '60E, '63E (Mas) make up the Tardif-Gearhart Duo, which released its premiere CD, American Violin, in 1996. The two are now working on their next project of unpublished music by American composer Quincy Porter, which they expect to release in 1997. . . . The Pulse of an Irishman: Irish and Scottish Songs Arranged by Beethoven is a new CD produced by Steven Stull E (Mas) and released by CRS Barn Studio, a new label dedicated to exploring the diversity of vocal music. The recording features tenor Todd Geer '89E, cellist Laura Kramer '90E (Mas), and baritone Stull. The CD includes a selection of traditional songs from those which Scottish art patron George Thomson commissioned Beethoven to arrange early in the 19th century.

Karen Hanson Dusek (see '84 Eastman). . . . Cindy Moyer '89E (Mas), '94E (DMA) (see '80 Eastman).

Brian Bailey E (Mas) is university organist at Appalachian State University in Boone, N.C. He is also completing requirements for a doctorate in music at Indiana University. . . . Todd Geer (see '86 Eastman). . . . Paula Santirocco E (Mas) has been appointed lecturer in flute at the Baldwin-Wallace Conservatory of Music in Ohio, where she received her bachelor of music degree, magna cum laude, in 1982. Santirocco will teach flute performance majors, coach chamber music, and play in faculty chamber ensembles. In November, she was a featured soloist with the Ohio Chamber Orchestra, in which she is principal flute. She is also principal flute with the Cleveland Opera and the Cleveland Ballet. She has played with the Pittsburgh Symphony and is a member of the Lyric Wind Quintet, composed of Cleveland Orchestra players and faculty from Baldwin-Wallace and Oberlin College.

After completing her doctorate at McGill University and a Fulbright year in Vancouver, Laura Barron has been working as visiting assistant professor of flute at the University of Wisconsin in Madison. She is also principal flute of the Madison Symphony and performs with the Wingra Wind Quintet. . . . Laura Kramer E (Mas) (see '86 Eastman).
'91, '92, '93
5TH REUNION, OCTOBER 17­19, 1997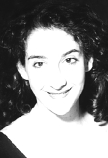 Nonken

In 1996, pianist Marilyn Nonken performed at the 3rd International Festival of New Piano Music in Berlin as well as at New York's Merkin Hall, Miller Theatre, Weill Recital Hall, and Greenwich House of Music. She appeared as guest soloist with the Brandeis Contemporary Chamber Players (Boston), Columbia Composers (N.Y.), and ensemble21, a contemporary music performance group in New York City, which Nonken co-founded. Her performances included the world premiere of Jason Eckardt's Echoes' White Veil and the German premiere of Esa-Pekka Salonen's YTA II. Currently, Nonken is writing her dissertation with Fred Lerdahl at Columbia University, where she also teaches music history. In the spring she planned to record a CD of recent music of David Rakowski.


Dennis Taylor E (Mas) is serving as accompanist with the Soldiers' Chorus of the U.S. Army Field Band in Washington, D.C. Chorus performances in 1996 included concerts with the Boston Pops and the Detroit Symphony. In March 1996, Taylor performed as organ soloist at the Mormon Tabernacle in Salt Lake City.

Louise Vickerman E (Mas) writes, "After spending a year with the New World Symphony in Miami, I have been appointed principal harpist with the San Antonio Symphony. I spent the summer of 1996 freelancing in Scotland, playing with the Royal Scottish National Orchestra in my hometown of Glasgow."
---
Go to: Pre-1950s 1950s 1960s 1970s 1980s 1990s



| UR Home | Review Contents | Mail |



Copyright 1997, University of Rochester
Maintained by University Public Relations
Last updated 3-20-1997 (jc)