The Rochester Review, University of Rochester, Rochester, New York, USA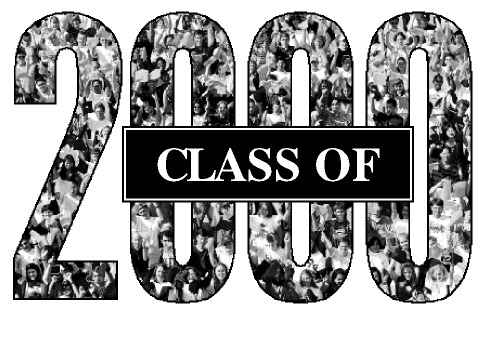 Numerically speaking, this year's freshmen are a distinguished group: The millennial Class of 2000, they're also the University's very special 150th, Sesquicentennial Class. But what are they REALLY like?
By Denise Bolger Kovnat
We humans tend to like round numbers. Which is why colleges everywhere are hailing the arrival of the Class of 2000--the first class in history to graduate on the millennium, assuming you subscribe to the Gregorian calendar (and are not being a purist about when it actually occurs).
Here at Rochester, this year's freshmen enjoy yet another, more sentimental, numerical distinction: They're the College's Sesquicentennial Class and, as such, much cause for celebration.
Martin Brewer Anderson, for one, would be delighted. There were times when Rochester's first president worried that the University might not last another year, let alone a century and a half. Back in 1851, when Rochester was just one year old (and not yet walking, quite), University leaders were "extemporising like a picnic," as Ralph Waldo Emerson famously reported when he came to town.
"They had brought in an Omnibus load of professors . . . called in a painter, sent him up a ladder to paint the title 'University of Rochester' on the wall, and now had runners on the road to catch students. One lad came in yesterday; another, this morning. . . . And they are confident of graduating a class of Ten by the time green peas are ripe."
Green peas have ripened for many years since then, and the University no longer needs runners on the road to catch students. With the help of e-mail, fax machines, and passenger jets, the College manages to bring in a talented bunch, many more than 10, each year.
This freshman class of 900 students is no exception: They were chosen from a record 9,057 applicants, representing an 8 percent increase over the previous year. One out of every five was a high school valedictorian or salutatorian, and well more than a third enjoyed total SAT scores of 1350 or higher.
"They're an ambitious group," observes Dale McAdam, dean for freshmen and a professor of psychology. "I'm seeing more students this year who feel confident with their academic abilities." Clearly, they're capable of scholarly achievement--as other classes have been and will be--but what else characterizes these Sesquicentennial scholars? What distinguishes them from--or links them with--the 149 other classes this institution has seen?
Diversity, for one thing, to use that buzzword of the late 20th century: Geographically and ethnically, the Class of 2000 is more diverse than those of 25 or even 10 years ago. This year's freshmen come from 35 states and 20 foreign countries. (Seven percent are foreign citizens, in fact. At the same time, 54 percent come from New York State, including 12 percent from the Rochester area.) Nearly one out of four freshmen in the College belongs to an American minority group, with 12 percent of African-American or Hispanic descent. The class is 49 percent female and 51 percent male--which is a change from the heavier male representation of not too many years ago--and 49 students are children of alumni.
They hail from New York and Oakland, Shaker Heights and Menlo Park, as well as from Accra and London and Port-aux-Prince. In addition to English --and soon, the arcane sub-languages of their academic disciplines--they speak Creole, French, Norwegian, Russian, Shanghai dialect, Spanish, Urdu, and Yoruba.
Elizabeth Graham, for one, picked up three languages with relative ease as the child of parents in the U.S. foreign service. "We lived in a variety of countries --Morocco, Pakistan, then Peru," she recalls. As a result, she speaks Spanish, French, and the aforementioned Urdu (well, she "used to speak Urdu," she confesses). Reflecting those childhood experiences, perhaps, she's aiming for a major in religion and classics: "I'm interested in the more primitive religions, in folklore, and how the human mind works."
Because of their geographic range, in part, this year's freshmen bring a world of faiths to the River Campus. Paul Burgett '68E, '76E (PhD), vice president and University dean of students, believes that spirituality is on the rise. "President Jackson and I had lunch with a group of students last week in the Interfaith Chapel, primarily to hear from them about their spiritual lives here. We had students from the Catholic community, the Jewish community, the Protestant community, the African-American Protestant community, the Muslim community. . . . What we're seeing reflects the greater interest nationwide in the spiritual aspects of one's development."
Freshman Barbara Jouissance says that the church she has found in Rochester, the Jefferson Avenue Seventh Day Adventist Church, is her "first priority." "I always say," she adds, "'God first and the rest will follow.'" A high school valedictorian from Brooklyn whose parents come from Haiti, she insists that she "couldn't have stayed in Rochester" if she hadn't found a church she liked. "On the Sabbath, I do no work from sundown to sunset. I don't even study--I go to church. It's very relaxing. People are so friendly, and they share their love."
Community service, too, ranks high with these freshmen. Alexandra Boyer of Chicago pledged Delta Gamma sorority in part because "they're active in community service. I was really involved in my community when I was in high school, and this was another opportunity for me to do that." In fact (and in general), undergraduates in the College are highly devoted to volunteering: A survey by the social-action magazine Who Cares has placed the University among the top 15 schools nationwide for the community-service opportunities it provides.
In joining a sorority, Boyer became one of the 18 percent of River Campus undergraduates affiliated with Greek societies. (In 1954, the comparative figure was 59 percent, a post-World War II peak. By the 1980s it was down to 15 percent.)
Other facts that figure into the Class of 2000 equation: About half of these students have thought about trying out for a varsity team, and about 26 percent report they are musically inclined. (Their tastes range widely, from Beethoven to Big Band to Brubeck to reggae artist Buji Bon Ton. William Jennings, of Billerica, Massachusetts, a freshman on both the River Campus and at the Eastman School of Music, says that he listens to everything from Bach to Tito Puente to Quebecois music.)
For many members of the Class of 2000--for a good share of college students in general--curricular and extracurricular carry just about equal weight. Jennings, for one, relishes his social environment. "I've met and talked to a lot of people with a lot of amazing stories. There are some really neat people around to learn from." In spite of their demanding schedules, the neat people do somehow seem to manage plenty of time for socializing as well as studying. Explains one administrator: "They just keep going every night until they fall down, usually around 4 a.m."
As for these Sesqui students' academic aspirations: Thirty-three percent have expressed an interest in majoring in the biological sciences--the current biggie, both at Rochester and at other colleges nationwide. Among other future majors, engineering is in the sights of 12 percent; social sciences, 11 percent; natural sciences (other than biology), 10 percent; humanities, 6 percent; nursing, 1 percent; and that healthy freshman perennial, "undecided," 27 percent.
Whatever majors they eventually choose, they'll be the first students to participate all four years in the Rochester Renaissance Plan, a series of initiatives announced in the fall of 1995 that aim to enrich educational programs in the College. The plan includes, among other measures, a new undergraduate curriculum, a smaller undergraduate class size, and new programs to make the collegiate experience more intimate and residential (already, all freshmen live on campus, and most upperclass students choose to also).
The limitation in class size means that the Class of 2000 is smaller than its immediate predecessors by 200 to 250 students. The Classes of '01, '02, and '03 will follow suit so that, by 1999, the College will have 3,600 undergraduates--considerably fewer than the 4,500 of the 1980s and early '90s.
Wayne Locust, director of admissions for the College, sees a great advantage in this change. "As far as the undergraduate experience is concerned, we think of ourselves as a major research university with a college at its heart. We believe that we offer an environment that's scaled to the individual--but also one that encourages a high level of thought, where research flourishes in an undergraduate environment.
"I don't know if we were truly in the best position to deliver that to 4,500 students. I do think we will be better placed to do so with 3,600, all housed on the River Campus, all enjoying greater interaction with faculty, and all enjoying the availability of greater resources per individual student."
Curriculum, of course, is at least as important as class size--which is why the Renaissance Plan calls for major adjustments in academic requirements, offering each student a deeper grounding across the liberal arts than do the traditional "distribution requirements." Undergraduates now take "clusters" of at least three related courses in each of the three major branches of learning--the humanities, the social sciences, and the natural sciences--but need fulfill no additional requirements outside of their majors.
Freshman Alan Katz of Chappaqua, New York, likes the idea of the clusters because "within that structure there is choice." As for his own choices: In the fall semester, he took Introduction to Philosophy, with Earl Conee ("awesome," he says); Introduction to Psychology, with Dale McAdam; English 104, Fictions and Realities, with Edward Chan; and Astronomy 102, Black Holes and Time Warps, with Dan Watson.
Manuel Ramirez is one of 279 freshmen taking advantage of another curricular innovation: "Quest" courses for freshmen and sophomores. Central to the Renaissance Plan, these courses introduce students to the ways in which faculty members discover and build knowledge--and do so in small classes that promote conversation and collaboration among students and professors (see Rochester Review, Winter 1996-97).
Ramirez has been participating in English 195Q ("Q" for Quest), "Outlaw Heroes: From Robin Hood to Eastwood," with Thomas Hahn. "Now that is definitely an interesting course," says Brooklynite Ramirez. "It really forces you to look at the norms of society and question those norms. Take the myth of Robin Hood, for example. Who is the enemy? What is he fighting for? These heroes are testing their manhood, but is this just narcissistic masculinity--or is it really maturity?
"When Professor Hahn talks about ideas like this, at first you go, 'Nah, I don't think so.' But then it begins to make sense. That's the whole reason for college: opening your eyes to things that weren't obvious before."
Ramirez says he'll probably do a double major in history and political science. Alan Katz, on the other hand, is planning a major in economics and a minor in philosophy--with an eye toward graduate school and then joining the family business. (Katz's father owns a car dealership in Croton-on-Hudson.) Then again, he muses, "if you had talked to me three weeks ago, it would have been a major in philosophy. And three weeks before that, it might have been something else. It's all way up in the air right now."
As it should be when you're a freshman: Exploration, rather than specialization, is the rule. And one way students are doing their exploring these days is via the World Wide Web. In support of that exploration, the College is in the process of providing an Internet connection to every room in campus residence halls by the end of next year. (They'll also be networked with each other, the library, faculty members, and other campus resources, of course.) One can safely predict that these freshmen will log more hours in cyberspace than any class prior to theirs.
Already, Dean for Freshmen Dale McAdam sees "a vastly increased use of e-mail. Many of these students are much more at home with this. And they're happy to have access to the Web. It's a tremendous outlet for them."
One of many outlets that call for electrical outlets--lots of them. Logan Hazen, director of residential life on the River Campus, reports that the University is now supplying 20 amps of power per student--far more than the mere 7 amps per room that collegians of the '50s and '60s required.
Up until a decade ago, before the University began renovating dorms on the River Campus, Hazen says, "nearly every room had an extension cord snaking down the hall to tap into the custodial outlets. We even had students 'pennying' fuses in their rooms to keep the power flowing." No more, he insists: Members of the Class of 2000 should (and that's the operative word) have sufficient power for the computers, microwaves, sound systems, refrigerators, hair dryers, TVs, and other necessities of the early 21st century.
The early 21st century--sounds futuristic, doesn't it? As if the post-college world of the Class of 2000, which begins a mere three years from now, will be different from anything we've ever known. As if these Sesquicentennial freshmen are unlike any students the University has ever seen.
They are--and they aren't, according to Paul Burgett. As dean of students on the River Campus since 1988 and dean of students at the Eastman School for seven years before that, he's as qualified as anyone to comment on undergraduates as a sub-species.
"Older alumni sometimes ask me, 'How do students of today differ from students in our time?' And my answer is complex. On the one hand, I say, they're no different at all. They're just like you and just like me back when we were here, back when the earth's crust was cooling. That period from 18 to 21 still brings with it many of the same challenges.
"On the other hand, this is a remarkably different time. Life is far more complex. The context of student life today is multi-dimensional and fast paced, complicated and enriched by challenges some of which were unheard of 50 years ago, some five years ago, some only yesterday."
Still, in the long view Burgett believes that much about undergraduates and undergraduate life remains "wonderfully familiar."
"So when I think about these freshmen in relation to those who have gone before, there's a part of me that acknowledges there's no sudden change here," he says. "These people are capable, brilliant, and healthy, and indeed the future leaders of the world--just like so many of their predecessors.
"But with all the excitement surrounding the Renaissance Plan, with the enthusiasm about what's happening on the River Campus--all reflected in the expectations for these Sesquicentennial scholars--the rest of me wants to respond by jumping up and down and yelling, 'Hey! Eureka! Just look at this marvelous Class of 2000!'"
Denise Bolger Kovnat wrote about the founding of the Eastman School for the last issue of Rochester Review.
"Class Notes" statistics are based on a 1996 national survey published by the American Council on Education and University of California at Los Angeles Higher Education Research Institute.
| Class Profiles | 2000 Class Notes | 'Your Affectionate Son, Azro' |

| UR Home | Review Contents | Mail |



Copyright 1997, University of Rochester
Maintained by University Public Relations
Last updated 3-25-1997 (jc)