The Rochester Review, University of Rochester, Rochester, New York, USA



Reader's Guide
What may be the last letter Lincoln ever wrote; two passes on the Underground Railroad penned by Frederick Douglass; and the Pledge of Allegiance in the handwriting of its author. These are among the treasures looked after for the last 30 years by Rush Rhees manuscripts librarian Karl Sanford Kabelac. On the eve of his retirement, he talks about his work.
By Denise Bolger Kovnat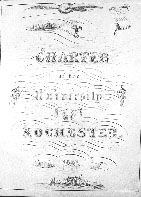 The University charter, granted by the state Board of Regents on February 14, 1851, declares that "an institution for the instruction of youth in the learned languages and in the liberal and useful arts and sciences shall be and hereby is founded and established."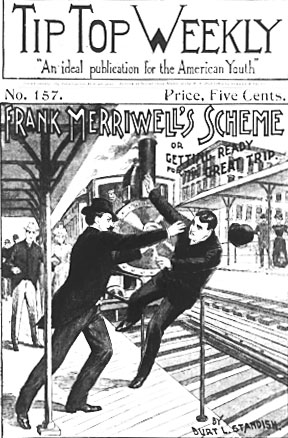 "As the train came rumbling in, Frank was hurled directly in front of the engine," reads the ominous caption on this 1899 dime novel. The collection of over 10,000 of these adventure tales is invaluable to students of American popular culture.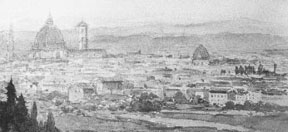 Queen Victoria sketched a view of the Duomo during a visit to Florence in 1888. The sketchbook containing the delicately tinted watercolor is among a collection of Victoriana that includes letters, journals, pictures, and several boxes of other items filed as "printed ephemera."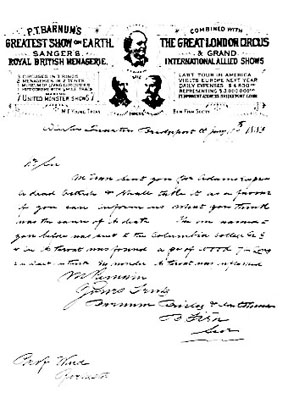 In a massive feat of taxidermy, Henry A. Ward's Natural Science Establishment once stuffed and mounted P. T. Barnum's great circus elephant, Jumbo. In this letter, Barnum's secretary is inquiring if Professor Ward can determine what killed a deceased ostrich he is sending along to him.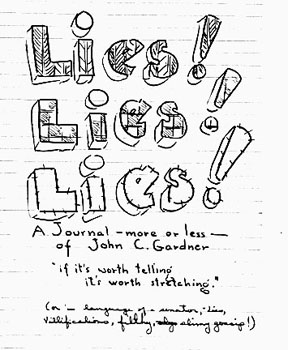 John Gardner (Grendel, The Sunlight Dialogues, On Moral Fiction) was one of this country's foremost writers when he died in a motorcycle accident in 1982. The contents of his study--a complete archive including the journal he kept as an undergraduate at De Pauw University--was deposited at Rare Books shortly after his death.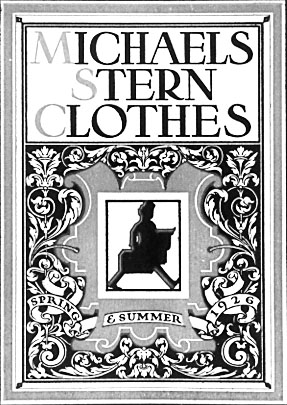 Rochester was once a major manufacturing center of men's clothing, and the library houses materials related to several prominent local firms. A booklet from Michaels Stern shows off the latest in men's warm weather fashions for 1926.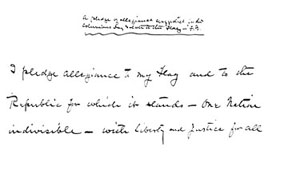 While he lived, Fracis Bellamy, Class of 1876, was never able to establish his authorship of the anonymously published Pledge of Allegiance. His papers, presented to the library by his son, however, make it clear that he did indead write the words every American shoolchild has learned by heart.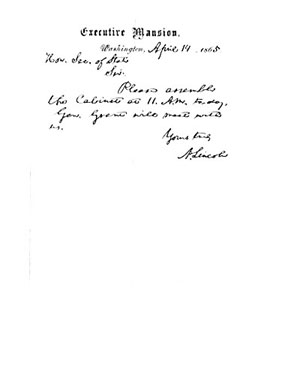 On the day he was assassinated, Abraham Lincoln sent this note to Secretary of State William Henry Steward: "Please assemble the Cabinet at 11 A.M. to-day. Gen. Grant will meet with us." There are 80 Lincoln letters in the library's Seward Collection.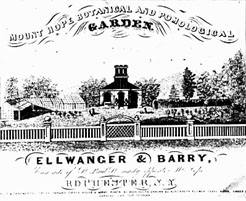 The Mount Hope Botanical and Pomological Garden touts its wares shortly after its founding in 1840. The University's cluster of buildings on Mt. Hope Avenue (including the Fairbank Alumni House) occupies some of the former nursery lands.

Did you ever put something away for safekeeping--and promptly forget where you put it?

Consider, then, the librarian's task: organizing the closets of our intellectual lives (facts, fables, memories) and then retrieving whatever we need, whenever we need it, and none the worse for wear.

That's why a lot of people love librarians. Writer Geoffrey Ward, for one.

The award-winning biographer of FDR and co-writer, with Ken Burns, of The Civil War, Baseball, and just about every other documentary Burns has made, Ward spends much of his time crossing the country, exploring places like Rush Rhees Library and poring over their books and manuscripts for what he needs to know.

To him, librarians are the people "without whom," in the words of countless author's acknowledgments, good history could not be written.

"We historians get a lot of applause," he says, "but we'd be lost, just lost, without our librarians. Once you're in a library like this, you're in a kind of wind tunnel. There is so much material--and there are lots more ways to find things than there used to be."

In a job like his, Ward says, "you sort of collect people like Karl Kabelac."

Ward has enlisted the aid of Kabelac, a special collections librarian at Rush Rhees Library, for some research he's doing on his great-grandfather Ferdinand Ward--the man responsible for driving Ulysses S. Grant into bankruptcy. "Great grandpa was a swindler who went to Sing Sing. He deserved it, too," Ward says.

Right now, he's reading the papers of Ferdinand's cousin, the 19th-century naturalist and entrepreneur Henry Augustus Ward, "an absolutely fabulous character who stayed loyal to him till the end and even wrote letters to him in prison."

Founder of Ward's Natural Science Establishment, the purveyor of scientific specimens to schools and museums, Henry Ward was at one time a Rochester professor (legend has it that he seldom turned up for classes, having hired someone else to do his teaching for him). His papers, all 18 linear feet of them, are under Kabelac's care at Rush Rhees Library, the gift of Henry Augustus's grandson.

As a historian, Geoffrey Ward delights in such treasures. And he greatly values

Kabelac's ability to unearth just what he needs from them. "There is nothing to compare with the feeling you get when you hold an original document in your hands," he says.

Kabelac's treasure-hunting skills have been sharpened over decades--since 1968, to be exact, when he first joined the Department of Rare Books and Special Collections. "Rare Books," as it is known, is home to some 90,000 volumes, from incunabula (books printed before 1501) to modern first editions; more than 400 manuscript collections; the University archives; and several thousand individual pieces--letters, diaries, account books, and the like.

Shelved among all this are some strange and wonderful objects. For instance:
Queen Victoria's sketchbook, along with such ephemera as tickets to her coronation and funeral, and a hair clipped from the mane of her stallion Monarch

Two Underground Railroad passes written by the 19th-century journalist and abolitionist Frederick Douglass

The first 16 editions of Thoreau's Walden

A copy of the Pledge of Allegiance in the hand of its author, Francis Bellamy, Class of 1876

The sturdy metal boot hooks that the University's first president used to pull on his high tops.

A flag of Alaska once owned by Secretary of State William Henry Seward, whose 1867 purchase of the territory earned it the nickname "Seward's Folly"
As manuscripts librarian--one of four librarians in the department--Kabelac is the resident expert in materials relating to historical figures like Frederick Douglass, city father Nathaniel Rochester, 19th-century anthropologist Lewis Henry Morgan (whose papers, received by bequest in 1909, became the University's first major manuscript collection), and, of course, Seward.
A whopping 230 linear feet of books and papers, the Seward collection is one of the gems of the department. Among its treasures are 80 letters from Abraham Lincoln; one of them, written on the day of his assassination, may be the last he ever wrote. The collection came to the University (primarily as the gift of Seward's grandson, in whose attic much of it had lain) through the research interests of the late Professor Glyndon Van Deusen '25, a specialist in 19th-century American history who later wrote the definitive biography of Seward.
Not surprisingly, much of the Rare Books collection has arrived there through the professional or avocational interests of faculty and friends. The Victoriana mentioned above, for instance, was part of the personal collection of the late Robert Metzdorf '33, '39 (PhD), English professor and a former curator of the "Treasure Room," as Rare Books was once called. He amassed the collection of family letters, signed documents, photo albums, journals, and the like, all associated with Queen Victoria, in order, as he wrote, "to secure, somehow, elements which could capture . . . the personality of a fascinating historical figure."
The University archives--the tangible relics of its institutional past--have also fallen under Kabelac's watchful eye. "We're the only place in the world that focuses on University of Rochester history," he says. "That sounds simplistic, but we are--and certain responsibilities come with that."
He doesn't accept the title of University historian, so University archivist will have to do. As such, he's the guide to more than 2,100 linear feet of manuscripts and printed materials, several thousand photographs (a refrigerator stands among the parchment and paper, preserving color negatives), and some 100 museum pieces--including the bell that rang class changes in the 1870s, a classroom pointer given to Professor Asahel Kendrick by his students in 1880, a freshman beanie from 1910 (green felt, for a "pea-green freshman," Kabelac explains), and the spade used by President Rush Rhees in breaking ground for the River Campus in 1927.
"He's a wonderful resource," says Peter Dzwonkoski, who heads up the Department of Rare Books. "Hardly a day goes by when someone at the University or in the community doesn't call him with questions about the institution, or about people now or from the past. He knows so much and has been with this material for so long, he usually doesn't even need to look anything up--or if he does, he knows exactly where to find it."
Sitting in the stately Seward conference room a few weeks before he officially retires this fall--with the promise of staying on part time well into 1998 to work with his yet-to-be-chosen successor --Kabelac talks about his background and his work. (He clearly prefers discussing the latter: At one point, when asked about his own history, he discreetly stifles what looks to be a yawn.)
A love of math led him, indirectly, to library work. One vivid childhood memory--"one that only a librarian would understand," he says--is the day his mother, also a librarian, brought home a book of the Dewey Decimal System.
"It was all numbers," he remembers. "I had never thought of a library in mathematical terms, and it fascinated me."
To this day, he's an inveterate list maker. "I find that making lists is a great freeing exercise. Once you've written something down, you can forget about it."
Combine this penchant for order with a love of history, and you have the right person for the job. Kabelac is, by nature, "a sort of antiquarian," he says. He grew up in Aurora, New York, a village on the eastern side of Cayuga Lake, home to Wells College and graced by elegantly preserved 19th-century buildings.
"I guess growing up in an area where family members had lived for over 125 years, you get a sense of local history, of how things have grown and changed and evolved," he muses.
To aid in his historical detective work, he's compiled, on his own and with others, four indices and three bibliographies --including The Library of Lewis Henry Morgan (written with University of Michigan historian Thomas R. Trautmann). Also on that list is a recently completed index to biographical sketches of prominent individuals throughout the history of Rochester and Monroe County.
"For the work I do, these are all very helpful projects," he explains. "In a large sense, I'm interested in bibliographical control of information and material. We're making access to information possible."
Another, very pragmatic, reason for creating guides like these, he says:
"Working with rare materials, you're always aware of their fragility. With an index, you can go right to the book you need. It saves wear and tear on other sources."
He talks about the nature of his work. "You know the question, if a tree falls in the forest and there's no one there, does it make a sound? I often think, if someone wrote an article years ago and no one knew where it was--it would be as if it hadn't existed at all," he says.
For proof of the value of archives, he points to the relatively recent discovery, dramatic for scholars of American history, that the autobiography of a 19th-century black woman, Harriet Jacobs, is genuinely autobiographical rather than the fictional ("too improbable") account it was long held to be. Published in 1861, Incidents in the Life of a Slave Girl, Written by Herself was edited by Lydia Maria Child, a prominent writer and member of the anti-slavery movement, whom most assumed to be its real author. Written under a pseudonym, which complicated attribution, the story recounts a young woman's struggle with slavery and sexual exploitation, and her eventual flight to freedom.
Through painstaking archival work, historian Jean Fagan Yellin published an authenticated edition of the autobiography in 1987 through Harvard University Press. Her search brought her to the Department of Rare Books, to the papers of Amy and Isaac Post. (The Posts were Rochester abolitionists, spiritualists, and advocates of temperance and women's rights in the mid-19th century. Letters from Harriet Jacobs--as well as from Sojourner Truth, Frederick Douglass, Susan B. Anthony, and Elizabeth Cady Stanton--are part of their family papers, given to the University in 1975.)
In the Post papers, Yellin found letters from Jacobs speaking of her efforts to publish her autobiography--letters that served as important building blocks in confirming the book's validity. Since Yellin's definitive edition, Incidents has become part of the historical canon--"a scholarly and publishing phenomenon," in the words of The Chronicle of Higher Education, "taught in hundreds of classrooms across the country and analyzed in a growing stack of literary and historical articles."
Despite happy endings like this one, Kabelac continues to worry about the "what ifs" of history. "From my point of view, what would we do if materials like the Post letters hadn't survived? It makes you wonder what hasn't survived and what it could have told you."
That's why, for so many years, he has tended the stacks of memory--collecting, organizing, retrieving what people need, fulfilling the dual, often contradictory, tasks of the archivist: making rare books and papers available, and preserving them for future use.
Just out of curiosity: How would Kabelac describe his closets at home?
"Organized," he says, "but full."
---
Denise Bolger Kovnat reports that Kabelac is looking forward to his retirement, so he'll "finally have time to read books."
| UR Home | Review Contents | Mail |


Rochester Review--Volume 60 Number 2--Winter 1997-98
Copyright 1997, University of Rochester
Maintained by University Public Relations (jc)