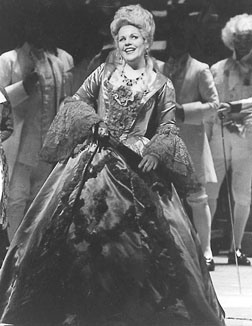 Fleming in the Metropolitan Opera's Manon: Last year she stormed the Bastille Opera as the tragic courtesan, completely capturing her Parisian audience.

The late Sir Georg Solti likened her voice to "double cream."

The New York Times calls her "the most sought-after lyric soprano of her generation."

André Previn admires her so much, he created the role of Blanche for her in his new operatic version of A Streetcar Named Desire.

Opera's "next Kiri Te Kanawa" to many of her admirers, Renée Fleming '83E (MM) is a Star with a capital S.

"In my long life," Solti once declared, "I have met maybe two sopranos with this quality of singing. The other was Renata Tebaldi."

While building a career any diva would die for (and maintaining a schedule that Vanity Fair says "makes Madeline Albright look sedentary"), Fleming has achieved something else: a family life. She is thus, as Elle magazine says (yes, Fleming does get written about a lot), "an anomaly in a field where women still, by and large, have to choose between family and career."

Happily married to actor Rick Ross, Fleming has two daughters, Amelia, 6 ("a big Spice Girls fan"), and Sage, 3 (musical preference not yet announced).

"This is the '90s. Isn't it perfectly normal for a woman to juggle 65 performances a year, two little girls, an actor-husband, and still run a household?" superwoman Fleming once asked of a reporter, joking maybe, but not much.

Not normal for most of us, of course, but it is completely natural behavior for Renée Fleming, affirms her mother, Patricia Fleming Alexander, a fellow Eastman grad (master's in 1970). "I hate to say this," Alexander admits, "but she really was the perfect child. I used to tell my friends that I didn't know how I ever gave birth to such a daughter. She was always wise beyond her years, well organized, and well behaved."

Time attests to that last attribute, labeling Fleming as "notorious for being a really nice person," and quoting her as saying, "I used to think, I'm just not mean--I'll never make it! I'll never be a diva!"

Fleming's mother is a music teacher--Patricia Alexander teaches in the Eastman School's Community Education Division--and her father, another music teacher, was also a choir director. Nightly dinner table conversation centered around singing.
| | |
| --- | --- |
| | Renée Fleming '83E (MM): Notorious for being a really nice person |
"Renée sang before she could talk," Alexander says. "I would sing sounds to her and she would sing them back." Mom naturally became her daughter's voice coach. "Her first performance?" Alexander says, thinking back. "Probably the time I played Mother Mary in a Christmas pageant and she was the Baby Jesus."

Alexander has raised four children, and all have had music training. The youngest, Geordie Alexander, 15, studies at Eastman. "Being a frustrated performer myself," she says, "I used to have visions of all of us going on the road, sort of like the Von Trapp family." She laughs and goes on to tell of the time a very young Fleming organized a "barbershop trio" with her sister and brother. "They were really wonderful," Alexander recalls. "And so little. Her brother was only 5." (Renée has been known still to occasionally break into a rousing rendition of "There Once Was an Ugly Duckling," a song she and her sister Rachelle used to perform in second grade.)

Fleming has described her musical youth this way: "I literally sat in a playpen next to my mother while she taught voice for the first two years of my life. You can't imagine what that does for a child's musical ear, brain, everything."

"Painfully shy" as a child, according to Alexander, the young Renée nonetheless practiced singing, played piano, studied dance and Suzuki violin--and loved horses. A bit of a rebel at the time and "wishy-washy," as she puts it, about the idea of pursuing a musical career, she toyed for a while with the notion of becoming a horse trainer.

But fate, it would seem, had other ideas, and her college years found her studying music education at SUNY Potsdam. Weekends she sang with a jazz trio. The ensemble's weekly gigs at the local pub--where she had to work the crowd and tell jokes as well as sing--helped her become more comfortable on stage. She was "not a natural, extrovert performer," she says. "I had to work at it very hard."
Waxing Renée

If you can't visit San Francisco or Milan to catch diva Renée Fleming in a live performance, you might want to try the next best thing on tape or compact disk. (Pop music lovers might want to note that Fleming performs with Michael Bolton on his Sony recording of, of all things, Puccini arias, called My Secret Passion.)

Some of her other recordings, all on London/Decca:

Così Fan Tutte, with the Chamber Orchestra of Europe, conducted by Sir Georg Solti
Schubert Album, with pianist Christoph Eschenbach
Signatures, opera scenes with the London Symphony Orchestra, conducted by Solti
Don Giovanni, a live recording with the London Philharmonic, conducted by Solti
Elijah, a live recording with the Orchestra of the Age of Enlightenment, conducted by Paul Daniel
The Beautiful Voice, some favorite arias, with the English Chamber Orchestra, conducted by Jeffrey Tate
I Want Magic, American arias with the Metropolitan Opera Orchestra, conducted by James Levine
Rusalka, with the Czech Philharmonic Orchestra, conducted by Sir Charles Mackerras

Expected in 1999 is Star Crossed Lovers, duets with Placido Domingo.
Fleming's jazz period offered other benefits: "That's how I discovered I could sing bell canto," she confesses. "My voice teacher was sitting in the club one night, and she said, 'Do you know you just sang the high B-flat above high C?' I said, 'No, and if I knew it, I'd never be able to hit it.'"

After she graduated, the legendary tenor-saxophonist Illinois Jacquet, smitten with the texture of her voice, invited her to go on the road with him. Fleming chose instead to study for a master's degree in performance at the Eastman School. She received it in 1983.

John Maloy, chair of the Eastman voice department, unsurprisingly remembers her well. "You just knew she was going on to better things," he says. "Every professor would want another 15 students just like her. When she opened her mouth to sing, everyone would just turn around and look at her.

"She is splendid at conveying emotion through her voice--it has consummate beauty."

After Eastman, it was on to more voice studies at Juilliard while supporting herself working as a secretary. It was in New York that she met Rick Ross, the actor who was to become her husband. And, along the way, although "always a Joni Mitchell fan," she finally switched her vocal allegiance from jazz to classical.

In 1988, Fleming made her professional debut, in Houston, in the Marriage of Figaro conducted by Christoph Eschenbach. Then, after a Fulbright year in Germany, she won the 1989 Richard Tucker Foundation Award and debuted at both the New York City Opera and London's Covent Garden. In 1991 she made her debut at the Metropolitan Opera, singing the role of the Countess in Figaro again. Her first lieder recital, last year at the Salzburg Festival, resulted in a full 45 minutes of encores and ovations. ("Renée Fleming is the best thing that has happened to female singing for a very long time," reported the Paris Le Monde on that occasion.)

It was between the Met and Salzburg debuts that Solti took a hand in her career. The internationally renowned conductor became the budding diva's chief cheerleader after casting her as a last-minute substitute in his Così fan tutte at the Royal Festival Hall, in 1995. That performance, recorded live, resulted in an exclusive recording contract with London/Decca.

Fleming's list of honors is as long as a pair of her opera gloves. A finger's worth: She has won three Grammy nominations, was picked by Musical America as its 1997 Vocalist of the Year, and received the First Solti Prize of l'Académie du Disque Lyrique.

Throwing herself body and soul into learning a new role ("I don't want to be somebody who stands still and sings pretty"), Fleming listens and absorbs virtually every existing recording of the work. "You learn the whole performance history of the role, instead of just what you might hear in your lifetime," she says. "The more informed I am about how a piece has been sung, the better position I am in to make a really educated decision about my interpretation of the role. What you don't want to do is listen to just one or two recordings. That leads to copying. I listen to everything."

A quick study, perhaps through absorption during her playpen years, Fleming has had to be cautioned not to take on too much. "Because she learns rather quickly, I tell her not to learn too many roles in a year," says Eschenbach, with whom she has continued to work closely. "It is stressful to sing too many premieres and new pieces."

"For a while it was hard for me to say no to work. I was singing too much, learning too many roles," says the woman who cheerfully admits to not having taken a holiday in her adult life.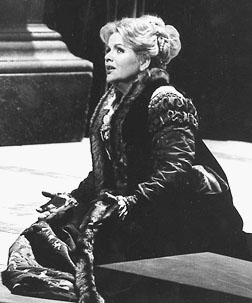 Singing Desdemona at the Met: James Levine says that her interpretation of the role "already ranks with the very best."

Her 1998-99 workaholic schedule--which to the naked eye doesn't seem to reflect an overabundance of "No"s--includes the September premiere of Streetcar in San Francisco, Carnegie Hall in October for a performance of Strauss's music with the Berlin Philharmonic, and chamber music at Lincoln Center, televised on PBS. At the Met in October, November, and December she is starring in the Marriage of Figaro and a Zeffirelli production of La Traviata. In April, it's the Met again, this time for Susannah. In between, there's an international recital tour in January, taking her to Paris, Milan, Barcelona, Prague, and Vienna, along with (pause for breath) Boston, Los Angeles, Atlanta, Berkeley, Minneapolis, Ann Arbor, Washington, Fort Worth, and Toronto. In April after the Met, she returns to Paris for Brahms, Strauss, Mozart, and Mahler performances.

In spite of the busy schedule, the Alexanders do see the Fleming/Ross family frequently, but it takes more planning than for just a short hop in the car, Patricia Alexander says. Fleming (who performs on both sides of the Atlantic) and Ross (who needs to be close to Manhattan stages) have homes in both Connecticut and Paris to accommodate their far-flung careers.

"We went to visit the girls in Italy last month," Alexander says. "They're beautiful. I see the same seeds of talent in them that Renée has. But Renée says she wants to be very careful not to push them into music." Fleming herself, according to The New York Times, "maintains that she'd be 'thrilled if they became biophysicists so I could learn about something else.'"

Fleming performed during both her pregnancies. "If anything, singing is easier when you are pregnant," she says. "The baby offers a very natural support for a singer. It's like taking a physical vacation, because the baby does much of the work for you, just by being there." A matter of weeks after Sage's birth, Fleming, amazingly, was on the stage of the Met to perform Desdemona in Otello, despite her admission that, postpartum, "your muscles feel very weak for a long time."

During their preschool years she has regularly been taking her daughters along on her engagements. If the process of osmosis has anything to do with the way children develop interests--think "playpen"--one wonders how the two girls could possibly be discouraged from musical careers.

As for mom: "I have engagements until 2002. And I love it."
---
Kathy Quinn Thomas is the author of "Robin Hood and His Merry Myth," published in the Spring-Summer 1998 issue of Rochester Review.