---
| | |
| --- | --- |
| | Zaid |
SEEKING JUSTICE
Mark Zaid '89 was a junior when Pan Am Flight 103 exploded over Lockerbie, Scotland. The bombing killed 259 people on board, including University students Eric Coker '90 and Katharine Hollister '90, who were returning from a study-abroad program.
Ten years later, Zaid is helping lead the effort to recover damages from those believed responsible for the terrorist act. He was the primary draftsman of an amendment to the Foreign Sovereign Immunities Act to allow victims of terrorism to pursue civil litigation against terrorist states.
He filed the first lawsuit against the government of Libya on behalf of families whose relatives were on board Flight 103.
Speaking on campus in January, Zaid said he remains "cautiously optimistic" that two Libyans who are considered the prime suspects in the case would be brought to justice. Last winter, the United States agreed to allow the Libyans to be tried in The Hague, the Netherlands, under Scottish rules of evidence and procedure.
"Right now, the ball's in the Libyans' court," he said. "But we're at a stalemate."
The bombing was a defining moment for Rochester students at the time, recalled Zaid, who had spent a semester abroad the previous spring.
He didn't know Coker, but had met Hollister. A friend from his hometown also was on the plane.
"You would find out, as time went by, that you had some connection to people on that flight," he said.
Zaid is executive director of the James Madison Project, a nonprofit organization that educates the public on issues relating to intelligence gathering and operations, secrecy policies, and national security.
---
SUSAN B. CENTER HONORS ALUMNI
| | |
| --- | --- |
| | Gelband |
Myra Gelband '71, a senior editor for Sports Illustrated magazine, received the third annual Lifetime Achievement Award from the University's Susan B. Anthony Center during a ceremony in February to honor women's achievements.

Gelband, who has served on the University's Board of Trustees since 1991, plans event coverage and commissions features for the sports magazine. She joined the staff shortly after graduating with a degree in English literature and biology and was named senior editor in 1981.

| | |
| --- | --- |
| | Giess |
In October, Lois Giess '63N, president of the Rochester City Council, received the Valued Colleague Award for her commitment to the center and its work at the fourth annual Elizabeth Cady Stanton/Susan B. Anthony Conversations on Contemporary Issues.

An officer of the center, Giess also received the 1998 Distinguished Alumna Award from the School of Nursing. She also has served on the University's Trustees' Council.

Giess has been a member of the city council since 1984 and president since 1994.

---
WHAT A LONG TRIP IT'S BEEN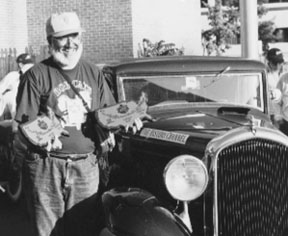 A couple months after graduation 36 years ago, Robert Mead '62 bought a 1932 Plymouth coupe. Last summer, he took it for a bit of a spin, covering 4,545 miles from Tacoma, Washington, to Haverhill, Massachusetts, in 13 days. The trip was part of the History Channel Great Race, a precision rally for antique (that's pre-1950) vehicles. Mead's Plymouth was one of 91 cars that started the rally. Sixty-two cars finished, with Mead placing seventh in the rookie division.

---
DIVING IN AT US AIRWAYS
Michelle Viggiano Bryan '78 is diving into her new job as senior vice president for human resources at US Airways. Bryan, a Phi Beta Kappa graduate who broke several one-meter and three-meter diving records as a member of the University swimming and diving team, is responsible for all employment issues for the Arlington, Virginia-based company's 41,000 employees.

A native of Syracuse, New York, Bryan earned a law degree from the Georgetown University Law Center. She joined US Airways in 1983 as a staff attorney and was named vice president and deputy general counsel in 1995.
---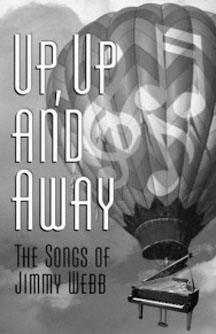 'UP, UP AND AWAY'
Up, Up and Away: The Songs of Jimmy Webb, a musical revue co-produced by Roberta Plutzik Baldwin '69, received excellent reviews when it was performed January 6 through February 7 at the Paper Mill Playhouse, the State Theatre of New Jersey.

A producer with The Phoenix Company of Upper Montclair, New Jersey, Baldwin worked behind the scenes for five years to get the musical to the stage.

Featuring such hits as "By the Time I Get to Phoenix," "Wichita Lineman," "Galveston," "The Worst that Could Happen," "MacArthur Park," and "Up, Up and Away," the show takes the audience on a tour of the 1960s and 1970s based on the music of the legendary songwriter.

Said a reviewer for the East Brunswick, New Jersey Home News Tribune: "[T]his show does more than highlight Webb's productivity; it mines each of the songs for the insight, lyricism, drama, and humor which have set Webb apart."

The revue is Baldwin's first theatrical production.

Baldwin, incidentally, is the daughter of the late Rochester professor and poet Hyam Plutzik (see POETRY IN NYC, below).

---
ALUMNA 'BETTY CROCKER' DIES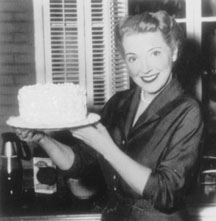 "Betty Crocker," circa 1952

Adelaide Hawley Cumming '26E, known to the world as the original Betty Crocker, died in December in Bremerton, Washington. She was 93.

Once known as "the second most recognizable woman, next to Eleanor Roosevelt," according to spokespeople from General Mills, Cumming appeared on the half-hour Betty Crocker Show from 1950 to 52, and the Betty Crocker Star Matinee and Bride and Groom in 1952. She also appeared in numerous commercials touting cake and pancake mixes until General Mills ended her contract in 1964.

After earning a degree in piano and voice from the Eastman School, Cumming was part of a vaudeville singing trio and hosted the Adelaide Hawley Program, a radio show that ran from 1937 to 1950.
| | |
| --- | --- |
| | Cumming |
She was hired by General Mills in 1949 to assume the character of Betty Crocker, a corporate logo invented in 1921.

When her career as Betty Crocker ended, Cumming returned to school, earning a doctorate in speech communication from New York University in 1967. She taught English to foreign students up until the Friday before her death.

---
POETRY IN NYC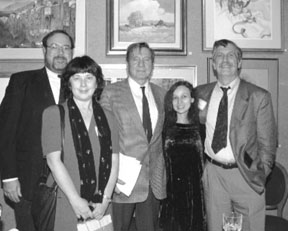 Ronald Dow, dean of River Campus Libraries; Barbara Jordan, professor of English; Galway Kinnell '49 (MA); Kate Light '80E, '82E (Mas); and Jarold Ramsey, professor emeritus of English.

The University's literary program, the Plutzik Memorial Series, is on the road.

The series opened its 36th season last October with a special reading at the National Arts Club in New York City. More than 150 alumni gathered for an evening of readings by Pulitzer Prize-winning poet Galway Kinnell '49 (MA) and poet and musician Kate Light '80E, '82E (Mas).

Founded in 1962 in honor of the life and poetic career of Hyam Plutzik (1911-1962), professor of English
at Rochester, the series brings a wide range of writers to campus each year to represent the strengths and diversity of contemporary writing.

Poet and professor emeritus Jarold Ramsey, a long-time director of the series, also read from his poetry. Current series director Barbara Jordan, professor of English, read from Plutzik's work.

The 1998-99 season also marked the formal creation of the Hyam Plutzik Library for Contemporary Writing in Rush Rhees Library. The center will provide access to the works of many American writers.

The reading was co-sponsored by University Libraries.
---
EASTMAN IN NEW JERSEY
The music of several composers with ties to the Eastman School of Music was the focus of a special concert at Farleigh-Dickinson University in Madison, New Jersey, last fall.

The "all-Eastman" program was organized by Crissey Concerts, Inc. (founded by Harrington Crissey '66) in conjunction with Composer Services, Inc. of Pennsylvania.

Featured composers included Louis Gordon '48E, '49E (MM), '62E (DMA), Jean Eichelberger Ivey '56E (Mas), Loretta Jankowski '72E, '79E (PhD), Lawrence Moss '50E (Mas), and Robert Wykes '49E, '49E (Mas).

Former Eastman students Cedric Elmer and Annetta Lockhart also were featured.

Four works of Howard Hanson, director of the Eastman School from 1924 to 1964, rounded out the program.
---
FLYING HIGH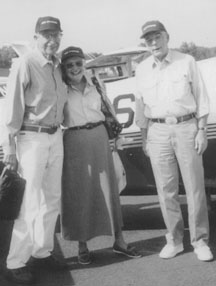 Margaret Stephenson Shantz '56 (center) is taking the personal approach to air travel. In August, she flew the Atlantic Ocean in a single-engine plane, visiting Canada, Greenland, Iceland, Scotland, Wales, France, Italy, and Austria. She and pilot/owner Clifford Evans (right) and Retired Lt. Col. Lou Rehr (left), flight instructor and World War II bomber pilot, made the trip. Shantz is the major gifts officer at the United Methodist Homes of New Jersey Foundation, Inc.

---
HELPING CHILDREN NEAR AND FAR
Children in a Rochester public school and children in Novgorod, Russia, are getting help in dealing with traumatic emotional lives, thanks in part to the Lynch brothers.

Michael Lynch '85, '89 (Mas), '93 (PhD), a psychologist at the University's Mt. Hope Family Center, helped organize a partnership between the center and School 36 in Rochester in an effort to better meet students' emotional needs.

The pilot project between the center, part of the Department of Clinical and Social Sciences in Psychology, and School 36 received a $37,000 grant last winter from United Way of Greater Rochester.

In another effort to improve children's lives, doctoral student Martin Lynch '86 and Lisa Lopez Levers, chair of the counseling and human development program of the Warner School, have been awarded fellowships to help train counselors in Russia to deal with the increasing number of children abandoned by struggling parents there.

Levers and Lynch traveled last summer to Novgorod, Russia, where they met with human services professionals to develop materials for counselor education.
---
NEW CAREER DIRECTIONS
Alumni are encouraging current students to "think outside the box" when it comes to careers.

Student senators Amanda Cronkhite '99 and Ross Johnson '99 organized a day-long series of panel discussions in January featuring alumni and others who have found employment outside their majors.

Alumni speakers included Damir Saracevic '95, a co-founder of the Web site design and service company Auragen Communications. Charles Slater '59, a sports editor at The New York Times, and Barbara Richmond '78, of Environment magazine, spoke about careers in newspapers, magazines, and communications. Jon Riek '89, '90 (Mas), '94 (PhD) of Eastman Kodak Company, and Larry Sternbane '85 of America West Airlines spoke about the importance of communication skills in engineering.

The event was co-sponsored by the Students' Association Senate and the Career Center.