University of South Florida professor and composer Robert Helps wrote his Symphony No. 2 with a commission from the Institute for American Music at Eastman in honor of Donald Engle E (Mas), according to a report in the November 10 St. Petersburg Times. Engle, a longtime symphony orchestra and foundation executive in Philadelphia, New York, and Minneapolis-St. Paul, lives in Clearwater and volunteers for the Florida Orchestra, which will premiere the piece next season.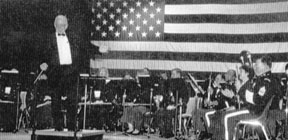 Donald Stauffer '41, '42E (Mas), retired commander of the U.S. Navy Band, was a special guest conductor at the October 24 concert in Ridgefield, Conn., on the 30th anniversary of the Kiwanis Club program bringing the nation's leading military bands to Ridgefield. In the accompanying photo, Stauffer is seen on stage with the combined bands of the West Point Military Academy and the U.S. Coast Guard. A Commander Stauffer scholarship was established in 1975 and is awarded annually by the Kiwanis Club to an outstanding high school music student. Stauffer lives in the Eastwood, Ala., area and conducts the Birmingham Community Concert Band. . . . William Warfield '88E (DMA) performed at the holiday concert presented by the William Warfield Scholarship Fund, Inc., at Kilbourn Hall. The event was a fund-raiser to benefit minority voice students at the Eastman School.

For his "tireless efforts and dedication" in establishing the Park Ridge Fine Arts Society, the mayor of Park Ridge, Ill., proclaimed August 14 as Frank York Day. Frank York has acted as music director, conductor, and violinist of the Park Ridge Fine Arts Symphony orchestra for 37 years and also was one of the founders of the Park Ridge Fine Arts Society in 1961.

Lucrecia Kasilag E (MA) (see '98).

Soprano Ruth Drucker '54, '55E (Mas) writes: "This past August I was again the vocal consultant with Elly Ameling for a course on German lieder as well as with Kurt Equiluz's course on German Oratorio at the Britten-Pears School for Advanced Musical Study in Aldeburgh, England. Earlier in the academic year at Towson University the Ruth and Arno Drucker Fund helped support a performance of Brahm's German Requiem by the Towson University combined choruses and orchestra under the direction of Paul Rardin, as well as a vocal master class with composer Richard Hundley. I presented a master class at St. John's College in Annapolis, Md., and marked my 12th anniversary of Explorations in Singing at Marywood University in Scranton, Pa., last July. At this weeklong workshop I give master classes with distinguished voice teacher Thomas Houser. In January, I narrated a performance of Poulenc's The Story of Babar, the Little Elephant at the Peabody Conservatory at a concert honoring the 100th anniversary of the composer's birth.". . . Pianist Arno Drucker writes: "My article 'The Britten-Pears School in Aldeburgh' was published in the May/June issue of the Journal of Singing. My review of the Henle publication of Dvorak's Poetic Moods was published in the October/November issue of the American Music Teacher. My book American Piano Trios: A Resource Guide is to be published by Scarecrow Press. I joined my wife, Ruth Drucker '54, '55E (Mas), in a master class at St. John's College in Annapolis, Md., and for the 12th anniversary of Explorations in Singing at Marywood University in Scranton, Pa., last July, which I also helped organize. I performed Gershwin's Rhapsody in Blue with the Augusta Orchestra in Aiken, S.C., and Augusta, Ga., for the 100th anniversary of Gershwin's birth. These performances were conducted by Donald Portnoy."

Sydney Hodkinson '57, '58E (Mas) was profiled in an article that ran in the December 23-29 issue of City newspaper in Rochester. Hodkinson has retired from teaching at Eastman, but continues a relationship with the school as a composer.

Bruce Smith '65E (Mas) writes that he took part in a project at the University of Michigan to record the complete chamber works of Paul Hindemith and has so far recorded Sonata for Viola d'amore and Piano Opus 25, No. 2. More information on the recordings can be found by contacting Equilibrium, P.O. Box 305, Dexter, Mich. 48130. On another front, Smith has earned an instrument rating on his private pilot's license. His wife, Linda Snedden Smith '63, also is a student pilot. The Smiths can be reached at violinda@globalbiz.net.

The percussion group Nexus --John Wyre, William Cahn '68, Robert Becker '69, '71E (Mas), Robin Engelman, and Russell Hartenberger--reports on its winter 1998-99 season which included performances at the University of Ottawa, Brigham Young University, Southern Utah University, and the University of Oklahoma in Norman. Spring concerts are scheduled at Houghton College, Hamilton College, Syracuse University, the Cleveland Museum of Art, the University of California at Los Angeles, and SUNY College at Purchase. The group also has slated several performances in Rochester with the Rochester Philharmonic Orchestra Pops on March 26 and 27.

Tom Fay (see '81 undergraduate). Bruce Smith '62E, '65E (Mas) (see '62).

Michael Webster '66, '67E (MM), '75E (DMA) (see '68).

Leone Buyse writes: "In 1997 Michael Webster '66, '67E (MM), '75E (DMA) and I joined the faculty of Rice University's Shepard School of Music, where I am professor of flute and chamber music and Michael is associate professor of clarinet and ensembles. Michael also is artistic director of the Houston Youth Symphony and Ballet. Our regular summer festival appearances include the Sitka Summer Music Festival, the Strings in the Mountains Festival in Steamboat Springs, Colo., and the Park City Festival in Utah. As the Webster Trio, with pianist Katherine Collier '70, '73E (MM), we have released Tour de France on the Crystal label and as the Webster Trio in Japan, with pianist Chizuko Sawa, we have released Sonata Cho-Cho San on the Nami label. Both CDs feature arrangements by Michael for flute, clarinet, and piano. The International Music Company recently published his Carmen Rhapsody for this combination and is planning several more publications in the near future. Although we're having some difficulty adjusting to hot, steamy fall weather, winters in our new home base are heavenly!". . . William Cahn (see '63).
| | |
| --- | --- |
| | Larrick |
Geary Larrick E (Mas) writes to give an update: "I have three books listed in Books in Print 1998-99 and two of my compositions, Duo Sonata and Repertory List II, were performed last fall. Also, I presented a paper, 'Two Essays on Musical Arts,' at the Conference on the Small City and Regional Community at the University of Wisconsin at Stevens Point in October."

Robert Becker '69, '71E (Mas) (see '63).

Katherine Collier '70, '73E (MM) (see '68).

Michael Webster '66, '67E (MM), '75E (DMA) (see '68).

Clement Reid was selected as the 1999 Washington State Commissioned Composer of the Year by the Music Teachers National Association (MTNA). The commissioned work will be premiered at MTNA's state convention in Walla Walla in June. Reid's Short Stories for guitar and piano was performed at an MTNA benefit concert and broadcast on the "Live by George" program with George Shangrow on KING-FM, Seattle.

Steve Townsend (see '91).

Judith LeClair writes: "We welcomed a new arrival, son Gabriel Tobias, on June 12. His father is Jonathan Feldman. I have been principal bassoonist of the New York Philharmonic since 1981."

Peter DuBois was profiled in the December 14 Brighton-Pittsford Post. DuBois is the director of music and organist at Third Presbyterian Church in Rochester. . . . Bassist David Finck shared top billing with Oscar- and Grammy-winning composer/conductor/pianist André Previn in an all-Gershwin concert of the New York Philharmonic on December 11 at Alice Tully Hall. The concert coincided with the release of a Gershwin tribute album, We Got Rhythm, recorded by the pair.

Shawn Kafader writes: "I am now pastor of St. John United Church of Christ in Arlington Heights, Ill. I invite all Chicago-area alumni to visit me at my new church anytime." . . . Dan Locklair E (DMA), composer-in-residence and professor of music at Wake Forest University, sent an update of recent performances and publications. Some highlights: Brief Mass was performed by Houston's St. Paul's Choir at the American Choral Directors Association Regional Conference in March; Windows of Comfort, Organbook I was performed by Douglas Cleveland at the National Convention of the American Guild of Organists in Denver last July; and Windows of Comfort, Organbook II was premiered by Locklair at St. Paul's Episcopal Church in Winston-Salem last August. Locklair's new publications include Holy Canticles for SSAATTBB choir, a capella, and Phoenix Processional for organ, brass, and percussion. . . . Lori McKelvey reports on the progress of her Camila the Tango Musical, an epic Latin musical based on the story of a forbidden love between a young girl and a priest in 19th century Argentina. First developed at the Harold Prince Musical Theatre Program, the show went on to a full production at Webster University in St. Louis, followed by a reading sponsored by Jujamcyn Theaters, a Broadway producing organization. This past August, Camila was presented at the New Tuners Festival in Chicago. The show received a second award from the Gilman & Gonzalez-Falla Theatre Foundation for outstanding contribution to the American musical theater. McKelvey reports that a co-production of the show is in the works for the 1999- 2000 theater season. . . . Gene Scheer '82E (Mas) (see Alumni Gazette, AMERICAN ANTHEM). . . . Robert Siemers (MM) was featured in an article that ran in the Harrisburg, Pa., Patriot-News. He teaches at Milton Hershey Elementary School and Lebanon Valley College.

John Fiore has been named chief conductor for orchestras in two German cities, Düsseldorf and Duisburg, beginning with the 1999- 2000 season. Among his principal responsibilities will be the Deutsche Oper Am Rhein. . . . Kate Light's '80E, '82E (Mas) book of poetry, The Laws of Falling Bodies, won the international Nicholas Roerich Prize for poetry. Light lives in New York City, where she free-lances and plays violin with the New York City Opera Orchestra. (For more on Light, see Class Acts, POETRY IN NYC). . . . Gene Scheer '81E, '82E (Mas) (see Alumni Gazette, AMERICAN ANTHEM).

Jazz trumpeter and vocalist Byron Stripling performed with the Rochester Philharmonic Orchestra at its summer season opener, "An American Celebration with Fireworks."

Clarinetist Eric Mandat E (DMA), together with cellist Ivars Bezprozvanovs and pianist Peteris Plakidis, released a CD of trios by Brahms and d'Indy with the Transatlantic Trio on 4-Tay Records. John Lambert of Fanfare magazine wrote: "These performances project a true sense of occasion. . . . The results easily rank with the best available releases." Mandat is professor of clarinet and saxophone at Southern Illinois University at Carbondale.

William Grimes '82E (MM), '88E (DMA) and his son, Jonathan, performed together last July as part of a jazz quartet at a concert held at the Methodist College Summer Music Camp in North Carolina. . . . Corey Holt presented a faculty piano recital at the University of South Florida on December 11. The performance included works by Beethoven, Ravel, and Haydn. . . . William Warfield '42, '88E (DMA) (see '42).
| | |
| --- | --- |
| | Chatterton |
Flutist Linda Neuberger Chatterton was awarded a soloist grant as a winner of the 1998 McKnight Artist Fellowships for Performing Musicians administered by the MacPhail Center for the Arts in Minneapolis. She is the first flutist to have won the award. . . . Xiaolun Chen E (MM) writes: "After eight years of teaching at the Louisiana School for Math, Science, and the Arts, I have accepted a new position at Pensacola Junior College in Pensacola, Fla. In my new position, I am choral director and voice instructor. I also am music director of the Choral Society of Pensacola." . . . Laura Asselta Gallucci reports that she has released a new CD, Long Way Home, with her band, St. Huckleberry. She and her husband, Michael Gallucci, co-wrote the music on the CD, which she labels as "hard rock with a touch of Celtic fiddle and lots of electric viola." A second CD was due out in February, and a new song, My Beloved You, is being released for Mother's Day. For more information on the band or its releases, she invites everyone to view their Web site at www.nyrock.com/sthuckleberry/index.html. . . . Chris and Wendy Agron Gennaula report that they have a new son, Thomas Nicholas, born on May 23. Wendy premiered Pie Jesu, composed by Chris, at the Basilica of Saint Mary in Minneapolis. . . . Daniel Wieloszynski writes that he is working as a free-lance woodwind doubler in New York City and also is the leader of the Dan Willis Quartet, a jazz quartet comprising Wieloszynski, Ben Monder, Drew Gress, and fellow Eastman graduate John Hollenbeck '90, '91E (MM). The quartet has been cited in The New York Times and Jazziz magazine and has a recording, Dan Willis Quartet, available on A-Records. Wieloszynski adds that he is a member of the Roland Vazquez Quintet, has recorded with John Hollenbeck's Quartet Lucy, and also played oboe on Shawn Colvin's Holiday Songs and Lullabies, produced by Eastman graduate Doug Petty.
| | |
| --- | --- |
| | Luedecke |
Alison Luedecke E (DMA) has joined with the San Diego Chamber Brass to form the Millennia Consort at St. James by the Sea Episcopal Church in La Jolla, Calif. Luedecke is music assistant with the group, which will perform at St. James on certain feast days and at special services. She will assist Steve Townsend '78, director of music, with service and repertoire playing while continuing her organ and harpsichord concert career.

Susan Sievert E (MM) married Charles Messersmith on August 1 in Charleston, S.C. Both are members of the Charleston Symphony Orchestra. Susan is in her sixth season playing trumpet with the orchestra. . . . The Struggle for Humanity for chorus, band, and mezzo soprano by Paul Stuart E (MM) was commissioned by the Commission Project. It was premiered last May at Pittsford Sutherland High School in Pittsford, N.Y., where Stuart was a composer-in-residence. His work, A Festive Overture, for orchestra was premiered in Italy as part of the Siena Festival. Raffaele Ponti conducted.

Pianist Kelly Horsted '91, '93E (MM) performed a concert with vocalist Tami Swartz on October 9 at Pennsylvania State University at Harrisburg. The concert featured works by composers from and associated with the state of Pennsylvania. . . . Chris Jentsch E (MM) and his group, the Christopher Jentsch Trio, have released their debut CD, Media Event, a collection of mostly original compositions with a few jazz standards. Jentsch reports that he is finishing up his doctor of music degree at the University of Miami and that his new work for large jazz ensemble, Miami Suite, was to be performed in February as part of his final academic requirements. He can be reached by e-mail at cjentsch@students.miami.edu. . . . Nathaniel Wickham E (DMA) is associate professor of trombone and euphonium at the University of Northern Colorado in Greeley.

Debbie Rohwer E (MM), a music education professor at the University of North Texas, was cited on December 13 in The Dallas Morning News for her work with her New Horizons group for older neophyte musicians in Denton, Tex.

Jonathan Arevalo-Coo E (MM) writes that on August 31 he presented a lecture and recital in honor of Lucretia Kasilag's '50E (MA) 80th birthday. Piano compositions selected from her repertoire and representing different periods of her life were performed at the event. Kasilag is known for blending Eastern concepts with Western forms and techniques. Arevalo-Coo is on the faculty at the Hochstein Music School in Rochester and has plans to release a CD of Kasilag's complete piano works. . . . Harpist Jung Kwak E (MM) returned to Rochester in December for a performance at Borders Books & Music in Henrietta. She performed works from her first CD, The Gift.