Libraries Present First Neilly Series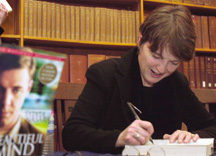 Sylvia Nasar signing copies of her book, A Beautiful Mind.
The author of A Beautiful Mind, a Pulitzer Prize-winning reporter, and a rock-n-roll historian were among those who helped inaugurate the first year of the Neilly lecture series sponsored by the University libraries.
The speakers included Sylvia Nasar who wrote the book upon which the Academy Award-winning movie was based, author and Pulitzer Prize-winner Richard Ben Cramer, rock historian and Eastman professor David Headlam, and HarperCollins editor Lawrence Ashmead '54.
The series was supported by a gift from Andrew H. Neilly '47 and his wife, Janet Dayton Neilly. Andrew Neilly had a distinguished publishing career with John Wiley & Sons in New York City and is a life trustee of the University. The free series will return for the 2002-03 year.
Maintained by University Public Relations
Please send your comments and suggestions to:
Rochester Review.