Students Unite for 9/11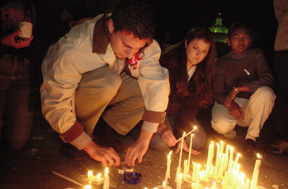 Students light candles at a vigil for the victims of the September 11 terrorist attacks.
The Rochester community joined others across the country in the weeks after September 11 in mourning the loss of loved ones and helping aid the relief efforts.
Six alumni and the husbands of two alumnae died in the terrorist attacks, including Jeremy Glick '93; Zhe (Zack) Zeng '95, '98S (MBA); Brendan Dolan '86; Aram Iskenderian '82; Jeffrey Smith '87, '88S (MBA); and Jean Hoadley Peterson '69N. Also killed were Kip Taylor, husband of Nancy Melvin Taylor '86N, and Robert Spencer, husband of Christine Hamwi Spencer '87.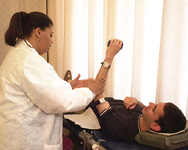 A student donates blood at one of several blood drives to aid in the relief effort.
Glick, who has been recognized as a hero for fighting back against the terrorists on United Flight 93 and preventing the plane from hitting its target, was honored last winter when the University established an endowed scholarship in his honor.
Immediately after the tragedy, students packed the Interfaith Chapel for a prayer service, and others were held in the days after September 11. Students also did their part to help out by donating blood in several blood drives at the Medical Center and raising money to help in the relief effort.
On the River Campus, students set and exceeded the goal of raising $20,000 by selling ribbons and accepting donations as well as by holding two benefit concerts featuring a cappella groups, an improvisational comedy troupe, and jugglers.
Eastman students raised more than $9,200 at concerts, including a September 23 performance of Mozart's Requiem by the Eastman Philharmonia. That brought the total raised by student efforts to more than $30,000.


Maintained by University Public Relations
Please send your comments and suggestions to:
Rochester Review.