Graduates Challenged at Commencement 2002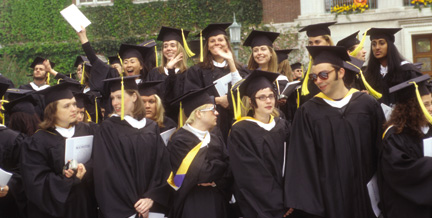 A liberal education opens gateways to each student's future, James Freedman, president emeritus of Dartmouth College and past president of the American Academy of Arts and Sciences, reminded the Class of '02 during the University's 152nd Commencement May 19.
"Liberal education is one of those marvelous endeavors that asks us to be skeptical in what we are told," Freedman said. "It must lay open the minds and souls of its students to the wonderful opportunities of growth."
Freedman and Paul Horn '73 (PhD), senior vice president and director of research for IBM, addressed the graduates receiving bachelor's and master's degrees from the College and the School of Nursing. Freedman received an honorary doctor of humane letters degree, and Horn was presented with the Charles Force Hutchison and Marjorie Smith Hutchison Medal. The University's highest alumni award, the medal recognizes professional achievements and public service.
Worth Noting
Tia Neely '03, a brain and cognitive sciences major, was chosen as student employee of the year in the New York State competition sponsored by the National Student Employment Association. Neely represented the University at the state level after winning the on-campus round of the contest. A research assistant at Golisano Children's Hospital, Neely conducts pediatric asthma research in cooperation with the Rochester City School District.
Lillian Nail, '71N, '75N (MS), '85N (PhD) and Bruce Smith '73 (PhD) each received a Distinguished Scholar Medal.
Horn called this time "a time of incredible uncertainty and change." The man responsible for overseeing IBM's technology development and research warned that "technology is changing everything around us-some for the better, some with fearsome destructive power."
The approximately 7,000 people attending the Commencement ceremonies braved unseasonably cold temperatures and even a few flakes of snow.
More than 2,000 students received bachelor's, master's, and doctoral degrees during the University's ceremonies.
Grammy Award-winning jazz bassist Ron Carter '59E, who also received the Hutchison Medal, addressed Eastman School graduates.
John Rowe '70M (MD), chairman, president, and CEO of Aetna, gave the address to the M.D. graduates of the School of Medicine and Dentistry on May 26 and also received an honorary doctor of science degree.
B. Thomas Golisano, founder, chairman, president, and CEO of Paychex Inc., was the keynote speaker at the William E. Simon Graduate School of Business Administration's ceremonies on June 16.
The Simon School awarded Golisano its David T. Kearns Medal of Distinction, which recognizes "significant achievements in business, public service, and education." The award is named in honor of Kearns '52, former chairman of the Board of Trustees and former chairman and CEO of Xerox.
Maintained by University Public Relations
Please send your comments and suggestions to:
Rochester Review.